Best Adjustable Dumbbells
Do you want to be able to seamlessly transition from one weighted exercise to the next? Get one of the
best adjustable dumbbells
and you can do just that!
Best Adjustable Dumbbells
For the longest time, it was believed that adjustable dumbbells were only used by professional bodybuilders. However, that is not true and there are a lot of unique benefits of using the
best adjustable dumbbells
for everyone from the average gym-goer to advanced athlete.
However, choosing adjustable dumbbells can be difficult because people don't know which factors to look out for or which brands to trust. In this article, we will give you a thorough overview of some of the
best adjustable dumbbells
for controlled weight training and easy progression.
Best Adjustable Dumbbells – Buying Guide
Most Convenient Adjustable Dumbbells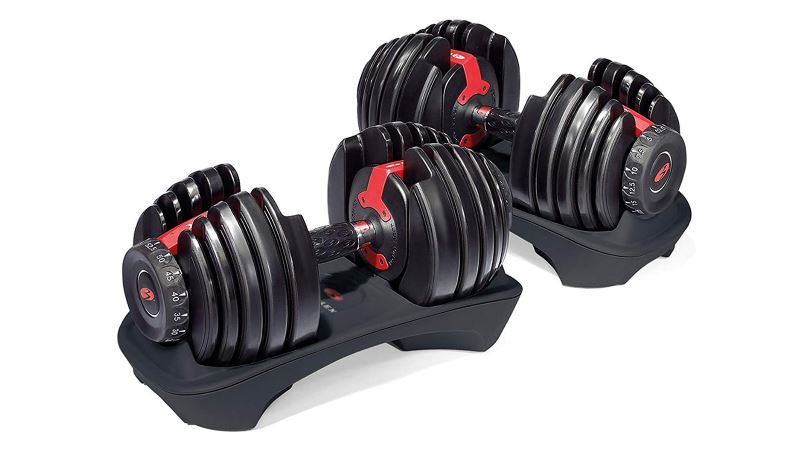 Bowflex SelectTech 552 is a sleek and stylish adjustable dumbbell that can make all your workouts a whole lot more efficient. In terms of adjustability, these dumbbells can go all the way from 5 to 52.5 pounds with small 2.5 pound increments. This allows you to progressively increase the weight gradually so your body can acclimatize to the heightened weights.
Changing the resistance on these adjustable dumbbells is as easy as simply turning the dial. As such, you can easily modify the resistance and seamlessly move from one form of exercise to the next. These adjustable dumbbells are aesthetically pleasing as they come encased in glossy black metal plates with red accents. The handles are rubberized to increase comfort and prevent the metal from stinging your hands.
Having said that, these adjustable dumbbells are pretty expensive so you should be willing to break the bank just a bit. I would have been perfectly fine with the expense, however, if it weren't for the fact that the cast iron material can be pretty fragile. The SelectTech dial adjustment used on this dumbbell is quite weak and prone to getting damaged if it's dropped from a height.
Most Versatile Adjustable Dumbbells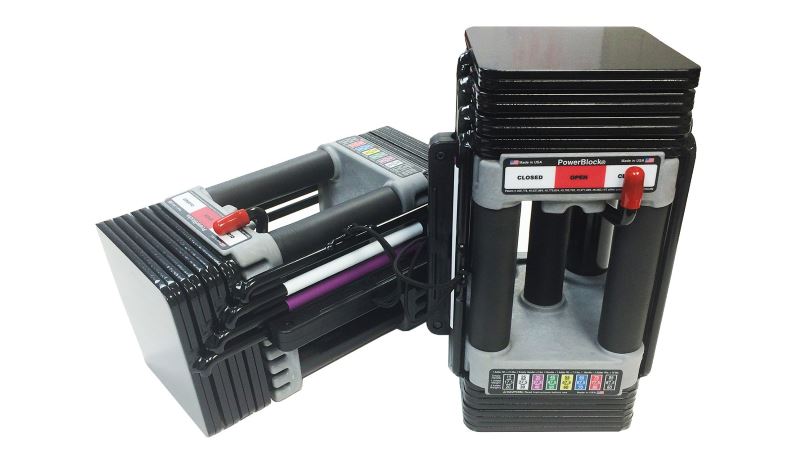 PowerBlock Elite is one of the adjustable dumbbells often used by professional trainers and bodybuilders. The most impressive thing about this pair of adjustable dumbbells is its range. You can adjust it from 5 pounds all the way to 130 pounds for each hand, this is twice the weight range available in the aforementioned SelectTech 552.
Using these adjustable dumbbells will ensure that you're never in a position wherein you've maxed out the machines and can no longer progressively overload. Furthermore, PowerBlock Elite is also pretty versatile because it can be used along with an EZ Curl Bar if you slide the dumbbells along the ends of the bar.
In conjunction with the EX Curl Bar, these adjustable dumbbells have been designed such that they can essentially become a three-part home gym all on their own. This saves a lot of space while still giving you access to all the workouts you need.
There only two small issues I have with these dumbbells. First, they don't function like normal dumbbells. You have to insert your hands into the dumbbells and grab the bar, so it might need some getting used to. Second, the adjusting system on this dumbbell isn't as convenient as the one in SelectTech 552 so it will take you about 20-30 seconds to adjust the weight.
Having said that, while these adjustable dumbbells might be a little inconvenient at first, their wider range and versatility easily makes up for those drawbacks.
Most Traditional Adjustable Dumbbell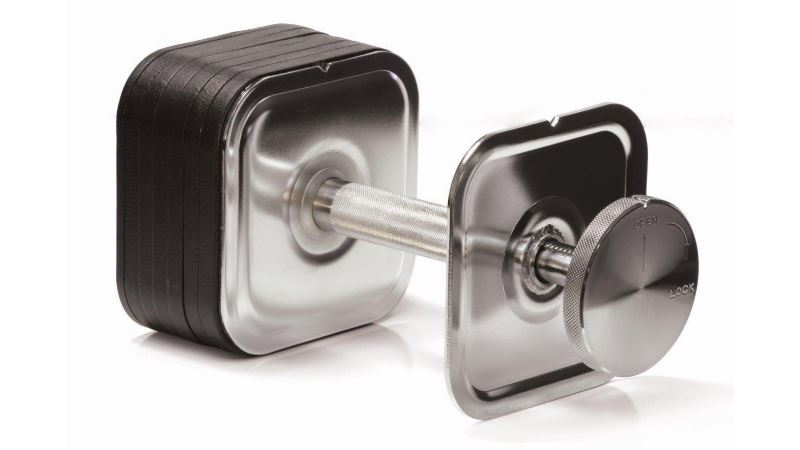 Ironmaster 75 lb is one of the most traditional adjustable dumbbells on this list. It is still an adjustable dumbbell but you might be more familiar with its mechanics than with the others. It has a decent weight range from 5 pounds to 75 pounds per hand with 2.5 pound increments.
However, in order to add weights, you have to add weight plates to the bar from the sides. As such, this adjustable dumbbell is basically a mini single-hand sized pair of barbells. After you add or remove the plates, you can use the "quick-lock" feature to hold the plates in place and prevent them from falling.
These are bare-bones and simple adjustable dumbbells for those who want to stick to traditional tools. They are also extremely durable and made of chrome-plated steel. They also come with a fairly bulky storage stand where you'll have to keep all the plates. As such, these adjustable dumbbells also require a lot more storage space than the aforementioned adjustable dumbbells.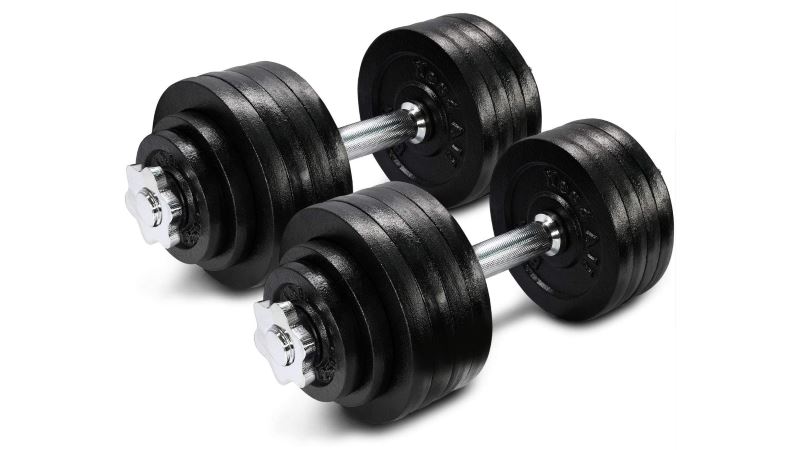 Yes4All is yet another adjustable dumbbell that looks and feels like a traditional dumbbell. It comprises a single bar and you can adjust the weights by sliding dumbbell plates from the sides. As such, they are prefect for those who want to continue using traditional (but adjustable) dumbbells they're familiar with.
These adjustable dumbbells can be adjusted all the way to 100 pounds per hand, which is a pretty impressive range. The set comes with two 16"x1.15" handles along with 16 10-pound plates, 4 5-pound plates, 4 2.5-pound plates, and 4 collars. If you get a Yes4All adjustable dumbbell set, you have to pretty much get locked into that ecosystem as you can only later buy weights from Yes4All.
Adjusting the weights takes as much time as you need to slide the plates into place. Once you're done adjusting the weights, you can lock them in place using the star-lock collars. Unlike the Ironmaster 75 lb, this set doesn't come with a strange cabinet so you'll need to find a place for all the weight plates. As such, Yes4All also requires more storage space than many other adjustable dumbbells.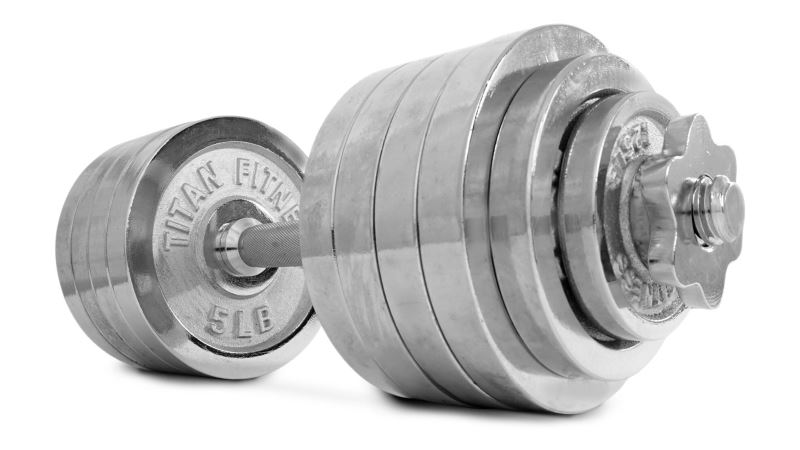 Titan Fitness Chrome Dumbbells is yet another classic adjustable dumbbell. This is one of the most durable dumbbells on the market made entirely of metallic chrome-plated cast iron. Each of the handles is 20.5" in length and can hold up to 52.5 pounds of weight.
The weights on this adjustable dumbbell can range from 5 pounds to 52.5 pounds with 2.5 pound increments. As such, the range is certainly not as high as some of the other adjustable dumbbells on this list.
This set has a total of 2 handles, 24 plates, and 4 plate-locking collars. However, there's no storage space that comes with it so you'll have to make place for them on your own. If you want a set of adjustable dumbbells that can save space, this isn't the one for you.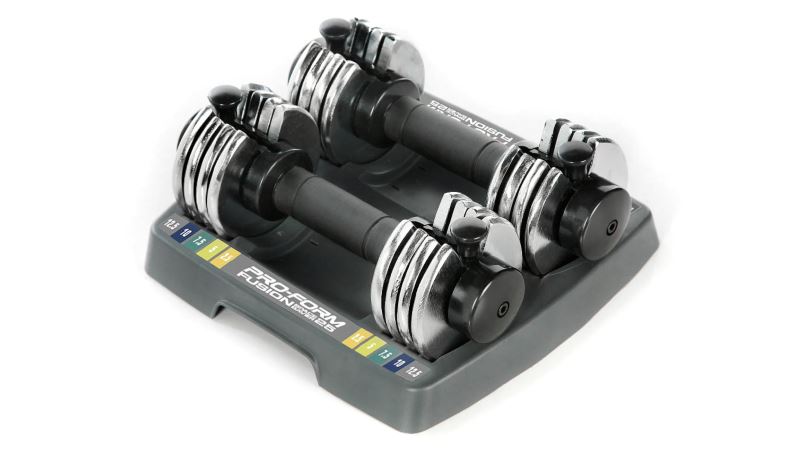 Weider Speed Weight isn't meant for serious fitness enthusiasts and weightlifters. This is a relatively cheap and lightweight adjustable dumbbell with a range from 2.5 pounds to 12.5 pounds per hand. As such, this can be used by workout beginners and those engaging in aerobic exercises.
Adjusting weights here is pretty simple. You have to rotate the pin to the color-coded plate and then pull the handle. The plates are rounded and metallic, and the storage tray is compact. All things considered, if you're a beginner looking for an affordable adjustable dumbbell pair, this is perfect.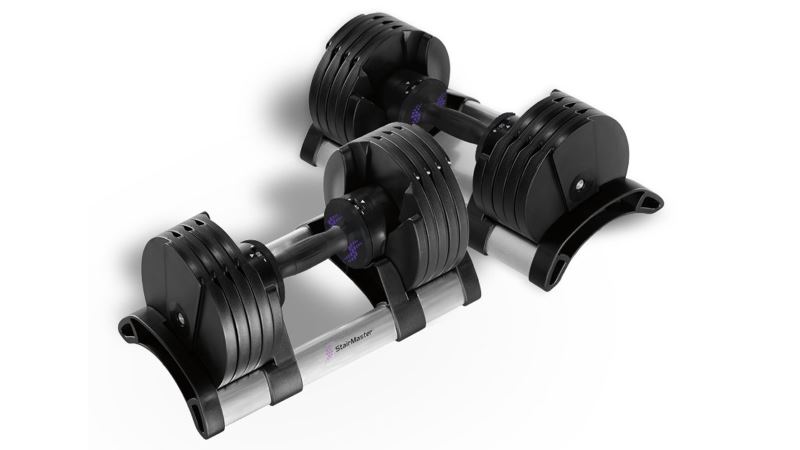 StairMaster TwistLock is a mid-range adjustable dumbbell pair with a weight range of 5 pounds to 50 pounds per hand, available in 5-pound increments. These dumbbells also go with the traditional style, i.e., a central bar with weights along the sides. This is simple to work with and feels familiar.
In terms of weight adjustment, it comes with the dial dumbbell system. As such, you have to place the dumbbells on their stand, move the dial to the requisite weight setting, and then pull the handle. This makes changing the weights seamless and easy.
The grip on this adjustable dumbbell is rubberized with grooves. This helps you keep firm hold of the dumbbell and it's ergonomic so your hands don't start aching after a while. Furthermore, since your skin isn't in direct contact with the metal, you don't have to wear gloves either.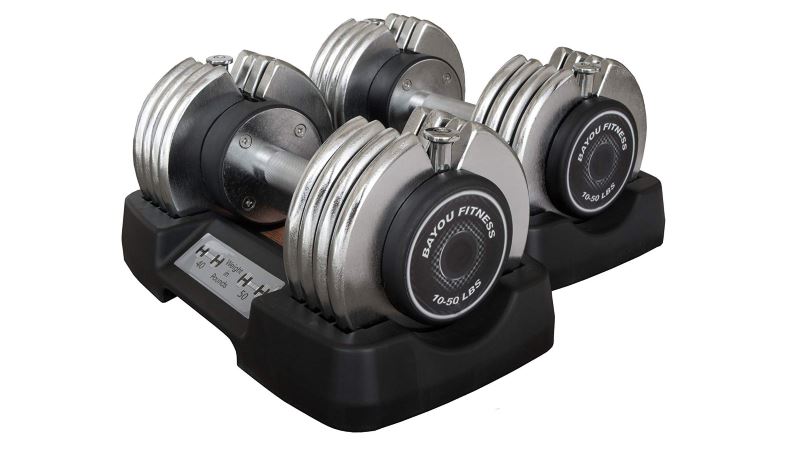 Bayou Fitness is one of the more reasonably-priced (but still durable and effective) adjustable dumbbell pair for mid-range users. The entire set is made of durable heavy-duty chrome-plated steel and the weights can be adjusted from 10 pounds to 50 pounds per hand.
I like the durability, style, comfort, and range on this adjustable dumbbell. However, I have one major issue — the lack of versatility. Sure, like most other mid-range adjustable dumbbells, it has a range going up to 50 pounds. However, most other adjustable dumbbells achieve that range with increments of 2.5 pounds. Bayou Fitness, in comparison, has increments of 10 pounds.
This can put you in a difficult position wherein you are not adequately challenged at one level but aren't yet able to lift to the next progressive level. As such, I wouldn't recommend this adjustable dumbbell set for those looking to achieve gradual progressive overload.