Best Air Fryers
There's nothing quite as delicious as a good plate of fries or fried chicken. However, fried dishes are prepared with a lot of oil and that can really increase their calories, which can, in turn, lead to weight gain and health issues.
That's where air fryers come in.
Air Fryers can prepare all your favorite fried dishes by circulating superheated air in order to bake, grill, or fry. As such, you don't need to use oil, which reduces the calorie count by 75%. They can essentially replace ovens and deep fryers altogether and offer a much more healthy alternative.
But when it comes to buying air fryers, you have a lot of factors to consider. In this article, we'll give you an overview of the best air fryers on the market so you can make an informed decision.
Best Air Fryers – Buyer's Guide
Best Overall Air Fryer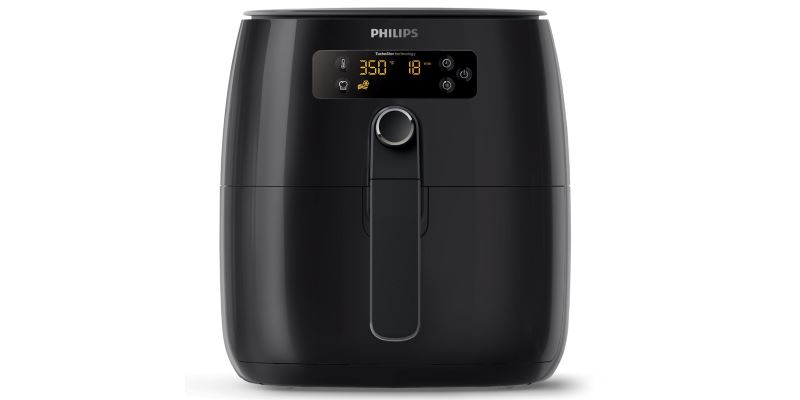 Philips is the company that created the world's first air fryer way back in 2010. As such, they are pioneers of this device and their latest Philips HD9641/96 is undoubtedly the best air fryer on the market right now. It has a 1.8 pounds capacity, which is large enough to cook for two people so you don't have to cook in several batches.
Using this air fryer is incredibly easy. You have to use the knob to set the time and temperature or you can use one of the presets as well. As such, the interface is pretty easy to figure out. This air fryer is designed with TurboStar technology that can generate greater airflow, thus encouraging more even cooking than all other air fryers on the market.
One of the best features of this air fryer is the "keep warm" function. With that feature, you can ensure that your dishes are kept warm for about 30 minutes after the timer finishes. As such, you can even prepare dishes in advance without worrying about them going cold.
In terms of construction, this air fryer is made of a firm and durable plastic shell. The insides are made of metal. The basket and drawer has a non-stick coating so you can clean them easily and they are also dishwasher-friendly.
Philips HD9641/96 comes with a recipe book and an associated cooking app. All things considered, it's easy to see why this is the most popular air fryer on the market. It has some of the most advanced features for even cooking, can be kept warm, is easy to clean, and has a large capacity. The only drawback is that it's also one of the most expensive air fryers on the market.
Best Budget Air Fryer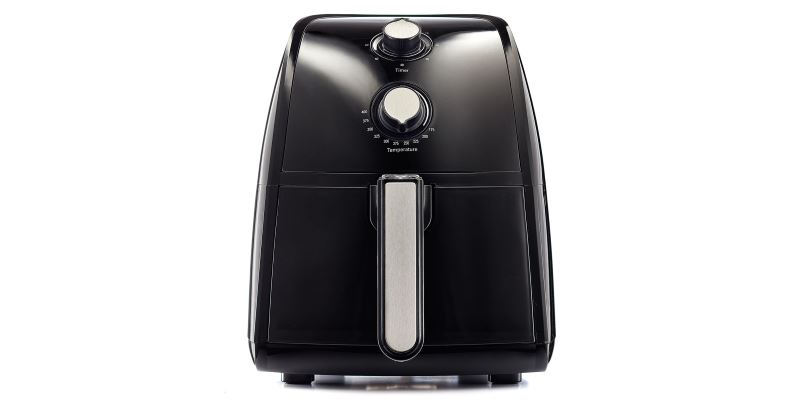 If you don't want to shell out an exorbitant amount of money for an air fryer, you can get the extremely affordable yet efficient BELLA 14538. It is durable and has an even greater capacity than the Philips HD9641/96 at 2.2 pounds. As such, it can easily cook for 3 people at a single round.
However, this air fryer is a bare-boned device that doesn't feature any advanced features. The design is also as basic as it gets with a drawer in the bottom and the temperature dial on top. It doesn't have a digital display either. You have to set the temperature and time using the analog dials. The temperature can go up to 400 °F with 25 °F increments. And the timer can go up to a maximum of 60 minutes.
Cooking is as good as you can get for an air dryer at this price range. It doesn't have advanced technologies to promote air flow. As such, you'll have to shake the drawer regularly to ensure that the food is evenly browned on all sides. Furthermore, it is also recommended that you don't fill the air fryer to maximum capacity.
In terms of additional accessories, all you get is a pamphlet with 15 basic recipes. However, that is alright considering how cheap it is. It also comes with a 2-year warranty, which is quite generous. All things considered, BELLA 14538 is the ideal air fryer for those who are on a budget and don't care for fancy superfluous features.
Best Value Air Fryer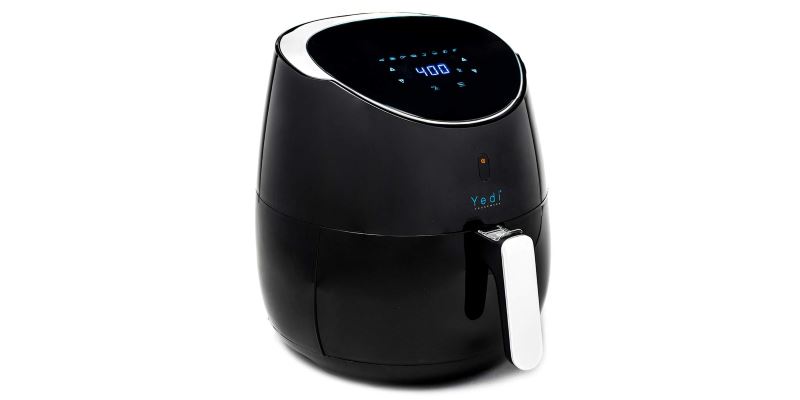 Yedi Houseware's air fryer isn't as expensive as the Philips, but it still packs some pretty impressive features, making it the best value air fryer on the market. The best aspect of this air fryer is that it has an impressive capacity of 5.8-quarts, which is enough to prepare food for a family of 5 at a single go. As such, this air fryer is perfect for large families.
Yedi Houseware is considered to be a "total package" air fryer. As such, in addition to simply frying, it comes with accessories such as a cake carrel, pizza pan, rubber mate, cooking time table, tray, and perforated steaming papers. As such, you basically get everything you could possibly need to prepare the best fried dishes. Additionally, you also get a standard recipe book and access to an associated smartphone app with a wide range of recipes.
This air fryer doesn't just have great accessories, it also performs really well. It has a digital display and the temperature can go up to 400 °F at 10 °F increments, which makes it more accurate than both the previously mentioned air fryers. The timer can only be set to 30 minutes, but you can always restart the timer at the end. You also get 7 presets for different food types if you're not an expert yourself.
The dishes are always evenly fried and they retain their juiciness as well. You will, however, have to shake the basket occasionally to make sure that the dishes get evenly browned. All things considered, Yedi Houseware has everything you could need from an air fryer — and more — at a very reasonable price range, making it the perfect air fryer for families.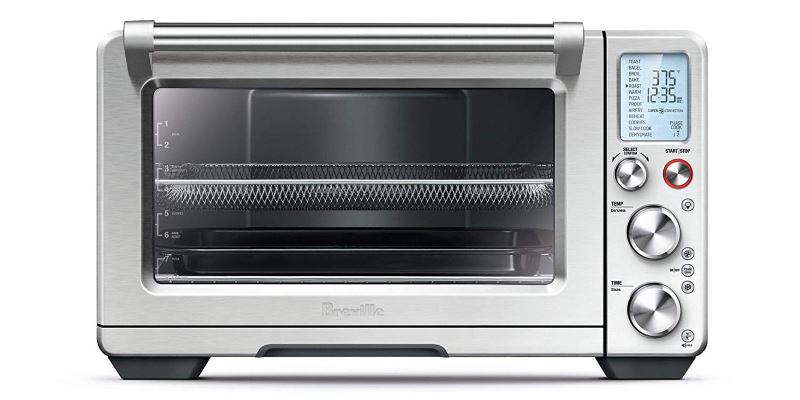 All of the previously mentioned products are pure air fryers. However, if you want a device that can do everything — dehydrating, toasting, roasting, air-frying, etc — you should get the Breville BOV900BSS convection oven.
This is a smart oven that also serves as an air-fryer, making it far more functional than a simple air-fryer. It can perform a total of 13 different cooking functions so you can do pretty much anything in the kitchen. You can fit up to 9 slices of bread in this over, a 13-inch pizza, or a tray of 12 muffins. Come Thanksgiving, you can also use this oven to roast a 14-pound turkey.
In terms of air-frying, this oven has two presets for you. Along with that, you can also set the timer and temperature using the analog dial. The high heat generated by the oven can fry your food to perfect crispiness. The only issue is that it's really expensive and it will also take up a lot of space in your kitchen.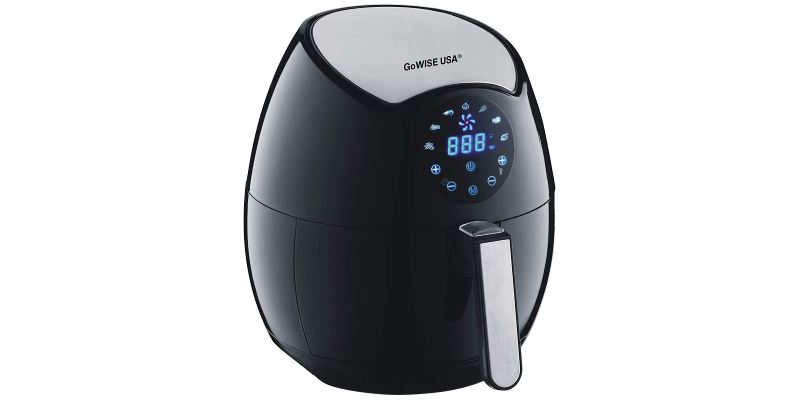 GoWISE GW22621 is one of the best budget air fryers on the market with a digital display. This air fryer features 7 presets for different dishes including cake, fries, fish, meat, chicken, steak, and shrimp. You can also manually adjust the temperature and time to the desired setting. It also comes with a booklet with 50 different recipes for those who are new to cooking.
The cooking basket is made of calphalon-coated material. It is dishwasher-safe and doesn't stick, making it easy to clean. In terms of performance, the GoWISE GW22621 is adequate but not as good as some of the other air fryers in this list. It can cook all kinds of dishes but you need to shake the drawer to ensure that it gets evenly browned. Furthermore, it takes longer than other fryers and you might still find undercooked parts.
All things considered, GoWISE GW22621 is the perfect air fryer for those who are on a budget but still want an air fryer with a modern digital display.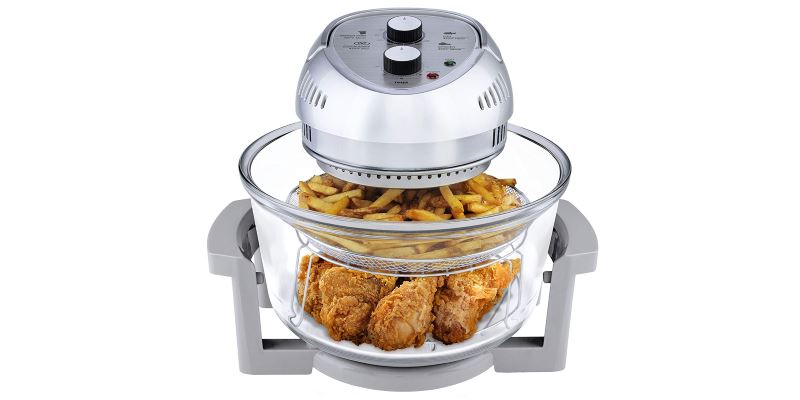 Big Boss is one of the largest air fryers on the market with a stunning capacity of 16 quarts. That's large enough to cook food for a group of 10-15 people at a single go. You can basically prepare fried food for an entire party at a single round. It also allows you to cook two different dishes one atop the other, making it even more efficient.
The temperature can be increased to 450 °F. This air fryer uses a 'triple cooking power' that combines halogen, convection, and infrared heat to perfectly cook your food. However, this method doesn't produce as great and even a result as some of the other air fryers on this list. The fries on the outer edges may be cooked more than the ones in the center. As such, you'll have to move them about and shake them regularly to get them evenly browned.
All things considered, Big Boss is the perfect air fryer if you host large groups of people often. However, if you don't need such a large capacity, you should get one of the other air fryers that pay more emphasis on the quality of frying rather than the quantity.