Keep your beard lush and dense with our
best beard oils
for growth.
Best Beard Oils in 2020
Do you have a beard? If so, using one of the
best beard oils
is absolutely necessary for you and your beard growth. Beards can be extremely sexy and classy when they're tamed and well groomed. But they can also leave you looking like a wandering hobo if they're left untended.
That's why you must use one of our
best beard oils.
However, beard oils aren't a one-for-all solution. Different people have different skin and beard types so you have to get a beard oil that works with your beard and your skin. If you get the wrong product, you might leave your beard looking greasy or you might experience acne breakout on your face.
In this article, we'll give you an overview of some of the best beard oils for good growth and lustrous shine that are available on Amazon. So you can go through them and select a beard oil that's perfect for you specifically.
Best Beard Oils ~ Buyer's Guide
Best Overall Beard Oil for Growth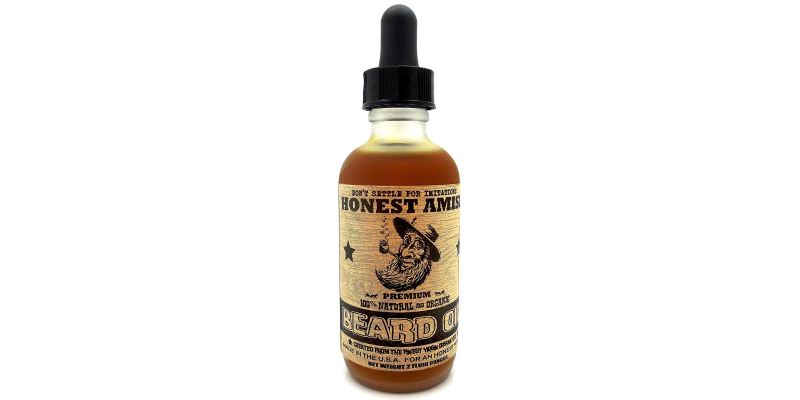 Honest Amish is one of the most reputable beard oils on the market right now, and with good reason. This beard oil is made entirely from natural ingredients. The lack of reliance on chemicals means it invigorates your beard with a lustrous shine without causing any itching. Furthermore, this beard oil has an earthy and musky scent with a spicy undertone, at once sexy and masculine.
When it comes to beard oils, you must ensure that they are suitable for your skin as well. Honest Amish is a hypoallergenic product that also conditions the skin so it won't worsen acne-prone skin. However, it is primarily meant for people with dry and brittle beards and itchy skin.
A single bottle of Honest Amish has 2 ounces of beard oil. The primary ingredients in this beard oil are Black Cumin Oil, Golden Jojoba Oil, Virgin Boabab Oil, Moringa Oil, Virgin Seabuck Thorn Oil, Virgin Avocado Oil, Virgin Argan Oil, Rose Hip Oil, Apricot Kernel Oil, and Virgin Pumpkin Seed Oil.
Best Scented Beard Oil for Growth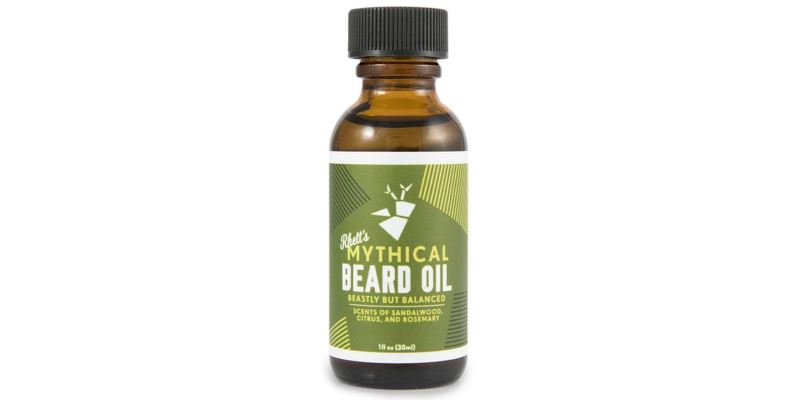 Rhett's Beard Oil is one of the best beard oils on the market because of its light but delicious scent. This beard oil is made from an apricot and hempseed based formula. It invigorates the beard and leaves it looking lustrous but not greasy. Furthermore, it can also get rid of the itchiness you sometimes experience from a growing beard. However, the best aspect of this beard oil is its natural woody scent, which is a combination of sandalwood, citrus, and rosemary.
This beard oil is also non-comedogenic in nature. As such, the moment it touches your skin, it immediately melts into your pores without clogging them up. It is particularly rich in Vitamins A, C, E, and fatty acids, all of which are ideal for hydrating the skin and reducing inflammations. As such, in addition to adding a lustrous shine to your skin, you can also use this beard oil to soothe flaking or dry skin.
Rhett's Beard Oil is made of various natural ingredients, including Apricot Seed, Grape Seed, Castor, Grapefruit Seed Extract, Hemp Seed, Rice Bran, and Glycerin Fragrance Oil. The only thing you should be concerned about is that some people find the scent to be too overpowering, so take a whiff before you buy it.
Best Budget Beard Oil for Growth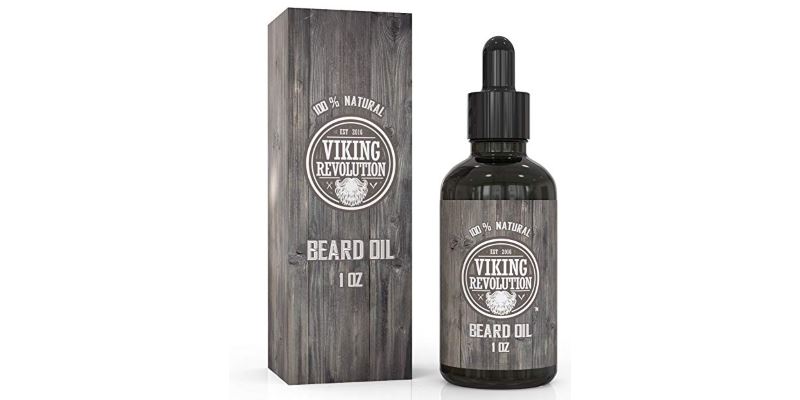 Viking Revolution is a beard oil made of 100% natural and organic ingredients. It is perfect for those suffering from an itchy beard. Not only can it stop the itching, but it can also help them grow out faster, denser, and more lustrous. The two primary ingredients in this beard oil are Argan Oil and Jojoba Oil, both of which are known for their natural moisturizing and conditioning abilities.
If you don't like scented beard oils — such as the aforementioned Rhett and Honest Amish beard oils — then this is perfect for you. Viking Revolution Beard Oil is completely unscented and it helps tame both smooth or frizzy beards. You have to use just a few drops for your beard to ensure that it doesn't leave behind any greasy residue.
This beard oil is also quite light and non-comedogenic so it immediately dissipates without leaving residues or clogging the pores. One of the best aspects of this beard oil is that it comes with a dropper cap so you can control just how many drops you use. This allows you to easily control the flow.
The only complaint leveled against Viking Revolution is that it's a bit watery in nature. And some users have complained that it sometimes dries out the beard fairly quickly. However, those complaints have only been leveled by a few people. And considering how cheap this beard oil is, it's well worth the experience.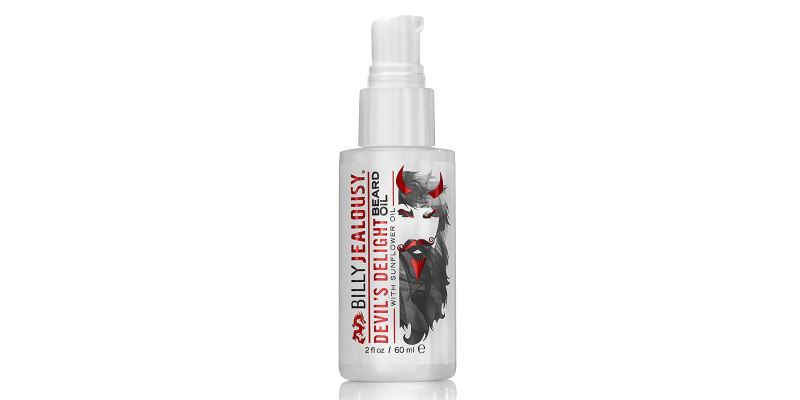 Billy Jealousy Devil's Delight is a fun and hip beard oil that's loaded with all-natural ingredients such as Soybean Oil, Sunflower Oil, Sweet Almond Oil, Avocado Oil, Aloe Vera Leaf Oil, Jojoba Oil, and Vitamin E Oil.
This beard oil can nourish and strengthen the hair follicles on your beard to get rid of itching and dandruff. Ingredients such as Vitamin E Oil and Sunflower Oil can trap moisture and seal beard shafts, keeping it lush for long stretches of time. You only need to use one or two drops a day for it to drastically enhance the quality of your beard.
In addition to working on your beard, it can also moisturize and nourish the underlying skin. As a non-comedogenic oil, it easily gets absorbed into the skin without leaving residue or clogging the pores. Furthermore, by moisturizing the skin, it can help you look younger and it gets rid of scars and acne.
While nourishment and conditioning are key points when selecting beard oils, you should also focus on the scent. And that's where Billy Jealousy Devil's Delight truly stands out. This beard oil has a warm and sweet smell that is sure to leave you smelling delicious.
The only drawback with this beard oil is its pump-style discharger. It is not suitable for oils since you have to only get one or two drops at a time. Furthermore, it also tends to waste some oil. However, other than that, Billy Jealousy Devil's Delight is one of the best and most sweet smelling beard oils on the market.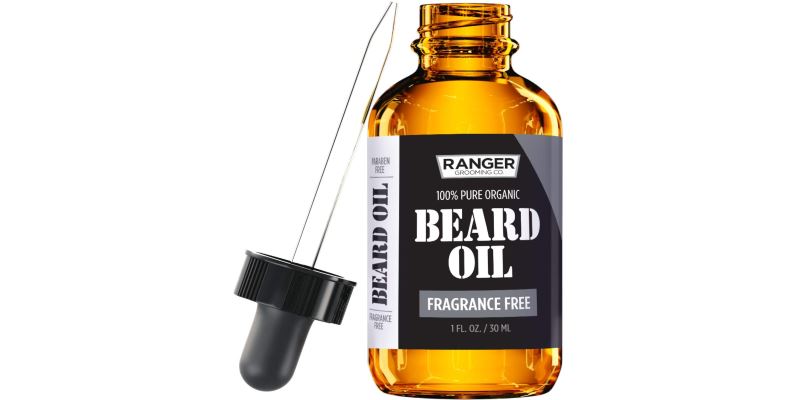 Leven Rose is one of the best fragrance-free unscented beard oils on the market. This beard oil is made of only two ingredients (both of them natural) — Organic Jojoba Oil and Organic Argan Oil. While this may seem relatively simple in comparison to the others, these are two of the most popular and effective carrier oils for beards.
Both ingredients are rich in Vitamin E and antioxidants, so they can enhance the lustrousness of your beard and help it grow out fast. Furthermore, they are both non-comedogenic so they can easily get absorbed into the skin and beard without any residue.
However, its lightweight nature is both an advantage and a disadvantage. If you have sensitive skin, this is perfect because it won't leave any residue or cause a breakout. However, some people find that it dries out too quickly and it leaves their beard looking dry and brittle halfway through the day.
Leven Rose comes with a glass dropper so you can invigorate your beard with individual drops of oil. The dropper style discharge is ideal for oils because you can measure out exactly how much oil you need, preventing any wastage.
All things considered, if you prefer organic and simple ingredients that can be used on all beard and skin types, then Leven Rose is the ideal choice for you. However, if you want a beard oil that can leave your beard lush all day long, then you might want to find a stronger beard oil.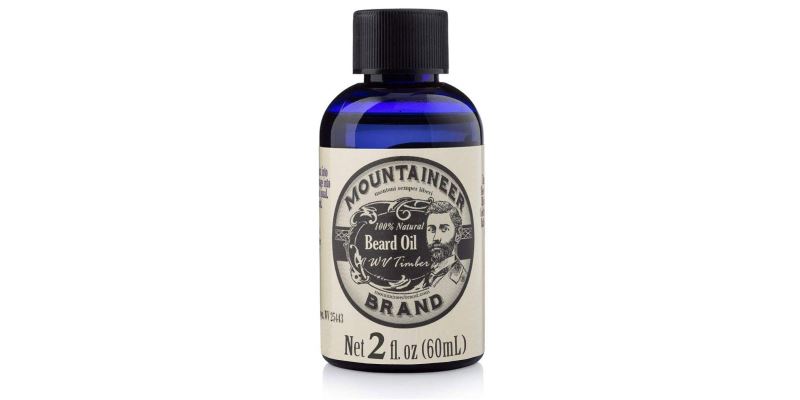 WV Timber Mountaineer is one of the best beard oils to get rid of dry and flaking beards. This beard oil is made of three primary oils and a strong selection of complementary carrier oils. The ingredients used are Grapeseed Oil, Almond Oil, Cedarwood Oil, Eucalyptus Leaf Oil, Castor Oil, and Needle Oil.
This beard oil is perfect for both short or long beards. It is lightweight so it quickly gets absorbed into the hair and skin without leaving behind residue. It can also help get rid of all itchiness and invigorate your beard, leaving it lush and wet.
The dominant ingredients in terms of the scent are Cedarwood and Fir Needle. These ingredients imbue an earthy and woody smell to the oil. So when you wear this beard oil, you will have the natural scent of having just worked in the woods. While the scent is quite strong for the first few minutes, it gradually mellows out so that it's not too overpowering.
WV Timber Mountaineer works best on damp beard so you should use it immediately after showering.