In this article we'll help you find the
best BJJ gi
for beginners and advanced jiu jitsu practitioners for training and competition.
Best BJJ Gi 2020
The Gi is the most essential gear or component of Brazilian Jiu Jitsu. It's the official lightweight garment worn as a kind of armor for a number of martial arts, including Brazilian Jiu Jitsu.
The biggest mistake people make is using a Judo, Karate, or Brazilian Jiu Jitsu Gi interchangeably. Gis meant for all these different martial arts forms are different in terms of weight, sleeve size, and a number of other factors.
That's why it's crucial to pick out a Gi that's specifically meant for Brazilian Jiu Jitsu training. The
best BJJ gi
weave needs to be durable enough so it doesn't tear away. It needs to be made from a material that offers support while still being extremely lightweight. Even the size and length of the Gi should be just right so the opponent can't grab hold of extra material to gain an advantage – there are also some significant differences between the
best BJJ gi
for training and the best BJJ competition gis.
In this article, we'll give you an overview of the
best BJJ gi
for all jiu jitsu levels!
Best Jiu Jitsu Gi
Best Budget Brazilian Jiu Jitsu Gi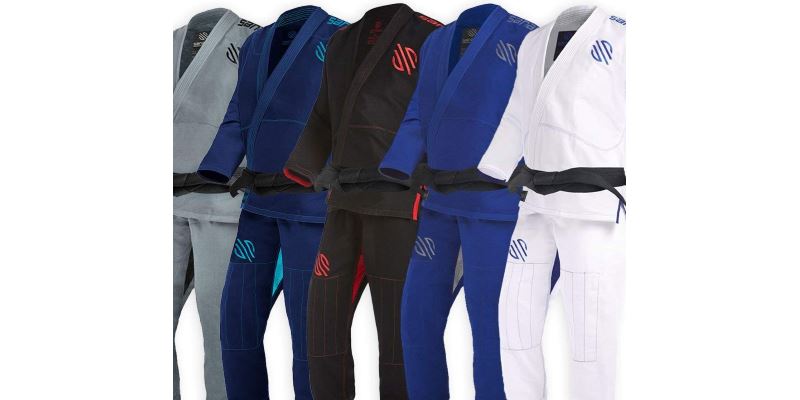 Sanabul Essentials v.2 is one of the best brands on the market for Brazilian Jiu Jitsu Gis. It is often called the "secret to getting better" at the martial art form. This Gi has been designed with a lightweight weave and it uses a preshrunk fabric. As such, it doesn't change in size when washing, which makes it reliable for extended use.
The best aspect of this Brazilian Jiu Jitsu Gi is that it's equipped with features that can minimize odor and sweat problems. It is well-ventilated and breathable so that there are no fungal or bacterial developments. The aesthetic cut of this Brazilian Jiu Jitsu Gi is extremely precise and bears features that can keep you perfectly covered and protected.
Even though Sanabul Essentials v.2 is a high-quality premium Brazilian Jiu Jitsu Gi, it's also one of the cheapest because the company's goal is to be attainable for both professionals and beginners alike. Sanabul Essentials v.2 is available in five colors — Black, Blue, Gray, Navy, and White.
Best Premium Brazilian Jiu Jitsu Gi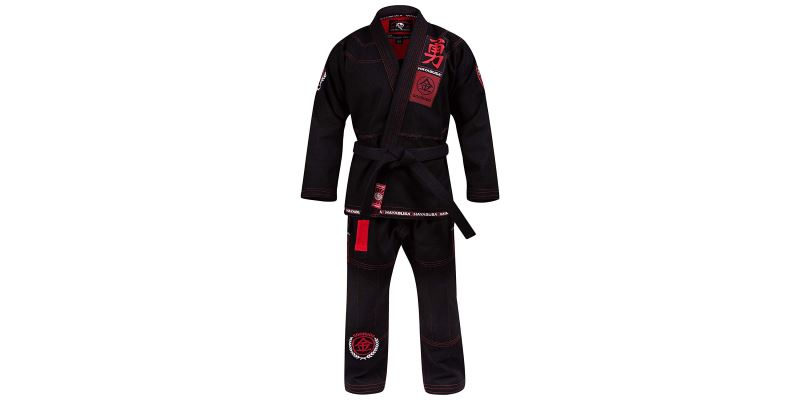 Hayabusa Goorudo 3.0 is an extremely expensive high-quality Gi that can sustain all kinds of abuse without tearing. The most important feature here is the engineered gold weave that gives it its incredible durability. The Gi's jacket has been made of 550 grams per square meter material and the pants have been made of 12 ounce twill cotton blend.
Gold weave basically marries the best of single weave units and double weave units. It has the lightweight nature of a single weave Gi but it's as durable as a double weave. This ensures that the Hayabusa Goorudo 3.0 remains breathable and lightweight while also offering incredible strength and durability under the harshest of strains.
This Brazilian Jiu Jitsu Gi is supposed to be pre-shrunk for accuracy. However, several customers have noted that it shrinks by 1 or 2 inches when washes. That's the biggest and perhaps only drawback this brilliant Gi has. However, because of the price point, it's only used by professionals.
Hayabusa Goorudo 3.0 looks extremely stylish as it has patches of embroidery on the legs, back, chest, and lapels. The jacket also has the kanji symbol representing strength and courage. It's available in only three colors — Black, Blue, and White.
Best Value Brazilian Jiu Jitsu Gi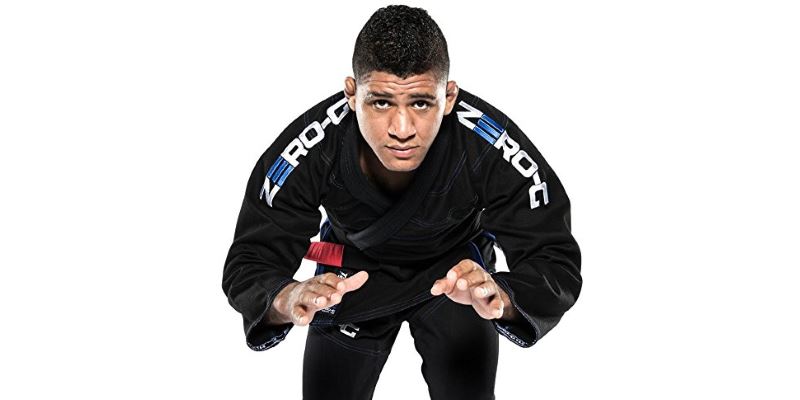 Tatami Zero G V4 is one of the most original and unique Brazilian Jiu Jitsu Gis on the market. This Gi officially changed the Jiu Jitsu gear landscape when it was first introduced. It was rigorously tested and it took three versions to perfect it, but it is now currently one of the best on the market. Furthermore, even though it's incredibly durable and high-quality, it's also pretty cheap and can be purchased by novices and professionals alike.
An A2 sized Tatami Zero G V4 jacket and pant combination weighs only 1.5 kg but the weights differ based on sizes. It is made of 475 grams per square meter pearl weave material, making it even more lightweight than the aforementioned Hayabusa Goorudo 3.0. This Brazilian Jiu Jitsu Gi also has a rubberized collar that can prevent moisture from being absorbed by the cloth, making it suitable for long training sessions. The collar is also covered in ripstop in order to add greater durability.
This pearl weave Brazilian Jiu Jitsu Gi has been tested and pre-shrunk so you can wash or heat it all you want without changing its size. The athletic cut is also precise and accurate and there's no additional wasted material or fabric. The only slight drawback here is that the drawstring can be a little difficult to tie correctly and it tends to come undone if not done properly.
All things considered, Tatami Zero G V4 is one of the world's best Brazilian Jiu Jitsu Gis and it's available at an incredibly reasonable rate. It's available in two colors — Black and White.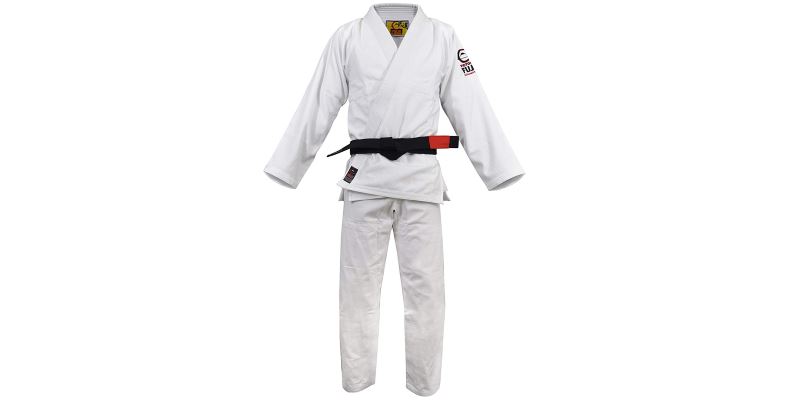 Fuji Uniform is a brilliant starter Brazilian Jiu Jitsu Gi for novices and beginners. It has been made with a minimalist monochrome design so it looks like a traditional Brazilian Jiu Jitsu Gi instead of a modern iteration replete with embroidered patches.
This Brazilian Jiu Jitsu Gi isn't the most lightweight Gi on the market, but it's also not too heavy. It's right there in the middle — reliable for training, but not suitable for professionals for whom the slightest of weight imbalance can be disastrous. This Gi also has quite a bit of shrinkage problem if you expose it to hot water. As such, you should purchase a set that's a size bigger than the one you need. You can, however, minimize this issue by washing it in cold water.
This Gi has been designed traditionally with cotton twill material for the jacket and pants. Even the stitching and style is traditional. Considering it doesn't have the same set of advanced features and specifications as some of the other Brazilian Jiu Jitsu Gis out there, it ought to have been a lot cheaper. But it currently stands as a mid-range Gi in terms of price.
Fuji Uniform is available in five different colors — Black, Blue, Navy, Pink, and White.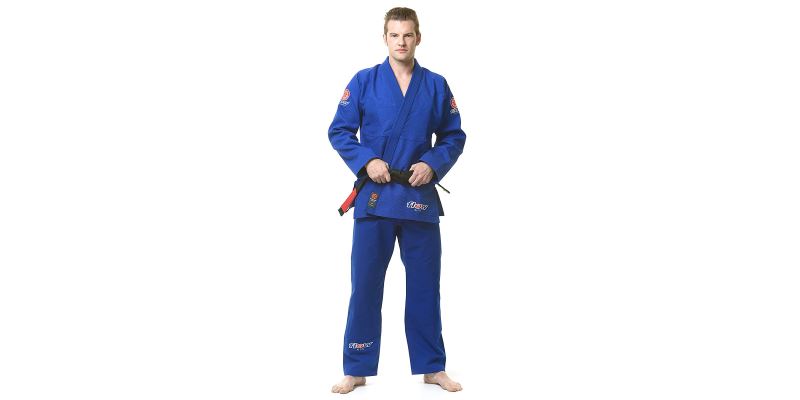 Flow Kimonos Air is a high quality and expensive preshrunk Brazilian Jiu Jitsu Gi. As the name suggests, this Gi is ultralight and it is made of 100% combed cotton pearl weave to enhance durability while minimizing weight. The fabric on this Gi is made of ripstop technology in order to absorb moisture and keep you dry during long training sessions.
This Gi is extremely lightweight and breathable, which, in turn, can enhance your performance and minimize fatigue. It is especially suitable for hot climates because the fabric provides breathability whereas the moisture-wicking feature ensures there's no moisture retention or bacterial and fungal growth.
A lot of Brazilian Jiu Jitsu Gis go wrong when it comes to the drawstring. It's important for the drawstring to be such that you can wear the pant easily and not have to worry about the drawstring coming undone while training, or worse, during combat. Flow Kimonos Air has a high-quality drawstring that can easily be tied and it remains firmly tied even under the most strenuous activities.
Flow Kimonos Air does have one major drawback though. Several users have complained that this Gi gets extremely scratchy after washing it. That's not good at all and it can severely affect the user's performance. Furthermore, it's also extremely expensive, almost as much as some of the top Gi companies. It is available in three colors — Black, Blue, and White.
Your Jiu Jitsu is an extremely affordable Brazilian Jiu Jitsu Gi that's perfect for trainees and novices. The best aspect of this Gi is that it comes with a free additional belt, which can make it even more cost-efficient than it already is.
At such a cheap price, one may think that this Gi sacrifices the quality and material. However, that is not true. Sure, it doesn't have some of the advanced features like moisture-wicking surface and gold weave. But it's a perfectly comfortable Brazilian Jiu Jitsu Gi in its own right.
It's not the most lightweight or heaviest, striking a good balance in between. The collars are rubberized to prevent moisture absorption as much as possible. The pants have drawstrings, but they are easy to tie and they are firm enough that they don't come undone. It is made of 100% cotton and it's not pre-shrunk so it can definitely shrink after washing it. So you should take that into consideration when purchasing it.
Your Jiu Jitsu is available in monochrome colors with no brands so you can customize it however you like. It is available in five colors — Black, Gray, Blue, Navy, and White.