Do you want an all-immersive soundscape without headphones? Check out one of the
best computer speakers
with good bass of 2020
Best Computer Speakers for 2020
Using computer speakers is one of the best ways to boost your soundscape while enjoying a communal experience.
Listening to music or playing games on headphones is a solitary affair. But if you use computer speakers, you get the chance to share that experience. However, it's important to find a computer speaker that's loud and clear without being overpowering or cracking.
In this article, we're giving you a detailed overview of the
best computer speakers
with good bass you can buy in 2020.
Best Computer Speakers ~ Buying Guide
Best Computer Speaker with Good Bass for Gamers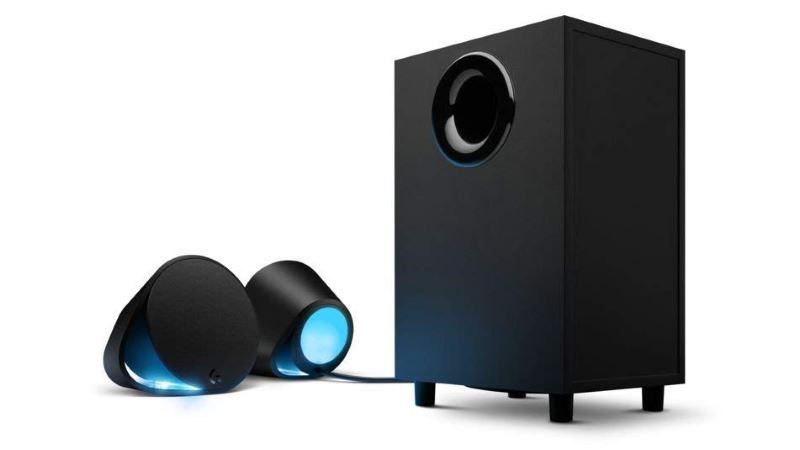 When it comes to RGB lighting, people either hate them or love them. Some find them tacky while some believe it enhances the gaming experience. If you belong to the former category, i.e., if you hate them, Logitech G560 isn't for you. However, if you're a gamer that enjoys an immersive soundscape as well as a gorgeous light show, then Logitech G560 is perfect.
This computer speaker allows you to choose between hardware control mode and software control mode. If you choose hardware control mode, you can use Bluetooth and AUX input for the lighting effect and the RGB lights flash and dim in correspondence with the decibel and pitch of the music. This is a great way to ensure that the lights respond to the sound. If you chose the software control mode, you get to manually set the colors, lighting modes, and audio visualizer. This mode isn't as responsive but it allows you to personal play with it.
Logitech G560 also excels at screen sampling. As such, it responds to the lights on the screen and extends them outwards in the form of the corresponding color. However, in order for this effect to really work, the speakers need to be set up beside the monitor or screen with their backs to the wall.
In addition to the RGB illumination, this speaker is also pretty great in terms of pure sound. It has the ability to create an immersive experience akin to 5.1 or 7.1 surround sound without the hassle of actually positioning all those speakers around the room.
Best Overall Computer Speakers with Good Bass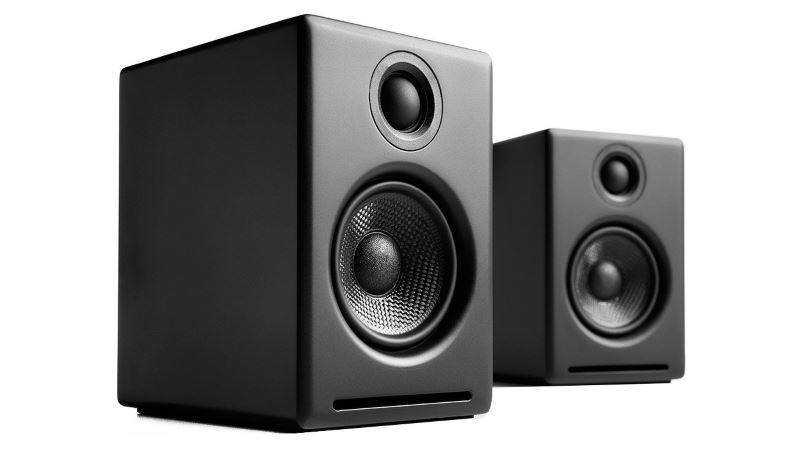 Audioengine A2+ looks pretty basic. There's no RGB lighting, no cool designs or logos, and no colorful features. It is simply an understated black box with powerful woofers. However, its simplicity packs a pretty powerful punch and versatile soundscape that's just as well suited for acoustic music as it is for Netflix or loud FPS video games.
These speakers somehow manage to be the perfect combination of price, quality, and size. At 6 pounds, you can comfortably place them on any computer table or bookshelf, and they occupy that space without drawing attention to themselves. They are available in three colors — Black, Red, and White.
These computer speakers are available in various input and output options, including the 3.5mm jack, USB, and RCA. I only have one major concern here — the lack of bluetooth compatibility. These days, most people prefer playing their music wirelessly, and bluetooth is pretty essential for that. Without bluetooth connectivity, you would essentially have to hook your phone to it and leave it there. This drastically cuts down the spontaneity people prefer when it comes to listening to music.
However, other than that issue, Audioengine A2+ is pretty fantastic in terms of delivering a crisp and powerful sound experience.
Best Premium Computer Speaker with Good Bass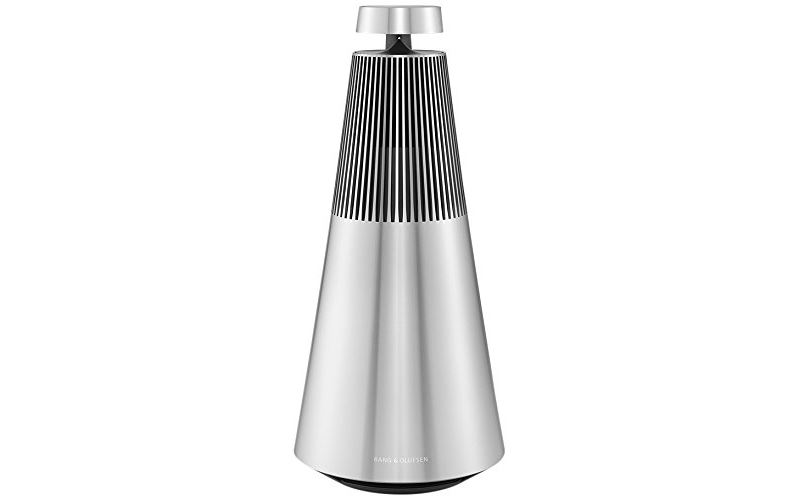 Bang & Olufsen BeoSound 2 is undoubtedly the best computer speaker on the market. However, it's also the most expensive speaker out there by a large margin, costing over $2000. If you have money to burn and really care a whole lot about purchasing the best of the best, then you should go ahead and get BeoSound 2. Otherwise, you can move on to the next entries on this list.
Bang & Olufsen BeoSound 2 is a sleek metallic computer speaker that's spherical and tapers towards the top, sort of like a lighthouse. It weighs just 9 pounds and is 17 inches high, so it can easily be placed on any desk or bookshelf. It is compatible with pretty much any streaming platform out there such as Bluetooth, Google Cast, Deezer, QPlay, Spotify Connect, Apple Airplay, or any other. The conical body has the ability to project the audio from every angle, thus giving off an immersive 360-degree experience.
This computer speaker can also be connected to other similar computer speakers via an associated app. As such, if you're having a party, you can position a bunch of these around the room and connect them so they all blast music simultaneously, creating the perfect party atmosphere.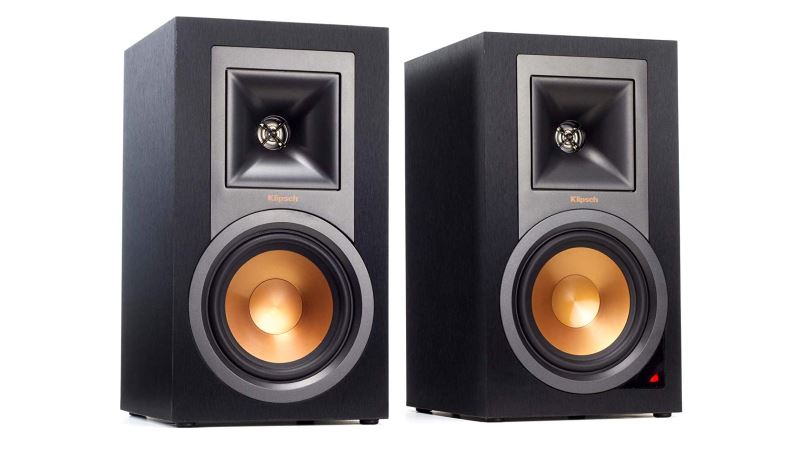 Klipsch R-15PM is another premium computer speaker meant only for the purest of audiophiles. This computer speaker has 5 different inputs options — 3.5 mm AUX, Analog RCA, Digital Optical, USB, and Bluetooth. You can flip between the various input options using the remote. With such a wide range of input options, this computer speaker is pretty versatile.
These speakers have the capacity to deliver extremely consistent, loud, and sharp sound across all forms of music and sound experiences. However, once you connect the R-10SW subwoofer — provided separately with the speakers — these speakers have the ability to provide music for an entire party. Furthermore, the speaker's equalizer is extremely accurate and capable of creating soundscapes specific to different situations.
These speakers are extremely easy to set up and use as well. As such, if you get confused by all of the features in a lot of modern speakers and instead want a simple speaker that's versatile and delivers great sound, Klipsch R-15PM is right for you.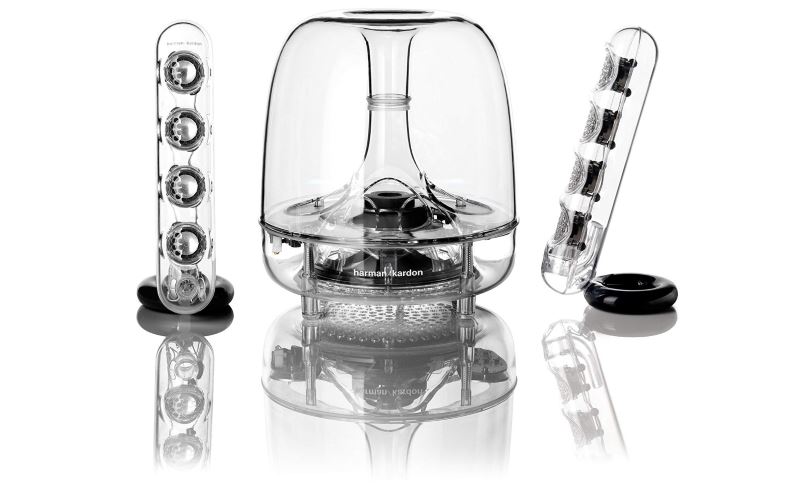 Harman Kardon Soundsticks III 2.1 is undoubtedly one of the sleekest and coolest computer speakers on the market. There really is no speaker out there that can beat it in terms of pure aesthetics. The entire speaker is contained within a cool all-glass case and the subwoofers can be seen clearly through the glass. It looks modern and futuristic at the same time.
However, this speaker isn't just attractive, it's also pretty powerful and comes with a relatively affordable price tag. As soon as you turn these speakers on, they instantly identify the Bluetooth devices in the vicinity and they can be paired immediately for an uninterrupted experience. These speakers are also pretty loud, capable of producing heavy bass, and they retain their clarity even when the music is cranked all the way up.
The ease with which they pair to Bluetooth devices can be both a good and a bad thing. On the one hand, they connect to your device instantly and remain paired. However, if your device isn't already connected, anyone with a Bluetooth device within a 30 feet radius can also connect to them. As such, if you live in a shared apartment, this could lead to some awkward situations with the speakers getting accidentally paired to other people's devices.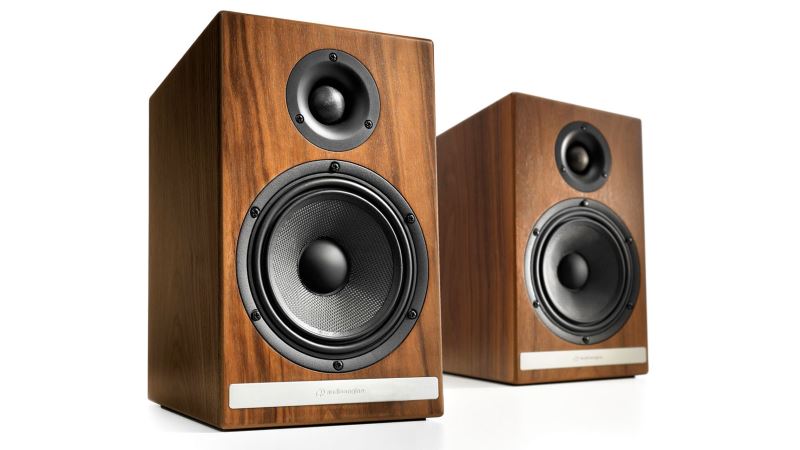 Most of the other computer speakers on this list come with a modern or futuristic design. However, everyone doesn't like that aesthetic. If you prefer a more vintage look to your music box, you can go for the Audioengine HDP6.
This computer speaker has large 5.5-inch woofers and the entire body is made of Walnut hardwood with aluminum trim accents. If you want some variety, you can also get the Cherry wood alternative. As such, they look perfectly at home sitting on your bookshelf or computer table.
In addition to the aesthetic, these speakers are also really powerful. They are equipped with silk dome tweeters powered by neodymium magnets. These features allow the speakers to hold up well under high power usage as well and maintain a completely smooth and even sound even at the upper decibel registers.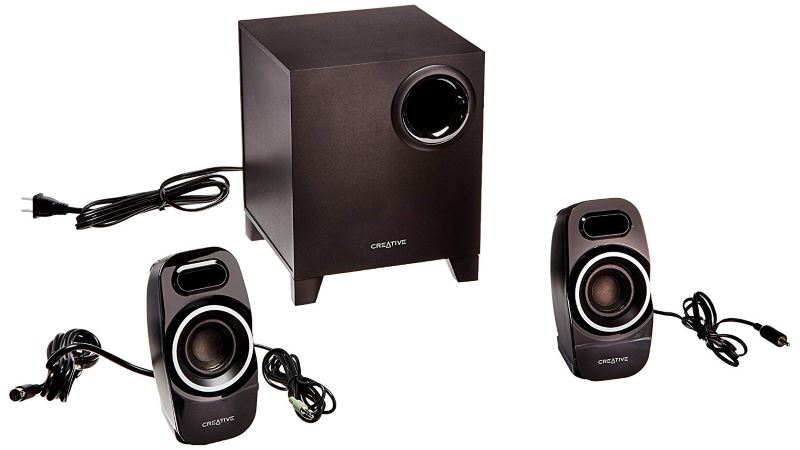 Creative A250 is one of the best computer speakers under $50. There are a lot of budget-friendly computer speakers available on the market, but only a few of them can maintain a clear sound in loud settings. Creative A250 is one of them.
This computer speaker has a power output of just 9 watts but it can still clearly pump out sounds that are louder and clearer than many computer speakers with twice as much power wattage. This speaker can produce clear lows and sharp highs without distorting. However, perhaps the only complaint here is the lack of control over the subwoofers since there's no subwoofer dial.
These speakers are just 5 pounds in weight and they can easily fit over small desks as well. In terms of aesthetics, they have an iridescent bronze look which is pretty cool. They certainly aren't loud enough for a large gymnasium or party, but they are more than capable of delivering a strong soundscape for a small gathering of people in a single room. If you're looking for a budget computer speaker, look no further.
—
Now that you're all sorted with the best computer speakers, be sure to check out our best wireless router best gaming mouse, best gaming headset and best gaming chair guides!