Best Cooler 2020
When you're out on the road — either backpacking, camping, hiking, or simply living an RV lifestyle — it's hard to keep your ice frozen to help keep food well-preserved and your drinks cool. You very well can't lug a heavy refrigerator around with you, can you?
That's where our
best cooler
for keeping drinks ice-cold & food fresh come in!
Coolers are one of the most important tools for those who enjoy the outdoors — either regularly or sporadically. The
best cooler
can keep all your dishes and drinks refrigerated while being extremely portable and reasonable!
But when it comes to purchasing a cooler, you need to be really careful and do your research. Some coolers are only meant for food, some are meant just for drinks, and some can carry both. Different coolers also have different types and numbers of storage compartments.
In this article, we'll give you an overview to help you find the
best cooler
for keeping drinks ice-cold & food fresh!
Best Cooler ~~ Buying Guide
Best Premium Cooler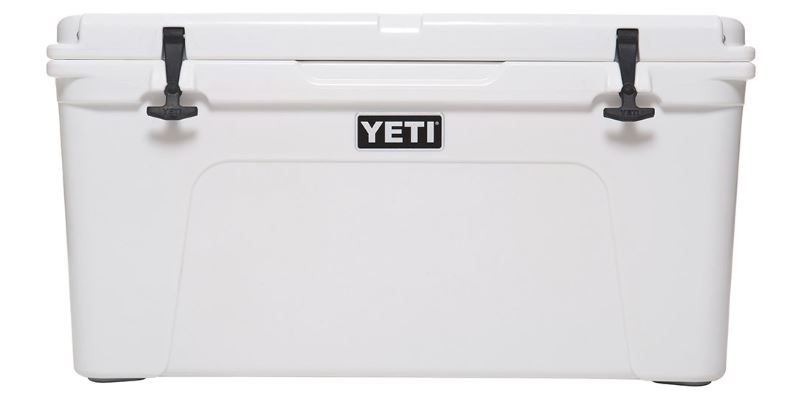 YETI Tundra 75 is the best cooler for you if you're going on a long camping trip where you won't have access to power or refrigeration for a few days at a stretch. This cooler can keep your ice frozen and your drinks cool for over a week in the peak of a hot summer.
The biggest drawback with this cooler is its price. It's one of the most expensive coolers on the market by a long shot. But while most coolers can only provide refrigeration for a day or so, this one can provide intense refrigeration for over a week, which makes it perfectly worthwhile for regular campers.
YETI Tundra 75 has been designed with an incredibly durable and tough rotomolded design that can even sustain a bear attack and come away with little more than a surface scratch. Beyond the surface strength, this cooler also has 3" PermaFrost insulation and a ColdLock gasket — both of these features ensure that no heat is lost for days at a stretch. As long as you've loaded enough ice into it, this cooler will remain in sub-zero temperature for over a week.
In terms of capacity, this cooler can has two compartments. The beverages compartment can hold up to 50 cans and the dry goods basket is also sufficiently spacious.
YETI Tundra 75 is also equipped with BearFoot non-slip feet to prevent it from slipping and AnchorPoint tie-down so you can easily tie the cooler down in a trunk, boat, or any other similar surface. You should, however, note that this cooler weighs 30 pounds when it's empty so you might need some help loading it into your vehicle.
Best Value Cooler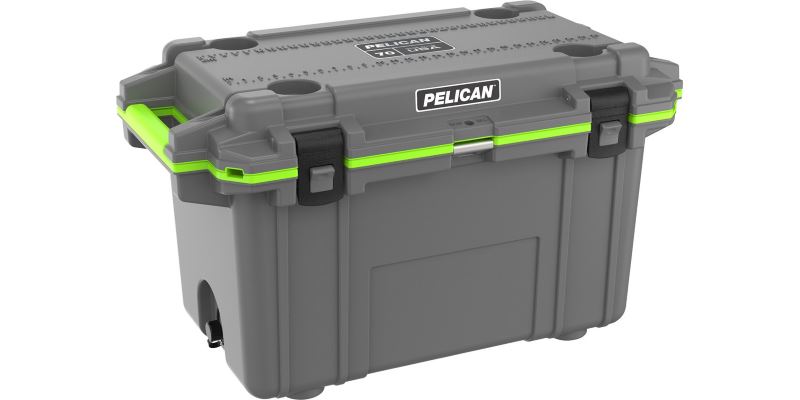 Pelican Elite is similar to YETI Tundra 75 in terms of ice retention but it's a lot more reasonable. It can keep ice frozen for a period of seven to ten days even in extremely hot ambient temperatures. The ice retention aspect is ensured thanks to the two inches of polyurethane insulation and the 360-degree freezer-grade gasket.
One of the best aspects of this cooler is that consumers have a lot of choices, both in terms of color and capacity. Pelican Elite is available in 20 Quarts, 30 Quarts, 50 Quarts, and 70 Quarts. in terms of color, you have four options — Green/Tan, Grey/Green, Tan/Orange, and White/Gray.
Pelican Elite is also extremely functional in design. The entire outer surface has been made of durable stainless steel. While it's not strong enough to survive a bear attack, it's certainly strong enough to survive a few tumbles. The cooler is also equipped with tie-downs and locking areas so you can tie it down and lock it in place, either in your garage, truck, or anywhere else. As such, you can rest assured that no one will steal it, at least not without making enough noise to wake you up.
There are some users who have complained that this cooler leaks, but those complaints are in the minority. Generally speaking, this is the perfect cost-effective alternative to YETI Tundra 75, ideal for those who want deep-freeze for long periods without breaking the bank.
Best Budget Cooler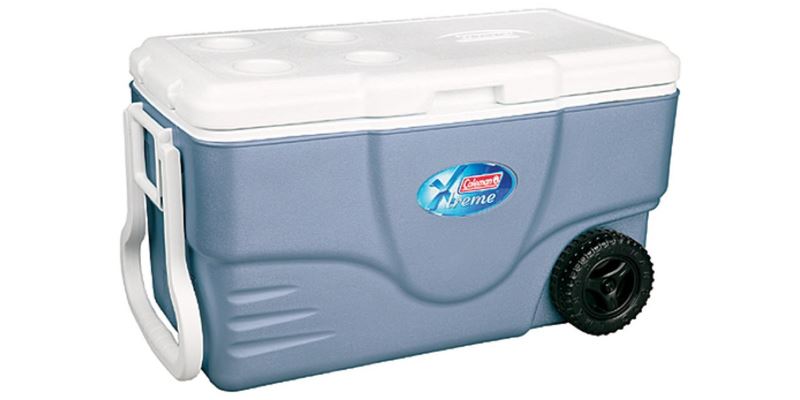 Coleman Xtreme is one of the most reasonable coolers on the market. This cooler is made of durable plastic exteriors and measures 31.5 x 17 x 15.5 inches. Since it's made of plastic, it's not strong enough to sustain considerable damage. But it can sustain shaking and vibrations. This cooler is also quite lightweight and is equipped with wheels so you can roll it along instead of having to lift it up.
In terms of storage, this cooler has 62 quarts of space. That's large enough to hold up to 85 beverage cans. In addition to that, it also has four stay-put beverage holders on top. It doesn't, however, have a separate dry goods basket. As such, you can only use this cooler to store beverages, frozen goods, or ice.
This cooler can keep ice frozen for up to 5 days at an ambient temperature of 90 degrees Fahrenheit. This means that you'll have to ensure that you keep the cooler away from direct sunlight and it won't be as effective in the peak of summers. However, if you're just going for short camping trips or road trips, this should be perfectly sufficient.
All things considered, Coleman Xtreme is a pretty durable, effective, and spacious cooler for you to carry on short trips. It's definitely not as large, durable, or effective in refrigeration as the aforementioned Pelican and YETI coolers, but you can't really expect that at such a cheap price.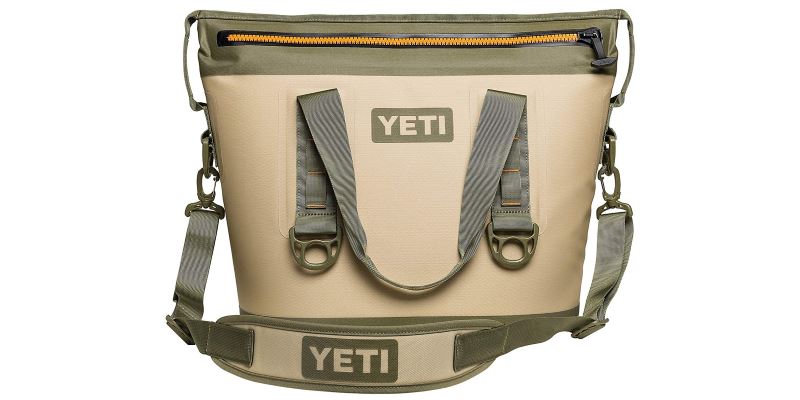 YETI Hopper Two is one of the most portable coolers on the market. It's a small cooler that resembles a shoulder-strap bag. It measures 22 x 10 x 16.5 inches and weighs only 4.4 pounds so you can easily carry it on your shoulders.
It has been designed such that you can simply unzip the top and retrieve whatever you want within seconds. It's basically like carrying a handbag, one that can keep your drinks and food refrigerated. However, due to the small size, it can only be used for individual short-term use. You can use it when you're going on a short road trip or if you're going on a little picnic to the park. It's not really suitable for camping trips that last for several days.
Its exteriors are quite durable and made of waterproof DryHide Shell. As such, it can survive a couple of intense tumbles and it can also survive harsh storms. Even the straps are incredibly tough and you can rest assured that they won't snap on you. Finally, the HydroLok Zipper — the design used in HazMat suits — is ideal for insulation as it keeps all the cold locked in.
YETI Hopper Two can hold up to 18 cans of beer and 20 pounds of ice simultaneously. It is available in two colors — Field Tan & Blaze Orange and Fog Gray & Tahoe Blue.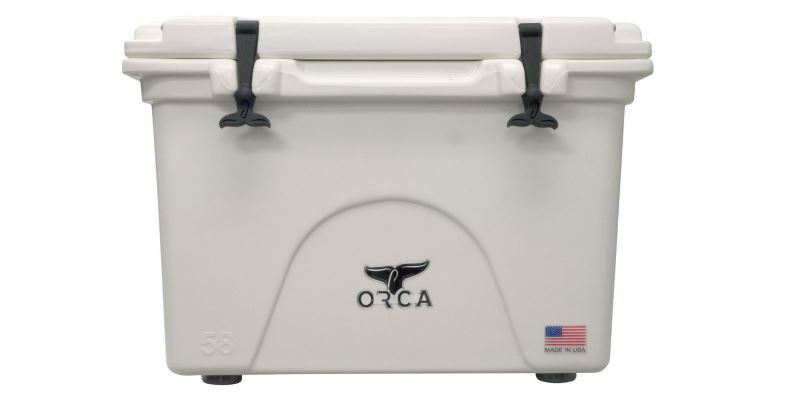 ORCA BW058ORCORCA is an extremely powerful cooler meant for long-term use while camping or RVing. This is a 58 quarts root-molded cooler with premium insulation that can keep ice frozen for up to 10 days even in extreme heat.
As effective as this cooler is, it does have a slight problem with leakage. You have to basically pack food and beverages in a specific manner to prevent leaking. This cooler is also durably built and can take quite a bit of damage without cracking or losing its efficiency.
All things considered, this cooler is of the same style and has the same purpose as the aforementioned YETI and Pelican coolers. However, it's a lot cheaper. So if you want a spacious cooler for sporadic use — and don't care too much about quality — this is a great option.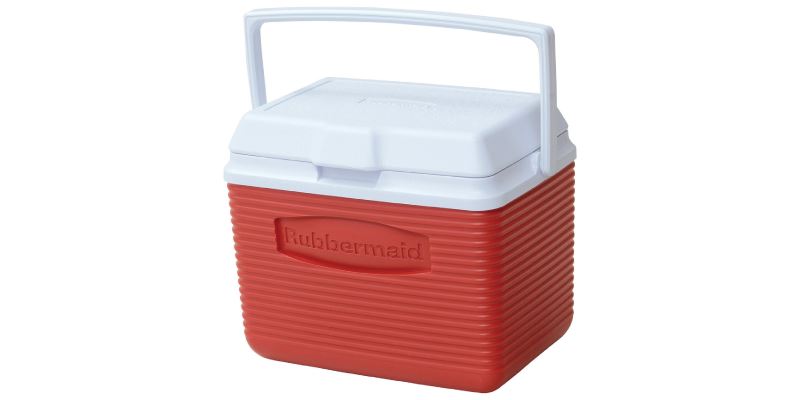 Rubbermaid FG2A1104MODRD is a compact cooler meant for short-term use. You can use it when you're going on an overnight camping trip, taking a road trip, or when you're going on a picnic or day trip.
This cooler has thermal retention so that contents remain cold for over 24 hours. The ice chest is has an easily-cleaned liner that makes the cooler easy to maintain. It is also equipped with an Easy-Swing Handle that makes it highly portable. You can simply hold on to the handle and carry it around. When empty, the entire cooler only weighs 2.85 pounds so anyone can carry it around.
All things considered, Rubbermaid FG2A1104MODRD is an extremely affordable and suitable cooler for those who need it for basic sporadic purposes. It is available in four sizes — 5 quarts, 10 quarts, 20 quarts, and 24 quarts. It's also available in two colors — Red and Blue.