Best Men's Face Wash for All Skin Types
Best Face Wash for Men
Most people don't think a lot about the products they use on their face. Many men simply resort to using their body wash or bar of soap for their face.
You might think that there's nothing inherently wrong with using soap as a face wash, but you'd be terribly mistaken. Body products and soap can rob your facial skin of essential oils, which can, over time, lead to wrinkles and cracks.
That's why it's important to use a dedicated face wash for your facial skin.
But you can't just pick any face wash. Different face washes are made with different components and ingredients that serve different purposes. Some are meant to hydrate dry skin. Some get rid of sebum buildup and essential oils to prevent acne breakout. Using the wrong face wash can potentially worsen your existing skin conditions.
In this article, we'll give you an overview of some of the best face wash for men of all skin types.
Best Men's Face Wash – Buyer's Guide
Best Face Wash for All Skin Types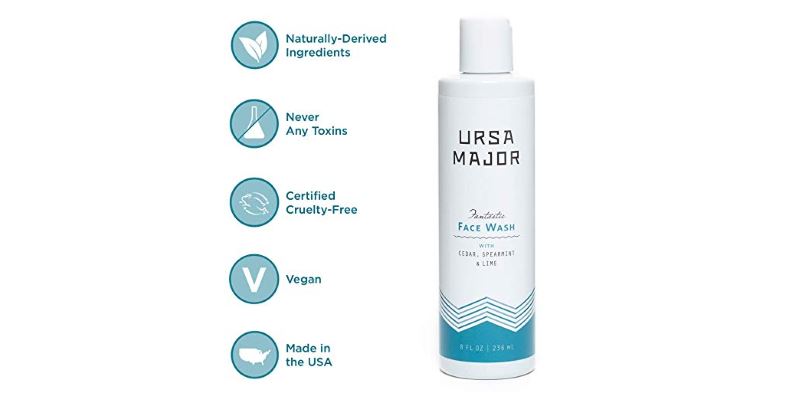 Ursa Major is one of the best face washes for men with all types of skin types. It's suitable for acne-prone, sensitive, or dry skin. This face wash is made completely of vegan and natural ingredients — no toxic or harsh chemicals used.
This face wash can give your skin a much-needed deep cleansing because it has exfoliating properties as well. If you don't have the time or inclination to use a separate set of products to exfoliate your skin, you can simply use this to serve both purposes. It can get rid of dead skin cells to invigorate your facial skin and leave you aglow.
This face wash also smells great since it includes ingredients like cedar, spearmint, lavender, and rosemary. The scent can be characterized as mint-like and refreshing — a cool texture that's perfect for summer days. The scent, however, is fairly strong so you should avoid it if you like your face washes to not have any fragrance.
This face wash is composed of a total of 36 natural ingredients. Two of the primary ingredients are aloe vera and rice seed — ingredients that can soothe your skin and also help with moisture retention. It is completely vegan and there are no sulfates, synthetic fragrances, silicones, artificial color, or petrochemicals.
All things considered, Ursa Major is the best face wash for a number of purposes. If you have acne-prone skin, it can exfoliate your dead cells and strip away the excess sebum and oils. If you have dry skin, it can hydrate you and increase your skin's moisture retention abilities. It has something for everyone.
Best Face Wash for Sensitive or Acne-Prone Skin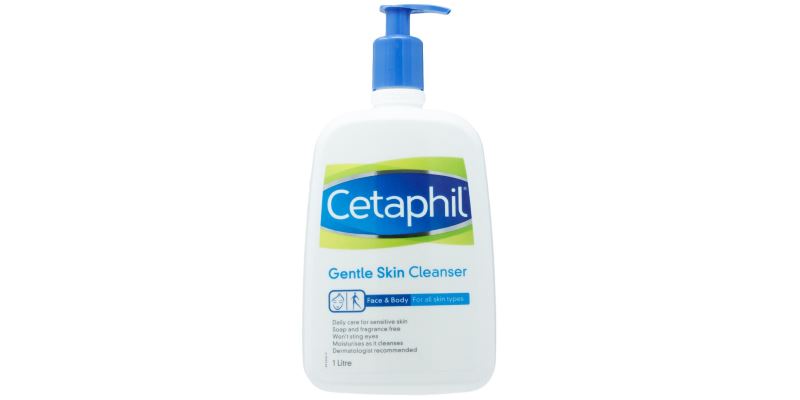 Cetaphil Gentle is generally suitable for men with all skin types and won't harm anyone. However, it has been specifically made to benefit people with sensitive or acne-prone skin. This is an extremely mild face wash with non-allergenic ingredients that won't cause irritation to even the most sensitive skin types. It has been formulated by licensed dermatologists so it can be trusted.
This face wash is also completely fragrance-free so it's perfect for those who don't want to walk around smelling like a florist's boutique. This face wash has a slightly slimy texture that might bother some people. However, it is non-comedogenic so it quickly gets absorbed into the pores without blocking them. As such, you won't have to deal with the slimy texture for long and it won't cause any blackhead or breakouts either. The factor that really seals its status as the best face wash for sensitive skin is that it's completely soap-free. As such, it's mild and doesn't rob the skin of its natural old and emollients.
In addition to being extremely gentle and effective for sensitive skin types, it's also very cheap. However, it's not a vegan formula and it has been crafted with several chemical components, sulfates, and parabens.
All things considered, Cetaphil Gentle is one of the best face washes for men with sensitive or acne-prone skin. However, if your condition isn't too severe, you should ideally opt for other more attractive alternatives.
Best Face Wash for Dry Skin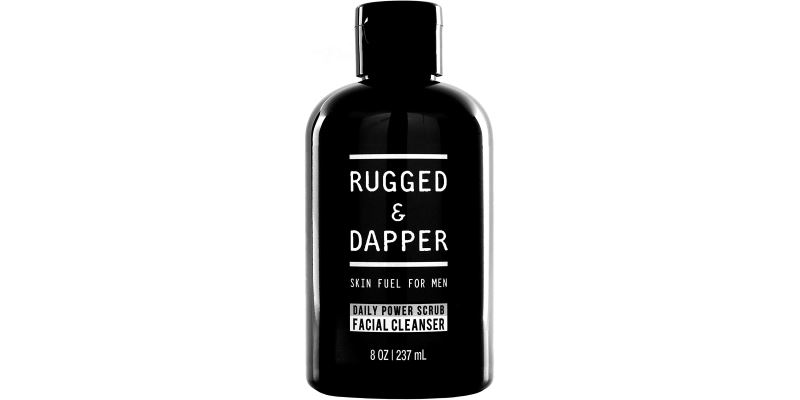 Rugged & Dapper is one of the best face washes for dry skin. It can hydrate the skin using natural ingredients and also encourage moisture retention, making it suitable for those who have to spend time under the sun.
This face wash has been made with natural ingredients such as Willow Bark and Aloe Vera. The ingredients used focus specifically on energizing the skin with Vitamin C, which is essential for hydration. The face wash is also particularly tough on dirt, grime, and other pollutants.
In addition to the natural ingredients, this face wash is also made of plant-based exfoliants that can remove dead cells and prevent congestion of pores. However, while most exfoliants dehydrate the skin, this face wash can also reinvigorate it to prevent dryness. There are no harmful chemicals, parabens, or other synthetic ingredients in this face wash. This face wash has a hardened gritty texture that serves as the exfoliant and effectively gets rid of all dirt and pollutants, providing the most deep-cleansing effect possible.
It also has a fragrance, but it's a masculine and cool fragrance with woody and earthy undertones of Willow Bark and Burdock Root. As such, using this face wash will leave you with the pleasant scent of having walked through dew-encrusted woods early in the morning.
All things considered, Rugged & Dapper is the best face wash for men with dry skin. As an all-in-one product, it cleanses the skin, invigorates it, and also exfoliates it. If you use this one product, you don't have to use any other.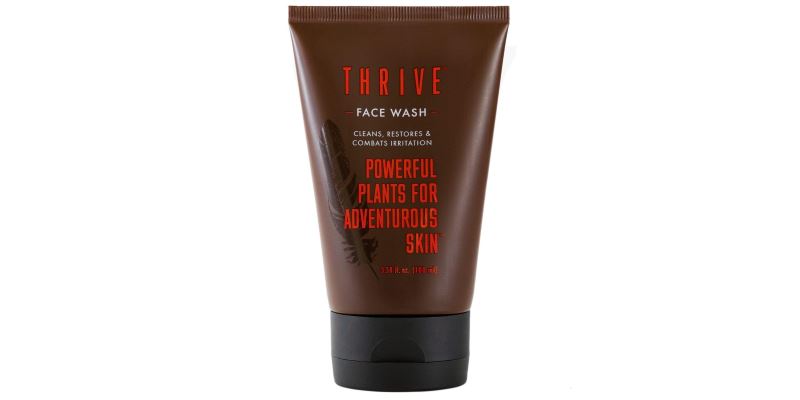 Thrive Natural Care is a completely natural gel-type face wash for men with all skin types. It has the ability to get rid of accumulated oil and dirt from the skin's pores while also hydrating and reinvigorating it.
This face wash smells pleasantly like a rainforest, which is a fairly masculine scent derived from the natural ingredients juanilama herb and fierrillo vine. In addition to providing the fragrance, these ingredients also imbue the face wash with antibacterial, antioxidant, and anti-fungal properties. This face wash is also non-comedogenic so it doesn't cause any breakouts or blackheads. Most importantly, it has anti-inflammatory properties so you can use it immediately after razor burns as well to soothe skin and prevent irritation.
This is a completely cruelty-free, vegan, and all-natural face wash. There are no synthetic fragrances, paraben, or toxic chemicals. Even the company is extremely socially and environmentally conscious and they have partnered with Costa Rican farmers and entrepreneurs to produce this face wash.
If you want an all-natural all-inclusive face wash for all skin types, then Thrive Natural Care is perfect for you.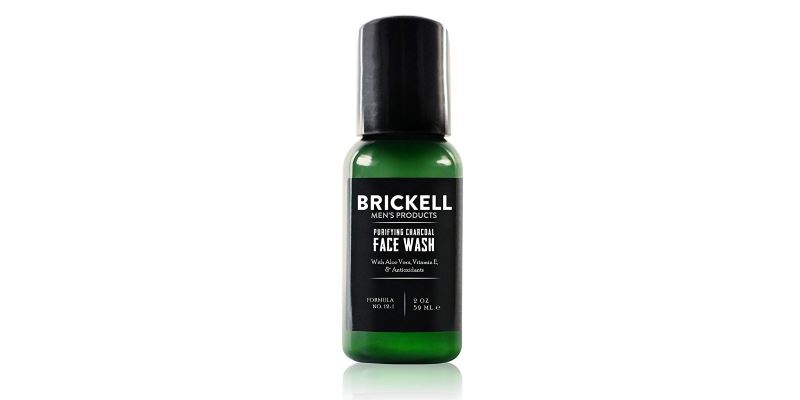 Brickell Men's Purifying Face Wash is one of the most vitamin-rich face washes on the market.
The primary ingredient here is charcoal, which is highly absorbent and can extract all the toxins, dirt, grease, and oil from your skin, completely reinvigorating and cleaning it. However, charcoal, in isolation, can leave the skin dry. To counteract that, you have olive oil extract, which can dissolve and remove the dirty oil and replace it with healthy natural oils. Furthermore, Jojoba oil can trap moisture and prevent dehydration and aloe vera can provide some additional hydration. These ingredients also have antioxidant properties so they can protect you under the direct sunlight and prevent moisture loss. As such, all of the ingredients have been carefully chosen to provide deep cleansing for the skin while also keeping it hydrated.
Brickell Men's Purifying Face Wash is 99% natural and 60% organic. There are no sulfates, paraben, harmful chemicals, or synthetic fragrances. Its natural scent is faint and peppermint fresh.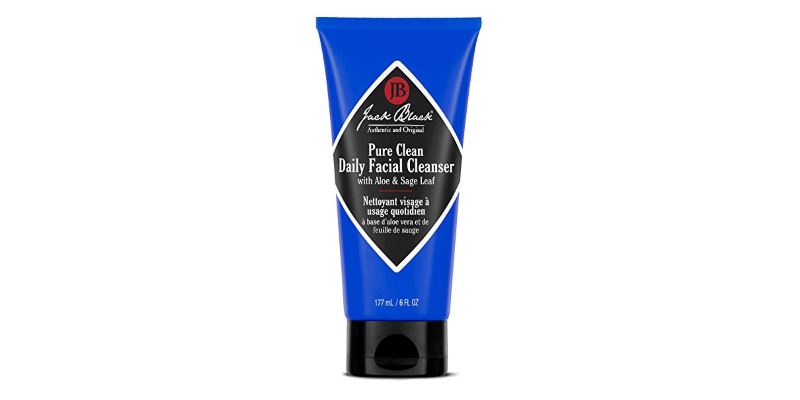 Jack Black is a relatively new face wash company. However, it has already established itself as one of the best face wash brands on the market.
Jack Black Pure Clean is an extremely effective face wash for men that serves a dual purpose — as a cleanser and toner. This face wash has an incredibly powerful ability to get rid of all oils, dirt, grease, and toxins from the skin, providing a deep-cleaning. It also hydrates the skin and keeps it invigorated.
This face wash has been made of natural surfactants like oat and coconut. It also includes witch hazel, which can serve as an astringent and antioxidant. Ingredients like sage leaf and rosemary can prevent bacterial growth. And finally, this face wash is also incredibly effective on irritated or sensitive skin owing to the chamomile and aloe leaf extracts. As such, you can use this face wash immediately after shaving to minimize the appearance of redness from razor burns.
All things considered, Jack Black Pure Clean is an extremely powerful face wash for people who spend a lot of time under the sun.