Read our reviews to find the
best gaming chair
for gaming in the ultimate comfort and gaming experience!
Best Gaming Chair 2020
Our top picks for the
best gaming chair
can help you get maximum comfort out of your gaming and enrich your gaming experience.
The
best gaming chair
is ergonomically designed and built in such a way that you can sit on them for several hours in the perfect posture. They are padded up and most of them come with lumbar support. Some video game chairs also come with speaker sockets and surround sound.
In this article, we'll give you an overview to help you find the
best gaming chair
for ultimate gaming comfort.
Best Gaming Chair ~~ Buying Guide
Most Affordable Video Game Chair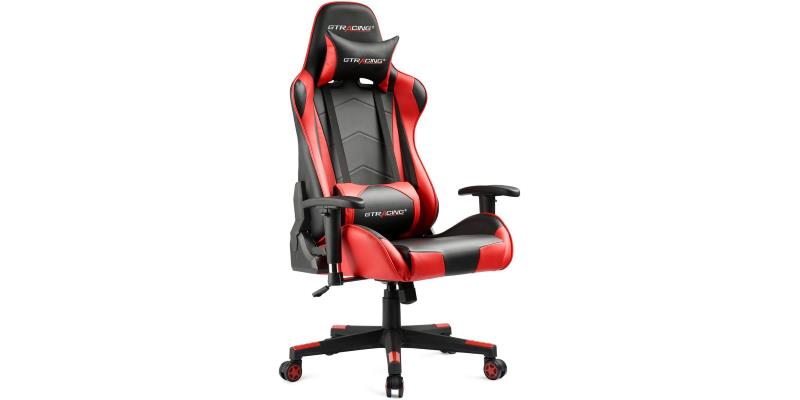 We rate this as our
best gaming chair
if you're looking for a video chair that doesn't care for subtlety and is bold in both color and style, then GTRacing Ergonomic Chair is perfect for you. This is an ergonomically designed video game chair that provides the utmost in terms of comfort and durability while also being stylish and luxurious. It is available in a range of bold patterns and colors, and is also pretty cheap so you don't have to break the bank!
When you're sitting in a single position for a long time, it's important for your body posture to be just right. To that end, this chair is adjustable in a number of ways. You can adjust the seat height according to your requirements. You can tilt the backrest by 170 degrees so you can take a quick nap. Even the armrests are contoured to perfectly accommodate your arms.
GTRacing Ergonomic Chair comes in 5 different colors and styles — Black & White, Bee-Black, Black & Red, GT002, and GT901. If you want an ergonomic computer chair that looks luxurious at under $200t, you should go for this one.
Best Pedestal Video Game Chair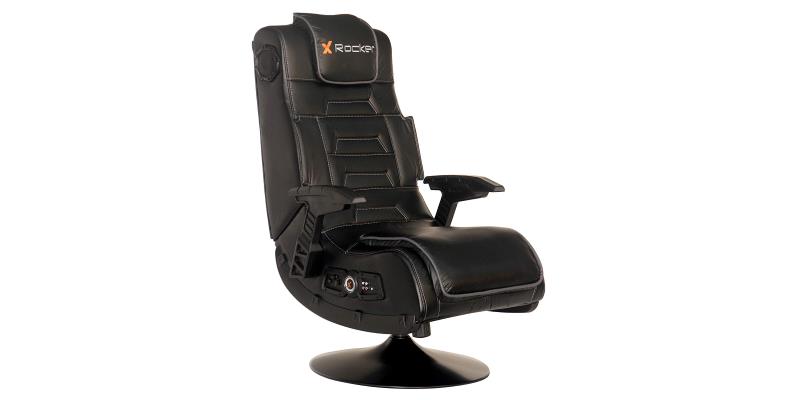 A pedestal video game chair is one that combines some of the properties of a swivel chair, a rocker, and a recliner. The chair sits atop a pedestal base instead of legs. As such, you can comfortably rock the chair back and forth and swivel it 360-degrees. The only issue is that these chairs are not as mobile as regular video game chairs with legs.
X Rocker 51396 is the best pedestal console gaming chair on the market and one of the best gaming chairs on the market. It has a sleek black leather exterior and carries all the properties of a pedestal chair, i.e., complete swivel and rocking. This video game chair is ideal in terms of compatibility and connectivity as well. It can be connected to other gaming chairs or to gaming consoles like PlayStation, Xbox, etc, making it ideal for multiplayer sessions. In addition to that, it has two inbuilt speakers and a subwoofer in the headrest. The 2.1 sound system is extremely clear with a heavy bass that's crucial when playing combat games.
X Rocker 51396 has been designed in an ergonomic and orthopedic style. It comes with a headrest, lumbar support, armrests, and high back support. It is, however, only available in one style and color — all black.
Most Stylish Video Game Chair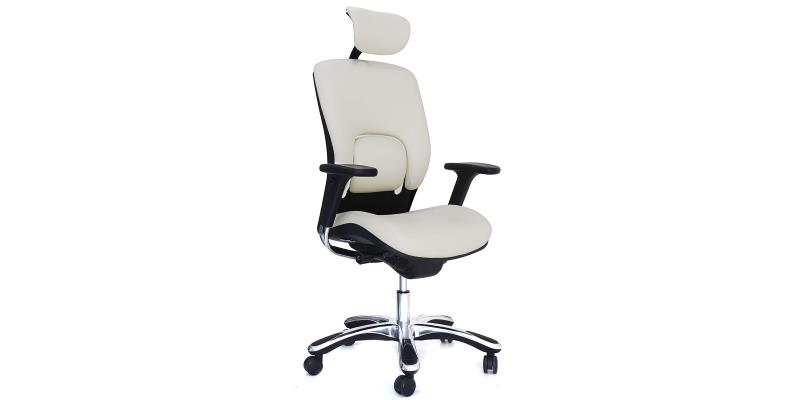 GM Seating Ergolux Hi Swivel Chair is another one of our best gaming chairs designed with an executive sleek aesthetic. As such, it's just as suited for an executive lounge as it is for a gaming station. However, this level of elegance comes at an incredibly steep price, so much so that it's one of the most expensive video game chairs on the market.
This video game chair has plenty of padding made of luxury leather material. It is ergonomically designed with a headrest, a high backrest, and lumbar support. The headrest and lumbar support can be moved if necessary. The height of the backrest and the seat can be adjusted to your needs. The backrest can also be tilted back a full 180 degrees if you need to take a nap and the armrests can be moved either up, down, forward, or backward.
This gaming chair also comes with some notable drawbacks. It is quite heavy and is difficult to assemble for a single person as there are too many parts involved. And the complete leather aesthetic means the chair isn't very breathable.
GM Seating Ergolux Hi Swivel Chair weighs 45 pounds and is available in 3 colors — Black, White, and Burgundy.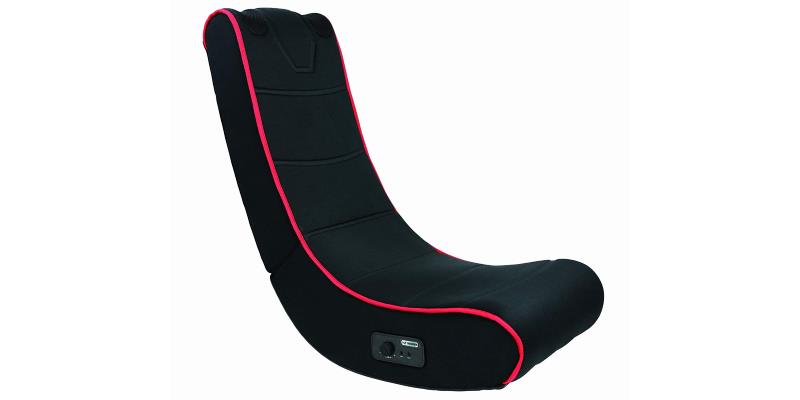 Cohesion XP 2.1 is a rocker video game chair with an incredibly sleek aesthetic and one of our best gaming chairs. It is lightweight at just 18 pounds, has a high backrest, and has built-in audio speakers for a fully immersive experience. This video game chair comes with wired audio speakers and also features inbuilt volume controls. As such, this gaming chair is perfect for those who like to have the controls by their side and those who enjoy a good bass. It's also perfect for watching movies or listening to music.
There is, however, one major drawback — the lack of a wireless capability. As such, the wires are left dangling from the chair to the console. It doesn't look good and you also risk someone tripping over it. However, considering the cheap price tag, this little detail can be looked past. Another slightly more important drawback is the lack of either a pedestal or legs. As such, it cannot be swiveled or moved around with ease. The most you can do is rock it back and forth.
Cohesion XP 2.1 is only available in one color and style — all-black with a red accent.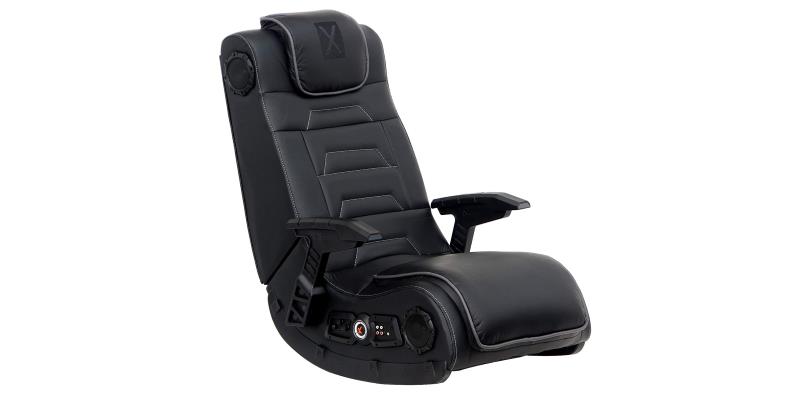 X Rocker 51259 is a rocker video game chair ideal for those who like to take their gameplay to the next level by incorporating a completely immersive sound experience. As one of our best gaming chairs, it is designed in a manner so as to enhance comfort with a high backrest, comfortable material, and gun-stock armrests.
This video game chair comes with a 4.1 surround sound speaker system with a powerful subwoofer. This means that you can be surrounded by a wall of sound while playing video games, watching movies, or listening to music. In addition to the speakers, it also comes with vibration motors that can synchronize with the bass so as to make you actually feel the gameplay. It's also entirely wireless so you don't need to worry about tripping on chords.
X Rocker 51259 is the perfect video game chair for hardcore gamers and it comes at a pretty reasonable price tag. It does, however, have one drawback that's common to all rocker chairs — it cannot be moved or swiveled around because of the lack or any legs or pedestal.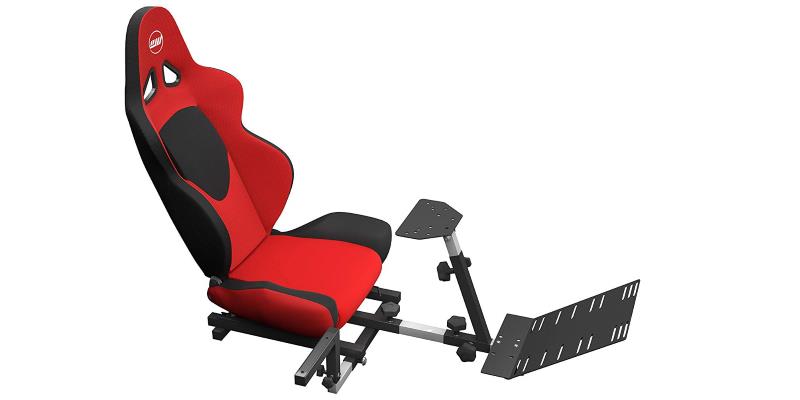 Openwheeler Advanced Racing Simulator is one of the best gaming chairs only meant for hardcore racing gamers. In fact, that exclusivity is also reflected in its expensive price tag. However, if you can afford it, it's well worth the purchase. It's an incredibly sleek video game chair designed in the style of a racing car chair. It even comes with a gear shift mount!
This video game chair is entirely compatible with all different gaming consoles, such as PlayStation, Xbox, Nintendo, etc. This gaming chair feels exactly like riding a bike or driving a car, especially as it comes equipped with separate wheels and pedals. It is also quite comfortable as it can easily slide back and forth and comes with a lever on the side that can adjust the backrest angle. Furthermore, installing the chair is pretty simple if you follow the instructions carefully. It can be assembled within 20 minutes.
If you're a hardcore gamer looking for a simulator video game chair, and if you don't mind shelling out a lot of money, then this is perfect for you. Openwheeler Advanced Racing Simulator Seat Driving Simulator Gaming Chair comes in 6 different colors — Black, Blue, Green, Orange, Red, and Yellow.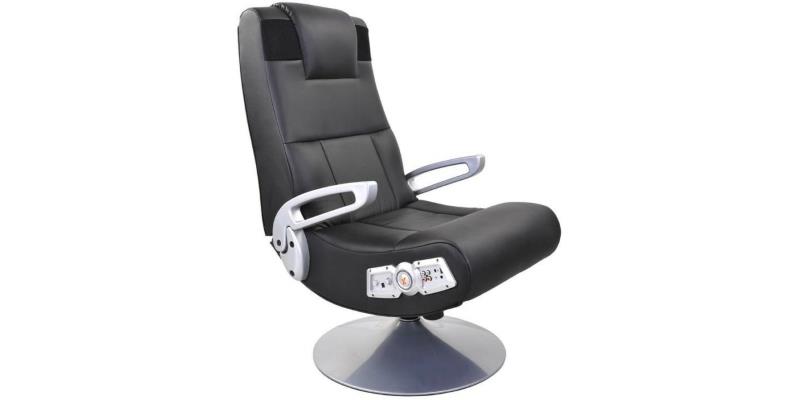 Ace Bayou X Rocker 5127401 is one of the best gaming chairs on the market for three distinct reasons.
First, equipped with a 2.1 sound system with an inbuilt subwoofer, it provides the most thrilling auditory experience while playing video games. It also has a wireless audio transmission system. The volume and bass controls are within easy reach on the armrests.
Second, you can spend hours and days seated on this chair and no part of your body will rise up in revolt. It comes with proper cushioning and support for each part of your body — the back, the lumbar, shoulders, arms, and neck.
Finally, it is completely compatible with all gaming consoles — Xbox, PlayStation, Nintendo, Gameboy, and even Wii.
All things considered, Ace Bayou X Rocker 5127401 is ideal for those who want a killer bass with ultimate comfort in their pedestal chairs. It is pretty heavy at 44 pounds and it comes in a single color and style — all-black with silver arms and pedestal base.
—
Now that you're all sorted with the best gaming chair, be sure to check out our best wireless router best gaming mouse, best gaming headset and best gaming keyboard guides!