Do you want to completely immerse yourself in your gaming environment? If so, go ahead and get yourself
best gaming headset
for less than $200.
Best Gaming Headset for 2020
There are a number of different factors that make for a good gaming experience. However, one of the most important aspects is undoubtedly the sound, and some of the best gaming headsets are available for less than a few hundred dollars. There's nothing quite like the sound of rattling bullets and thunderous explosions to really make you feel — deep down in your bones — like you're in the game that you're playing.
However, to really get that complete-immersion experience, you need the
best gaming headset
. There are a lot of great gaming headsets on the market, all with their unique set of features and specifications.
In this article, we've reviewed some of the
best gaming headsets
that can deliver a completely immersive gaming experience.
Best Gaming Headset 2020: Top wired & wireless gaming headphones
Best Haptic Gaming Headset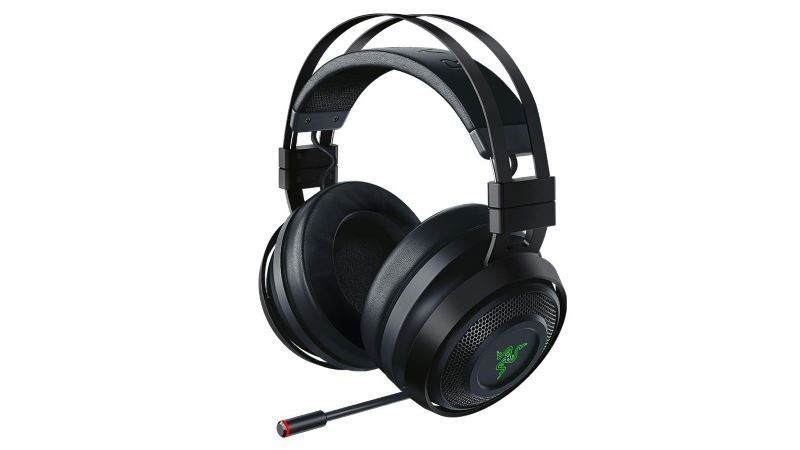 Haptic feedback in headsets, i.e., the ability of the headset to vibrate in response to certain events, is a pretty new feature. It's a feature available specifically in gaming headsets, but there's still a lot of contention about it. A lot of people are of the opinion that haptic feedback in gaming headsets is simply distracting, jarring, or even painful.
Razer Nari Ultimate is one of the first gaming headsets to incorporate haptic feedback perfectly. It uses the HyperSense technology to generate gentle vibrations around your ears in response to specific events like bullet-firing and explosions, events that you can define. Because of the effective cushioning, the vibrations deliver the experience to the user without hurting them. Furthermore, there's a wide range of haptic frequencies available, so it can generate vibrations that you are comfortable with.
In addition to the haptic feedback feature, this gaming headset also delivers great sound. It has a healthy balance of highs and lows with a strong bass that's not overpowering either. As such, you can effectively use this headset for long stretches of time without your ears going sore. It is also completely wireless and the connection doesn't get interfered by other wireless devices in the vicinity.
All in all, this is a slightly expensive gaming headset, but it's well worth it because it has the best haptic experience you could ask for. Reviewers at PCGamer also loved the haptic experience and its heightened customizability.
Best Quality Gaming Headset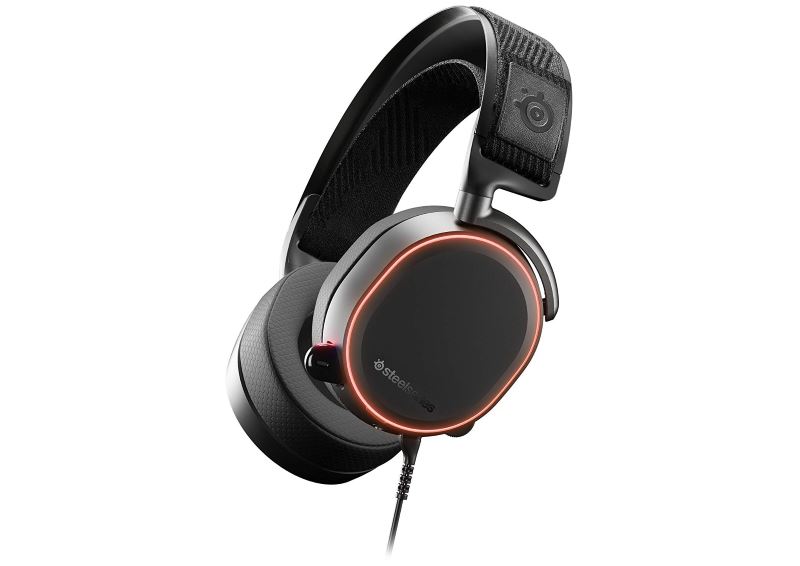 If the aforementioned Razer Nari Ultimate's USP was Haptic Feedback, then the SteelSeries Arctis Pro's USP is Audio Quality. That might seem like an underwhelming USP considering gaming headsets are supposed to deliver great sound. However, this gaming headset is far superior to all other headsets in terms of the pure quality of sound it delivers.
SteelSeries Arctis Pro's best feature is GameDAC, which is its internal digital-to-analog audio converter. Most PCs come with their own converters, but this headset effectively overrides them because of its superior quality. It also comes with an amplifier circuit that ensures there's absolutely no distortion even if you take the sound to its maximum output.
This gaming headset also has an OLED display which can be used to adjust the sound, the EQ curve, and the sidetone. I am particularly interested in the latter because it allows you to adjust the level of noise-cancellation. This is a feature I haven't seen in many headsets. If you want to be able to listen to your surroundings, you can adjust it accordingly, and if you want to completely get lost in the gameplay, you can do that as well. You have all the control.
All things considered, SteelSeries Arctis Pro is certainly a premium product and comes with a heavy price tag. However, audiophiles will not be disappointed by it. Reviewers at TechRadar referred to its sound as "mind-blowing" and "nuanced", and we agree completely.
Best Value Gaming Headset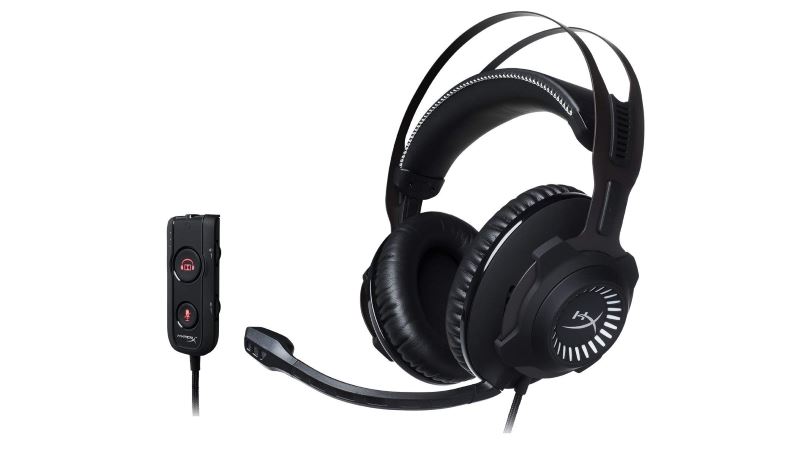 HyperX Cloud Revolver S is the best budget-friendly gaming headset on the market right now. This headset comes equipped with a 7:1 surround sound feature that truly makes you feel like you're living within your gaming environment.
If you don't care for the surround sound, you can also seamlessly transition from 7:1 to stereo by clicking a single button on the cord. The stereo sound is ideal for those looking for a professional soundscape that allows them to also listen to the external environment and the surround sound is ideal for a noise-cancellation immersive gaming experience.
You can also instantly adjust three pre-programmed equalizer options using the cable controls. The only concern I have is with the size and weight of these headsets. They can be pretty heavy and users may experience discomfort while wearing them for long stretches of time. Furthermore, the microphone is also a little difficult to set up so that it fits perfectly over the mouth without being distracting.
All things considered, the Cloud Revolver S is an extremely powerful gaming headset that only suffers from a few minor issues on the design front. However, considering how reasonable they are, those pain points are easily forgivable. Reviewers at DigitalTrends appreciated this headset's enhanced versatility.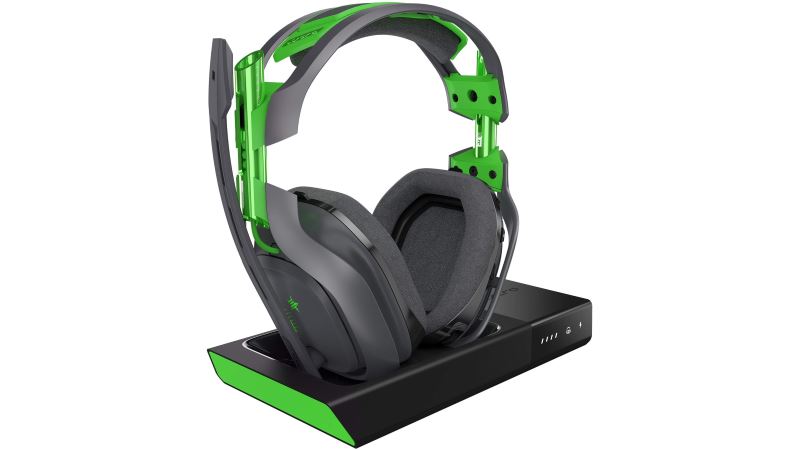 ASTRO Gaming A50 has been described as a "Swiss Army Knife" of gaming headsets by reviewers at DigitalTrends. That is a pretty accurate tagline to express just how versatile and all-inclusive this gaming headset is.
This gaming headset is pretty expensive, but its features make it worth the extra money. It has a 5.8GHz wireless technology which ensures zero-interruptions and a stunning immersive 7.1 surround sound. The uni-directional mic easily fits over your mouth in such a way so as to isolate the user's voice from the ambient noise. It also comes with an intuitive mute feature that can be triggered with the touch of a button. Furthermore, the headset is also equipped with a range of EQ modern and support features that enhance its versatility.
ASTRO Gaming A50 is a completely wireless headset and it comes with strong battery life. Furthermore, it also has an auto-shutdown feature that turns the headset off when not in use, thus further preserving the battery. All things considered, if you're a true audiophile with deep pockets, you should go ahead and get this gaming headset.
Logitech G Pro is one of the most affordable gaming headsets on the market right now. This headset has been developed by Esports athletes with the sole purpose of stripping away all the redundant features and accessories that are usually found in gaming headsets. As such, this is a fairly minimalist gaming headset without a lot of fancy features, but it doesn't skimp out on the sound quality and immersive experience at all.
There's no RGB lighting on this headset, no flame decals, nothing of the sort. It is a minimal plain black gaming headset with a Logitech logo. In terms of control options, it doesn't have any virtual surround and the cord only has a mic mute and volume control. However, in stripping the headset of all the extras, Logitech has been able to focus on what's really important — the sound quality.
If you want a high-tech gaming headset that looks cool and performs a wide range of functions, you should look elsewhere. However, if you're short of money and you still need a headset that can provide optimal sound quality that doesn't distort at the upper registers, then Logitech G Pro is perfect for you.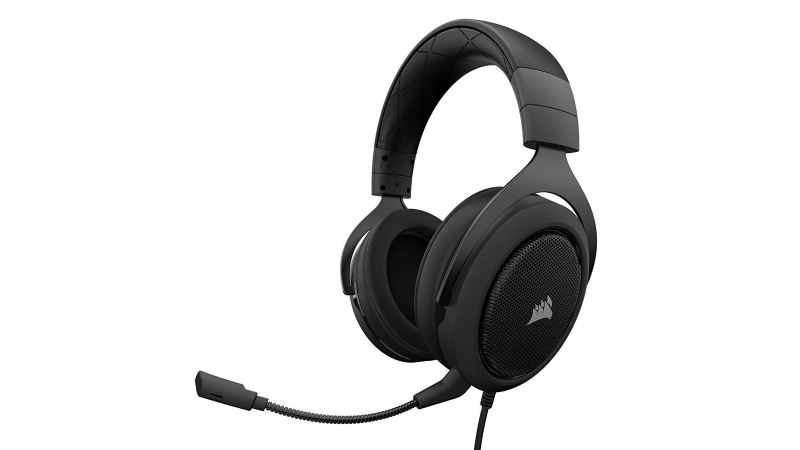 Corsair HS50 is yet another minimalist budget gaming headset for those who don't want to drain their savings accounts. The sound delivered by this $50 headset can easily rival those produced by headsets well about the $100 range. It is crisp, clear, bright, and capable of producing heavy bass that's neither overpowering nor distorted.
Like the aforementioned Logitech G Pro, this headset is also pretty bare bones in its offering, however, that is perfectly acceptable at this price range. This gaming headset doesn't have a surround sound either, but the stereo is more than capable of delivering an immersive soundscape.
I am also extremely pleased with this headset's comfort. Gaming enthusiasts often spend hours playing video games, so the headset needs to be comfortable. This gaming headset fits snugly over your ears without either stinging you or making your ears go hot.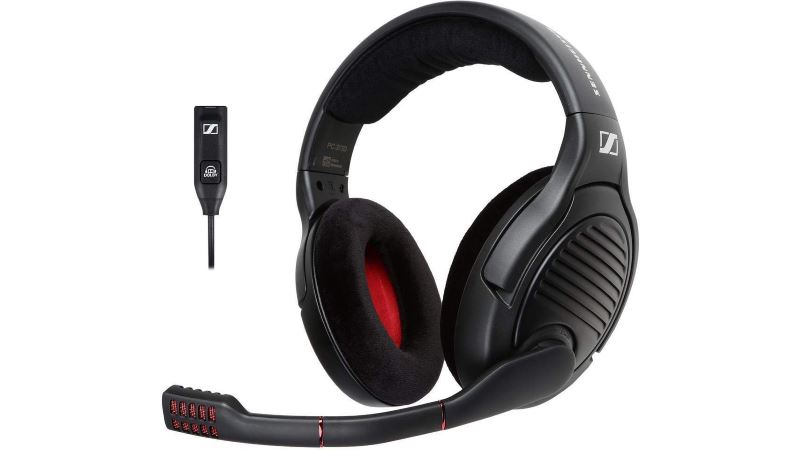 Sennheiser PC 373D is a gaming headset designed for professional gamers and it comes with that advanced price tag as well. This is undoubtedly one of the best sounding headsets on this list, which is to be expected considering how expensive it is.
It has an extremely compressed and sleek microphone that still sounds solid. I did find that the surround sound capability wasn't as strong as some of the other headsets on this list, but it still envelops you in a wall of sound delivering true immersion.
While I love the sound delivered by this headset, I am not too pleased with the aesthetics. This is a simple headset with a basic design completely lacking in features like RGB strips found in other headsets at this price point. All things considered, Sennheiser PC 373D is a strong gaming headset but it simply doesn't compete well with other headsets at its particular price range.
—
Now that you're all sorted with the best gaming headset, be sure to check out our best wireless router best gaming mouse, best gaming chair and best gaming keyboard guides!