Keep accurate tabs on your performance with one of these
best heart rate monitors
– both watches and chest straps.
Best Heart Rate Monitors for 2020
Wheteher you're a serious or amateur runner, you really need to add heart rate monitors to your collection of fitness equipment.
What are heart rate monitors?
A HEART RATE MONITOR can accurately measure your heart rate as you engage in fitness activities and cardio. A lot of cardiovascular programs such as Slow Steady State Cardio and High Intensity Interval Training (HIIT) place a high degree of emphasis on keeping track of your heart rate.
Your heart rate can accurately measure the intensity of your workout at the given moment so you can modulate your intensity accordingly.
However, there are a lot of
heart rate monitors
on the market. Some of them are meant to be worn as chest straps, some as wrist bands, and some are watches that can gauge heart rate. Choosing the best heart rate monitor for running requires quite a bit of research.
In this article, I'll give you a detailed overview of some of the
best heart rate monitor
for your needs in 2020.
Heart Rate Monitor ~ Buying Guide
Best Wristband Heart Rate Monitor for Running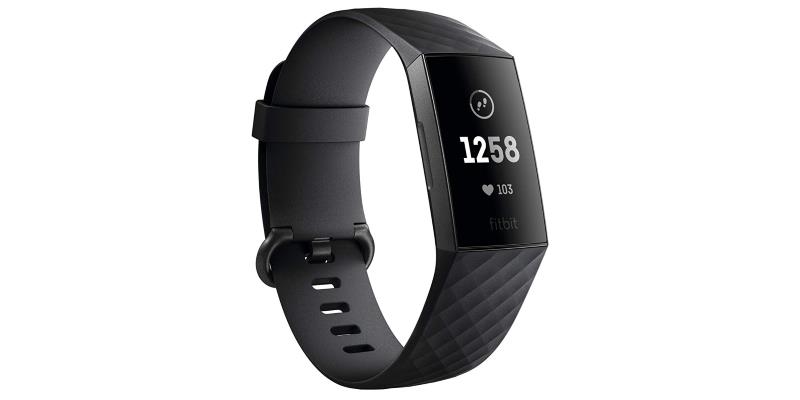 Fitbit Charge 3 is one of the best wristband heart rate monitors on the market. You need to simply wear it around your wrist like a watch. The dial reveals your accurate heart rate in the moment.
This heart rate monitor is also extremely feature-extensive. In addition to your heart rate, it can also measure your pulse points, the number of steps taken on that day, the number of calories burned. Furthermore, it can also provide feedback on your sleeping pattern by gauging your movements. If you get anxious, you can also engage a few deep breathing exercises. Furthermore, there are 15 different exercise modes that you can choose from, these include Running, Biking, Swimming, Yoga, Circuit Training, and many others.
Fitbit is also waterproof and can be submerged in water for up to 50 meters. As such, you can continue tracking your vitals even when you're swimming, making it extremely versatile. This is a smart heart rate monitor that also comes with an accompanying Fitbit Health and Fitness App that can sync all of your details so you can track your progress, see graphs, and receive coaching recommendations.
Fitbit Charge 3 is available in 5 color combinations — Graphite/Black, Graphite/WhiteSilicone, Lavender, RoseGold/Berry, and RoseGold/BlueGrey.
Best Chest Strap Heart Rate Monitor for Running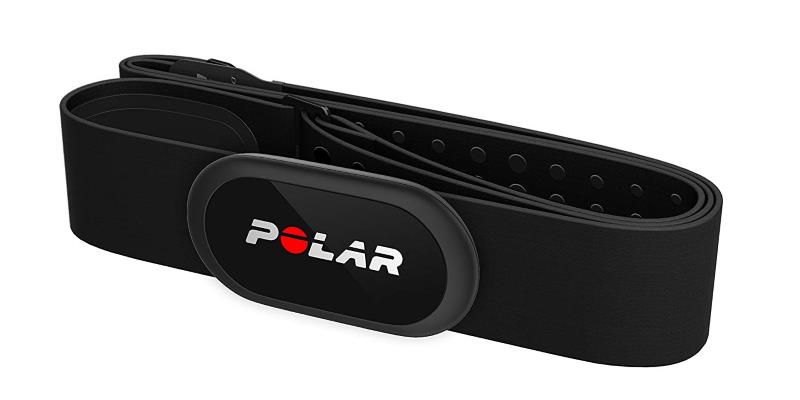 Polar H10 is one of the most reliable and accurate heart rate monitors on the market. This heart rate monitor needs to be worn around your chest. It is designed with silicon friction dots that can keep the strap from slipping and also provide maximum comfort. It also happens to have smart functionality so it can pair with your iOS or Android devices via Bluetooth.
This heart rate monitor uses ECG-style sensors that can accurately detect the electrical activity in your heart in order to provide accurate BPM (beats per minute). The accuracy of the sensors is further improved with the help of a new measuring algorithm that minimizes all interferences. This heart rate monitor is also waterproof so you can continue tracking your vitals while swimming.
As a chest strap heart rate monitor, it is fairly more accurate than most wristband heart rate monitors. However, it also has limited functionality. This is only a heart rate monitor and cannot be used to measure additional vitals such as sleep patterns, steps, pulse, etc. You can, however, store your heart rate details on a daily basis and upload them to your smartphone. You can also connect it to your GoPro if you're recording fitness activities as it will overlay the heart rate on the recorded video.
Polar H10 is available in 4 colors — Black, Turquoise, Gray, and Orange.
Best Watch with a Heart Rate Monitor for Running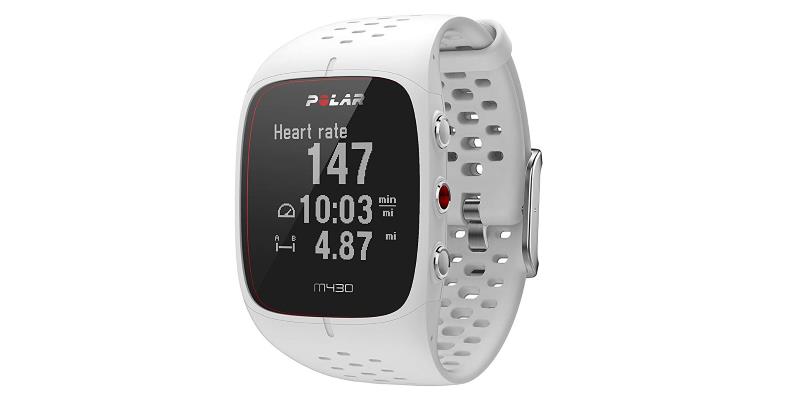 If you want an all-inclusive watch that can also track your heart rate and other vitals, then Polar M430 is your best bet. This is a fairly affordable running watch that can also serve as an accurate heart rate monitor. This heart rate monitor also has an inbuilt GPS locator so you can track your running routes. The 6-LED heart rate monitor can last for up to 30 hours on a single charge. The battery life isn't as high as the aforementioned dedicated heart rate monitors, but that is expected considering all the features this smartwatch packs in.
This heart rate monitor is compatible with all Android and iOS devices. You can also sync it with your desktop or gauge your vitals in the Polar online dashboard. The apps and online dashboard can give you a detailed summary of all your physical activities, heart rate histories, and offer recommendations for future training. Furthermore, you can also participate in the Polar Fitness Test which will help you determine your current fitness level. In addition to 24/7 activity tracking, it can also monitor your sleep patterns to offer recommendations on how to maximize your rest hours.
Polar M430 is available in 5 colors — Black, White, Blue, Green, and Orange.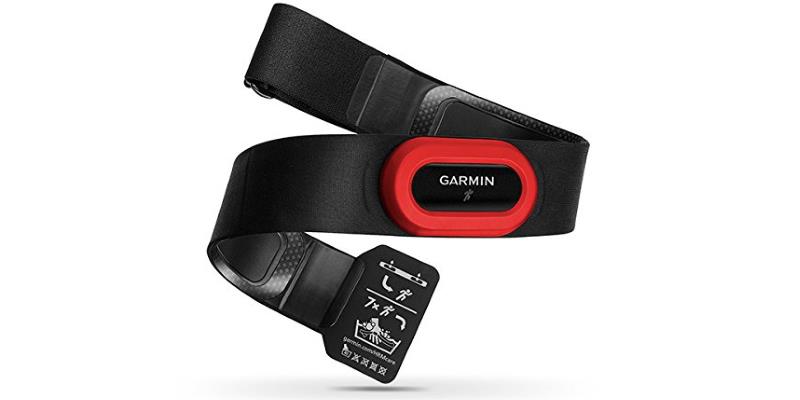 Garmin HRM-Run is a chest strap style heart rate monitor. However, it can do a lot more than simply measure your heart rate. It can also gauge your torso movements and give you accurate actionable data regarding your stride length, vertical oscillation, ground contact balance and vertical ration, and cadence. This heart rate monitor is meant for true fitness enthusiasts and professionals who want to track all of their vitals to maximize their track running skills.
In addition to tracking your running patterns, this heart rate monitor can also measure vitals such as your training load, recovery time, calories burnt, etc. These statistics can help you gain the correct levels of training and rest in order to enhance your skills and ensure your fitness levels continue rising.
Garmin HRM-Run is perfect for athletes. It is also designed to be comfortable and snug and it doesn't chafe against your skin.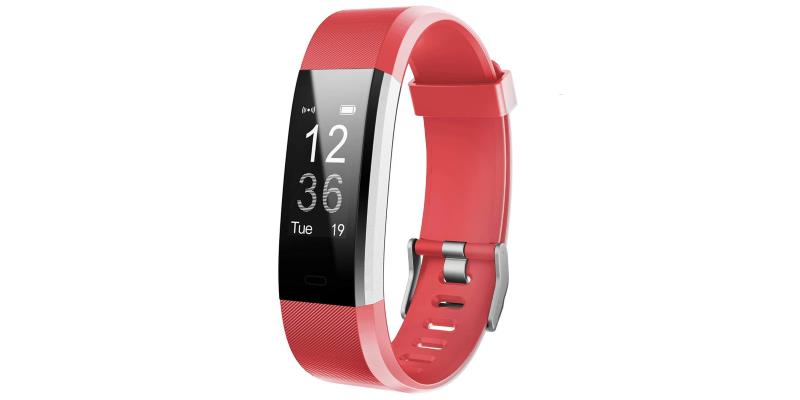 Letsfit is one of the most budget-friendly heart rate monitors on the market. If you don't want to shell out hundreds of dollars but still want accurate results about your fitness levels, this is the one for you. This heart rate monitor can keep track of your BPM and sleep patterns and upload those statistics to the associated app. It can also measure associated fitness details like activity time, calories burned, steps taken, etc.
This heart rate monitor is suitable for multiple sports as it has various sport-specific tracking systems. The 14 exercises it can monitor are track racing, riding, swimming, and various others. It also comes with a GPS tracker so you can monitor your distance, path, and time. It is perfectly compatible with most Android and iOS devices.
Letsfit has excellent battery life. Recharging it takes just 1 to 2 hours, but it can then last for 5 to 7 days with 24/7 usage. It also carries an IP67 rating, which means it is completely dust-proof and waterproof. In fact, it can survive underwater for over 30 minutes, making it suitable for swimming as well.
Letsfit Heart Rate Monitor is available in 10 colors — Black, Black & Blue, Black & Purple, Blue, Blue & Black, Green, Green & Black, Lavender, Pink, and Red.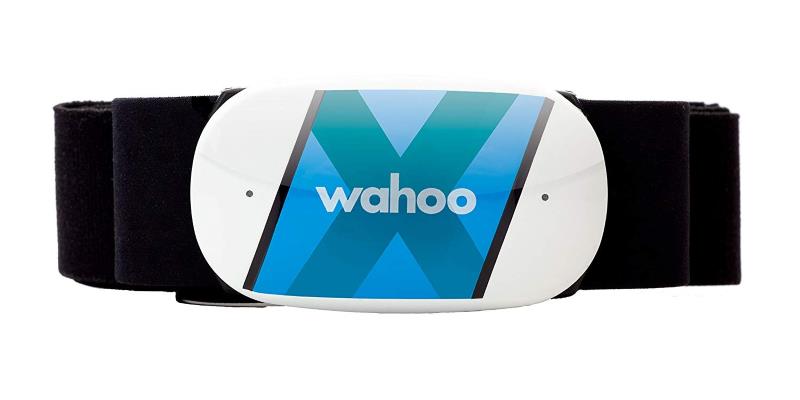 Wahoo Tickr X is an impressive chest strap heart rate monitor. In addition to simply monitoring your heart rate, it can also capture your motion intensity to ensure you're getting the most from your workout. It can also measure regular fitness measures like calories burned, steps taken, etc. If you engage in resistance exercises, it can also count your reps and sets so you don't have to. When you're running, it provides details analytics related to your cadence, stride length, ground contact, etc.
This heart rate monitor also comes with internal memory. As such, you don't need to have your phone in your person, the monitor will automatically update the details and sync them to your phone's Wahoo Tickr X Fitness App.
Wahoo Tickr X only weighs 1.9 ounces so you hardly feel it. It's completely waterproof and sweat proof as well.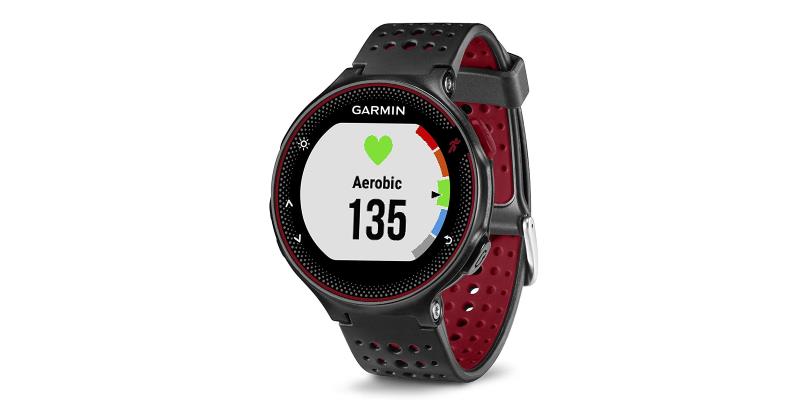 Garmin Forerunner 235 is a watch that can serve as a heart rate monitor. Since this is a smartwatch rather than a dedicated heart rate monitor, it is relatively expensive. But it's also a lot more capable of measuring accurate fitness vitals and running analytics that can help you further your training in an intelligent manner.
This heart rate monitor watch displays the time, heart rate, pulse, and calorie count in the sunlight-visible and transflective display. You can clearly see the display even in direct sunlight and there's no glare. You can also sync your heart rate monitor to your phone via Bluetooth and then put on a headset to receive audio prompts regarding your heart rate, laps, etc. As such, you won't have to keep looking down on the watch while training. Furthermore, all of your details are tracked and maintained in your Fitness App.
Garmin Forerunner 235 has an impressive battery of 11 hours in continuous training and 9 days in standby. It is available in 3 color combinations — Black/Grey, Frost Blue, and Marsala.