Best Home Theatre Systems
The best way to completely immerse yourself into your multimedia's world is through the sound. So here are some of the
best home theatre systems
for an immersive soundscape.
Best Home Theatre Systems 2020
No matter how powerful or expensive your television set may be, there's no way it can produce a satisfactory sound experience without the aid of external speakers. If you want to completely immerse yourself in your multimedia's world, you need to hook yourself up with a solid home theatre speaker system.
However, there are so many different home theater speakers to choose from. You have your soundbars, in-wall speakers, in-ceiling speakers, wireless speakers, floor standing speakers, and so many more. The choice can be confusing.
In this article, we have narrowed down your choices by compiling a list of the best home theatre speakers across various different styles and types. So read on for a detailed review of the
best home theatre systems
for an immersive home theatre experience.
Best Home Theatre Systems ~ Buyer's Guide
Best Overall Home Theatre Speakers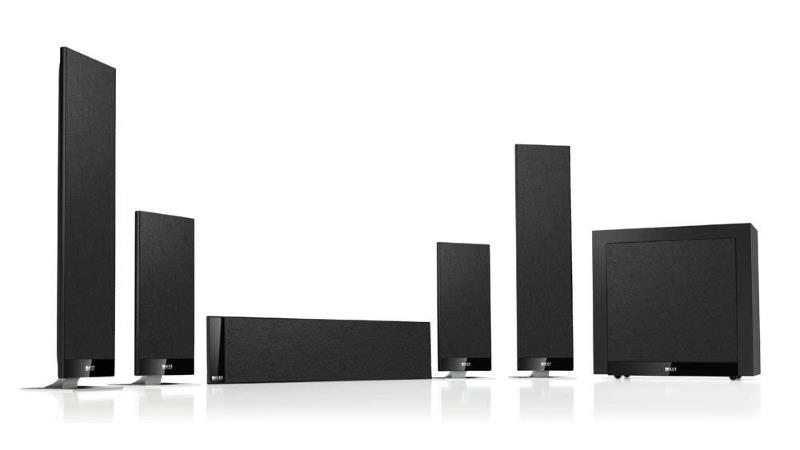 KEF T205 is one of the best and most expensive home theatre speakers on the market. Surround sound speakers are anyway in the top-brass as far as expense is concerned, but the KEF T205 is available at a price few can afford. But if you don't care about the price tag and just want to build the most powerful wall of sound for your home theatre, you'll be hard-pressed to find a better set of home theatre speakers.
This is a 5.1 surround sound home theatre speaker system in which each individual speaker is only 1.4 inches deep. That's the same width as a super flat screen TV. As such, you can line them up against the wall and be assured that they won't clutter your space. These speakers come with small desk stands as well because they can either be mounted on the wall or made to stand on desks. The bass in this speaker set is produced by the T2 subwoofer. This subwoofer comes with a 250-watt Class-D amplifier and it has a pretty strong frequency ranging from 30Hz to 250Hz.
In terms of pure sound, you can't expect anything better out there. They can handle all kinds of soundscapes at the loudest of volumes without ever breaking. But at their price point, you wouldn't expect any different.
Best Budget Home Theatre Speakers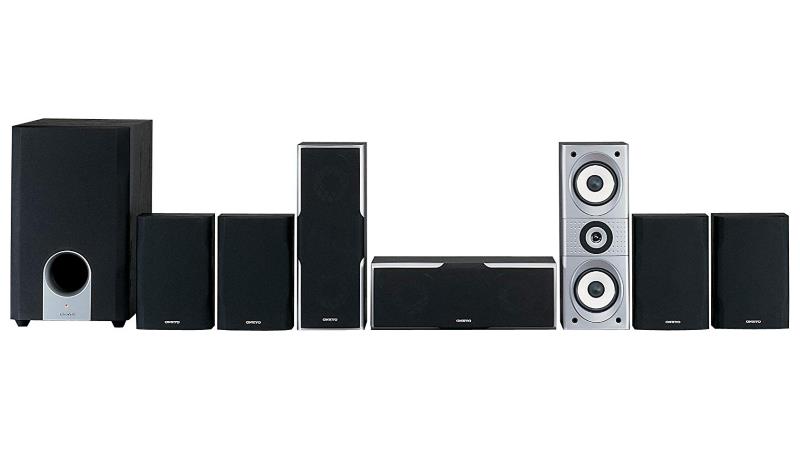 Can't afford to spend thousands of dollars on speakers? That's alright, you still have plenty of options. Onkyo SKS-HT540 is one of the best home theatre speakers available under $500. This is a 7.1 surround sound speaker so you can essentially canvas the entire room with speakers and really feel immersed within your multimedia's sound.
The reasonable price tag, however, comes at a serious cost. Unlike the KEF T205, this home theatre speaker set is extremely large and bulky. However, if you have the space to store these speakers, you will love their sound quality. These home theatre speakers have two-way bass reflex surround speakers that can generate up to 130-watts of sound. The subwoofer can produce 230-watts of sound, and it also comes with a 10-inch cone driver. This allows you to clearly distinguish the various instruments and the bass, mids, and highs.
Home theatre speakers are generally pretty expensive, as the previous entry in this list demonstrates. However, Onkyo SKS-HT540 manages to bring you 7 surround sound speakers at an incredibly affordable price point without sacrificing sound quality. The only thing you have to worry about is their bulk, which will undoubtedly eat up quite a bit of space, so be sure to only install them in large rooms.
Best Premium Home Theatre Speakers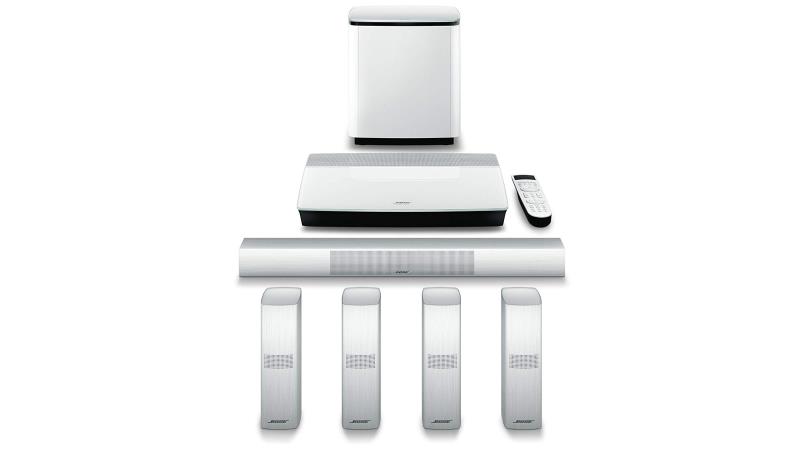 Before we even get started with this review, you should know that Bose Lifestyle 650 is only meant for true audiophiles who have a lot of money to burn. With a price tag of $4,000, the only way most people will be able to afford it is to break their bank and their savings.
But if you do purchase this home theatre speaker, you will not regret it. For starters, these home theatre speakers are so small you can basically fit them into bookshelves. However, despite being so small, they are still some of the most powerful speakers on the market.
This is a 5.1 surround sound speaker set and all of the individual speakers have been designed to create a 360-degree soundscape. As such, instead of hearing music from a single point, you'll hear it echoing from all around the speaker. Furthermore, if you position these speakers around your entire room, you can essentially envelop yourself in its sound.
With surround sound speakers, people are often concerned about the ugly wires that stretch all across the room. However, these are entirely wireless speakers so you can position the individual speakers wherever you want and you don't need to worry about connecting them via wires. The wireless bass module here also uses Quiet Port technology and DSP, features that can get rid of all distortions and produce the cleanest bass you've ever heard.
Bose Lifestyle 650 also works with Alexa devices and is smart home compatible. All things considered, Bose Lifestyle 650, taken in isolation, is clearly the best home theatre speaker on the market. However, I believe you might be better off buying one of the other premium home theatre speakers that are available for a half the cost of this speaker.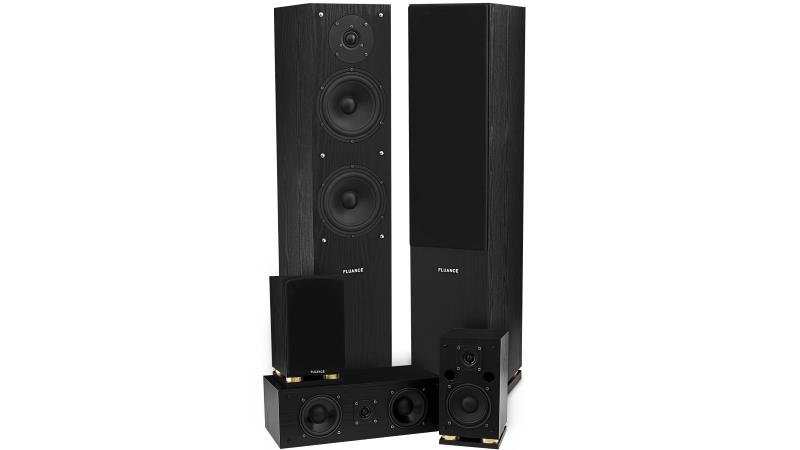 Fluance SXHTB-BK is another reasonable home theatre speaker set available under $500. It is a set of 5 surround speakers, all of them capable of producing 50 to 160 watts of sound. These are tall 38.8" high floor standing speakers that should be kept on hardwood or carpeted floors.
These home theatre speakers come with 1-inch neodymium balanced silk dome tweeters that can generate a high-frequency response. The mid-levels and lows are kept clear and sharp with the help of 4-inch poly-coated midrange drivers. As for the bass, that's generated by the dual 6.5-inch woofers placed at the foot of the floor standing speakers. In terms of construction, these home theatre speakers are made of audio-grade MDF wood that can minimize the cabinet resonance and ensure that the sound produced is natural, full, and sonically clear.
These are certainly really powerful home theatre speakers — they're loud, sharp, and available at a relatively low cost. However, they are extremely large and can only be used in homes with a lot of space and high ceilings. In most city apartments, they will simply eat up space.
What I really like about Sonos 3.1 Entertainment Set is its versatility. This is a wireless 3.1 surround sound home theatre speaker set comprising a central soundbar and two Sonos subwoofers. However, you can just as well get rid of the subwoofers — or lock them up somewhere — and use just the soundbar and the sound will still be stunning.
The soundbar is equipped with 9 class-D digital amplifiers that power 3 internal tweeters and 6 mid-range woofers. The tweeters are used for the crisp and soaring highs and the woofers provide the rest of the sound. Together, the soundbar is more than capable of carrying all the sound on its own and do it well.
However, when you combine that sound with the subwoofers, you really take it to the next level. The subwoofers can dramatically deepen the already-powerful bass so you can accurately discern parts of the music you couldn't before. This home theatre speaker set can support both stereo and Dolby Digital 5.1 audios. The unit also uses a DSP to enhance the surround sound experience.
This is an extremely powerful and reasonable home theatre speaker set. Furthermore, you can add up to 5 subwoofers to the soundbar depending on your preference, making it highly versatile as well.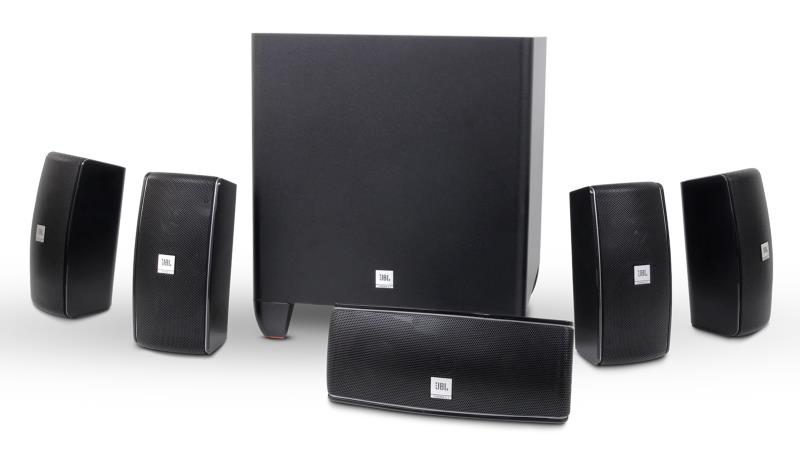 JBL is widely known as one of the best budget-friendly brands on the market for music products. JBL Cinema 610 completely lives up to that reputation. It is an extremely reasonable home theatre speaker set available for less than $300 but it still works better than most speakers that are considerably more expensive.
This home theatre speaker set comprises five voice-matching satellite speakers. All of these individuals speakers are equipped with three-inch drivers and a one-inch tweeter, ensuring clarity of dialogue and true discernment of various musical layers. The central speaker ensures the clarity whereas the eight-inch subwoofers add depth to the sound. These are certainly not as loud or powerful as some of the other speakers on this list and can only produce 60-watts of sound. However, the sound produced is crisp and there's only minimal distortion at its highest setting.
These home theatre speakers come with brackets you can use to mount them on the walls. However, due to their relatively compact size, they can also be placed on shelves and tables. If you're looking for a decent set of home theatre speakers with great value-for-money, JBL Cinema 610 is the one for you.
Other Audio Products
A premium home theatre system is the pinacle for audio lovers, but obviously we can't take them with us everywhere we go and that's where a more portable speaker system and headphones come in!
Check out the All Product Guides articles on our top rated Bluetooth speakers with bass, awesome noise canceling headphones, top wireless earbuds for running, and powerful PC speakers to find a top rated product roundups for all occasions.