Best Lawn Mowers for Small Yards
Lawn Mowers for Small Yards
After working all week, you want to simply kick off your shoes and relax for the weekend. But alas! The act of mowing the lawn — and all your other household chores — usually takes up several of your precious weekend hours, even when you only have a small yard.
The process of mowing the lawn usually entails running a hard and rugged device through your small yard several times till all your grass is at an even height.
But if you get a good lawn mower, you can cut down both the amount of strength and time required to complete this job — and still do it a lot better! That would allow you to finally have that truly relaxing weekend you deserve.
However, when it comes to lawn mowers, you have so many options to take car of your small yard! You have gas-powered lawn mowers, electric corded lawn mowers, battery-powered lawn mowers, self-propelled mowers, manual mowers, and so many more! The choice can be confusing.
In this article, we'll give you an overview of some of the best lawn mowers for small yards on the market so you can make an informed and educated purchase.
Best Lawn Mowers for Small Yards – Buyer's Guide
Best Battery-Powered Electric Lawn Mower for Small Yards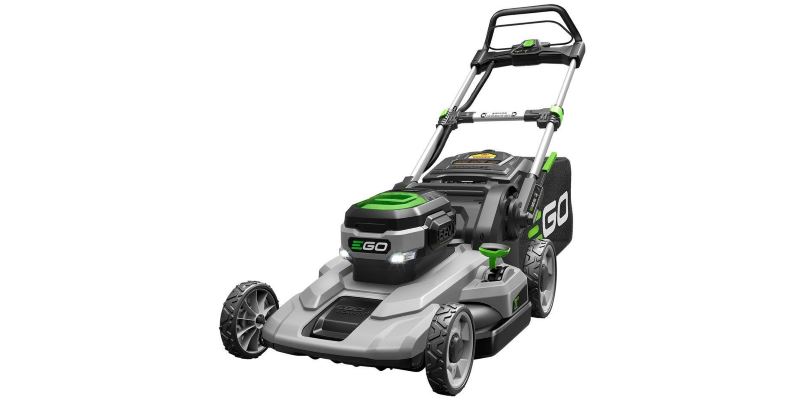 EGO LM2101 is currently the best battery-powered electric lawn mower. As such, it runs on a 56-Volt Lithium-Ion 5.0 Ah battery so you have complete portability. No matter how long the lawn or yard may be, you can easily mow through it without worrying about a power source. However, it comes with two of the major drawbacks of all battery-powered lawn mowers — it's incredibly expensive and it has a runtime of only 40 minutes. As such, you can only use it if for small or medium-sized yards and if you can afford such an expense.
This electric lawn mower can handle side-discharge, mulching, and bagging functions. It has been designed in a rugged style that allows you to use it in any climatic condition and it can sustain heavy abuse. It also comes with an LED headlight that allows you to mow the lawn in the dark, so you don't have to do your yard work only in daylight. It has a maximum deck height of 21 inches, but it has a total of 6 levels that you can adjust with a simple tug of a lever.
All things considered, EGO LM2101 is the best battery-powered electric lawn mower for very clear reasons. It's highly durable, eco-friendly, safe, gives you complete portability, and can even be folded up for easy storage in compact spaces. The biggest drawback is that it has a very limited runtime so you can't use it for massive yards, which is a bummer considering how expensive it is.
Best Corded Electric Lawn Mower for Small Yards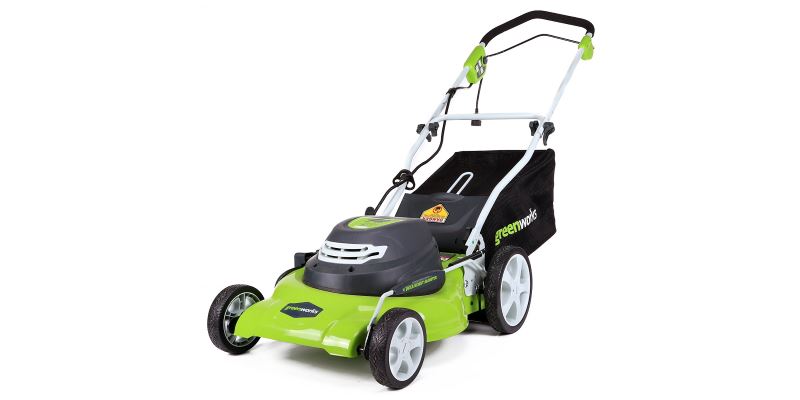 Are you freaked out about the cost or the limited runtime of the aforementioned battery-powered lawn mower? If so, then Greenworks 25022 is the perfect alternative for you. It is a corded electric lawn mower, which basically means that you can only use it when it's connected to a power source. As such, you don't have to worry about constantly recharging the lawn mower and it's a lot cheaper. But it has a major drawback as well — you have to connect it to a massive extension cord in order to effectively mow an entire yard and dragging a wire along can be hazardous.
Greenworks 25022 comes with a 20" cord so you'll need to use an extension cord for most purposes. It runs on a powerful 12-Amp motor and can handle three different functions — mulching, side discharge, and bagging. This electric lawn mower has seven different cutting settings, ranging from 1.5 inches to 3.75 inches. So you can have your lawn be as short or high as you like. The heights can easily be adjusted with a simple tug of a lever. This corded electric lawn mower weighs 56 pounds, but it has large 10" rear wheels and 7" front wheels that allow you to easily push it around.
Considering this electric lawn mower pretty much needs an extension cord to be of any use, the manufacturers should have provided one with the mower. Furthermore, it doesn't have a crossbar so clipping the grass can take a little getting used to. But besides those small hitches, this is a great lawn mower for those who want a noiseless electric lawn mower but without having to shell out the amounts necessary for battery-powered mowers.
Best Manual Lawn Mower for Small Yards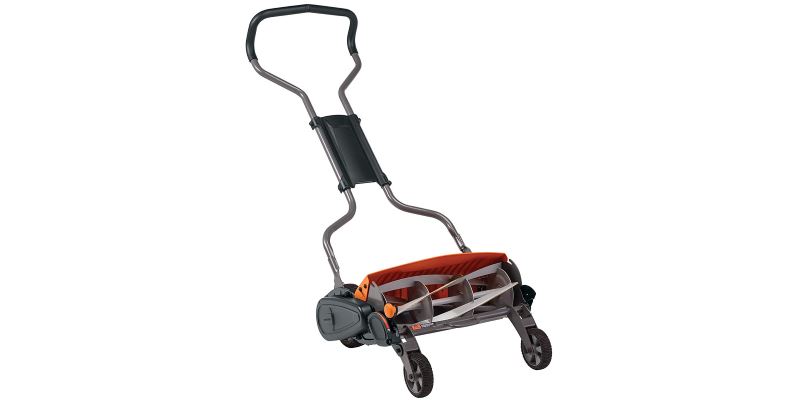 Do you distrust all the bells and whistles that come with motor-driven electric lawn mowers? Do you prefer the simplicity of traditional lawn mowers? If so, Fiskars StaySharp Max 362050 is the best choice. This is a perfectly simple yet effective and powerful manual lawn mower with an 18" cut width and a cut height adjustable between 1 to 4 inches.
Manual lawn mowers generally run with scissor-like blades that make a considerable clanking noise as they run. However, Fiskars StaySharp Max 362050 has introduced aligned blades that can minimize those sounds and provide smooth soundless operation. This lawn mower is also completely portable so you can use it in yards of any size. You don't have to worry about the fumes from gas-powered mowers, or about recharging the batteries, or about dragging a long extension cord along for the ride. This is simplicity at its best.
The handles on this lawn mower are padded for comfort so your hands don't absorb all the vibrations. However, despite being powerful, durable, and smooth, this is still a manual lawn mower and comes with their prime drawback. It cannot cut your lawn to an even height at a single go. You will need to go over the lawn two or three times — especially in low height settings — to get it all cut evenly. This means you'll have to carve out considerable time from your weekend for yard maintenance work.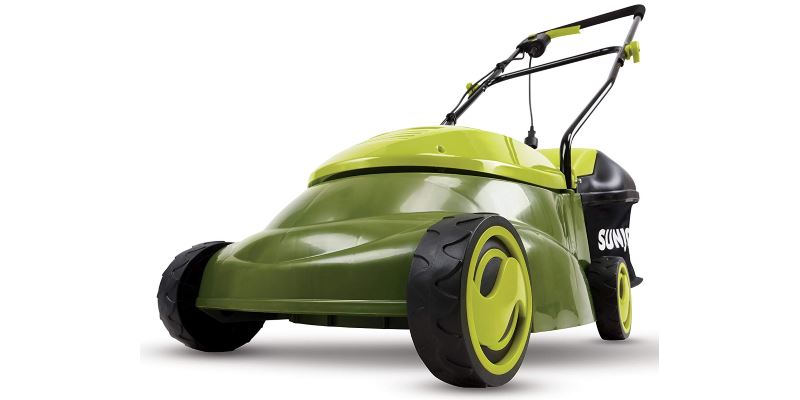 Sun Joe MJ401E is the ideal electric lawn mower for those who have small yards and want to operate a compact lawn mower. Whereas other lawn mowers weigh upwards of 50 pounds and have 18-inch+ cutting widths, Sun Joe MJ401E only weighs 28 pounds and has a cutting width of 14 inches, making it considerably smaller than most other electric lawn mowers. If you have a relatively small lawn that you still want to efficiently mow using a motor-powered lawn mower that's also reasonable, then Sun Joe MJ401E is perfect for you.
This electric lawn mower is powered by a 12-Amp motor and it comes with an extension cord that's 100-feet long, making it suitable for most small yards. It has a simple push-button style trigger that you can use to start mowing without any messy oils or gasoline. Despite being compact, it runs at a decent speed of 3500 rpm so you can mow the lawn fairly quickly.
All things considered, Sun Joe MJ401E is one of the best corded electric lawn mowers for people on a tight budget and who only need an efficient machine to handle small yard work.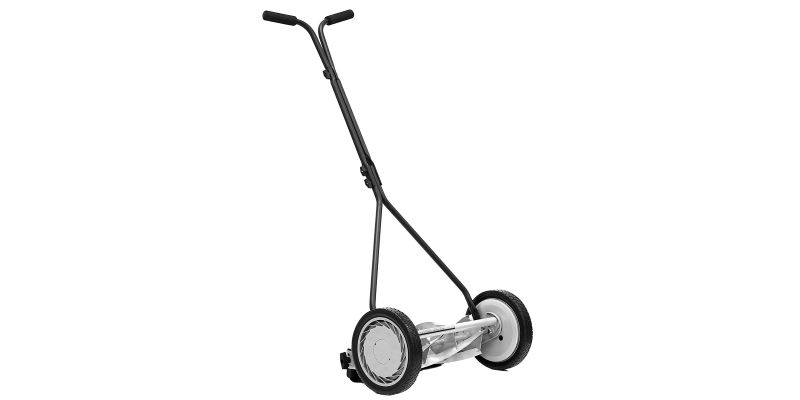 Great States 415 is another decent manual lawn mower for those who don't like other modern options. It weighs only 26 pounds and is quite a compact lawn mower so you can easily store it and you can also use it without much difficulty.
This lawn mower is available in cutting widths ranging from 14" to 18" so you can get whichever mower is best suited for your yard needs. They have 5 scissor-style blades that are perfectly aligned for smooth operation with minimal effort. The cutting height can be adjusted between 0.5" to 2.5", which is an extremely wide height setting range. The 10" composite wheels are suitable for most yards, but not if your yard has hard unpredictable obstacles like rocks, twigs, etc.
Great States 415 has a typical T-style handle that's adequately padded for comfort. However, it's still recommended that you should wear gloves to enhance shock absorption. All things considered, this isn't the best lawn mower on the market, but it's a cheap and easy option for those who want a manual lawn mower.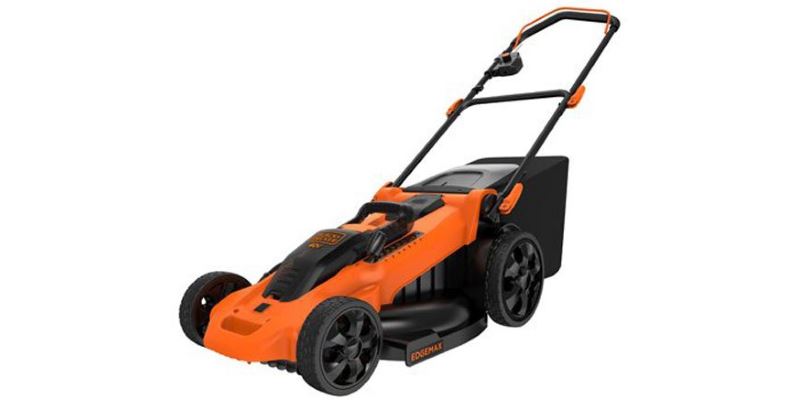 BLACK+DECKER CM2040 is a powerful 40V Lithium-Ion battery-powered lawn mower with an extremely wide 20" cutting width. As such, this lawn mower is perfect for large yards and fields. This lawn mower has 6 cutting height settings ranging from 1.5" to 4". On the lower end, it doesn't go quite as low as several other lawn mowers, but you still get a pretty decent range.
This is a multifunctional lawn mower that can perform the following functions — mowing, mulching, and bagging. After mulching, the bag has a capacity of 15-gallons so you can easily collect all the debris and mulch without needing to dispose of the contents of the bag in between sessions.
If you want an extremely powerful battery-operated lawn mower for large yards and fields, this is a suitable option for you.