Best Leaf Blowers – Buyer's Guide
Whenever autumn comes around, you have to deal with what seems like a truckload of leaves dumped on your yard, seemingly overnight. Not only does this look awful, but it also poses a risk of slipping on those wet leaves.
Most people go about cleaning their yard with a good ol' leaf rake. But that's not really an option in autumn days — not unless you have the upper body strength of a pro-lifter and hours of time on your hands every day.
That's where leaf blowers come in.
A good leaf blower can help you clean up your entire yard within a few minutes. You can keep your entire yard well-maintained on a daily basis without either hiring external help or wasting all your leisure hours.
However, there are a lot of different types of leaf blowers on the market and you want to make sure you are getting good value for money. You have gas-powered leaf blowers, electric leaf blowers, and several types even within those broad categories. So it's important to get one that's well-suited for your specific needs.
In this article, we'll give you an overview of some of the best leaf blowers for the money on the market.
Top-Selling Leaf Blowers
Best Corded Electric Leaf Blower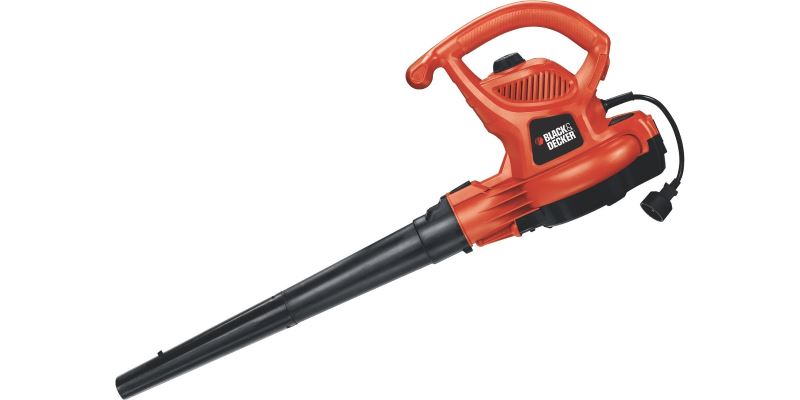 Black & Decker BV3600 isn't just a powerful leaf blower but also an effective debris vacuum, which is why we have listed it as the best corded electric leaf blower. While a lot of advanced leaf blowers also serve a vacuum function, most of them have plastic impellers so twigs and nuts can clog their chambers. Black & Decker BV3600, in comparison, has an electric impeller so it can vacuum debris — along with acorns, branches, etc — and turn them to mulch without getting clogged.
This is a 12-Amp cordless electric leaf blower that can blow at the speed of 230 mph. The anti-clog vortex impeller ensures that all the vacuumed debris turns to mulch, effectively capable of turning 10 bags of debris to just one bag of mulch. Furthermore, it also has two speed selections so you can change the speed depending on whether you're blowing leaves or dirt. It has a tool-free switch so it is designed to execute a seamless transition between vacuum, blower, and the different speed settings. While it has a top speed of 230 mph, it can go down to 140 mph in its "gentle" setting.
As an electric-powered leaf blower, it's completely quiet, generating only 69 dBA of sound. As such, it can also be operated without ear muffs. It weighs only 8 pounds so you can easily sling it on your arms and carry it around.
Best Gas Leaf Blower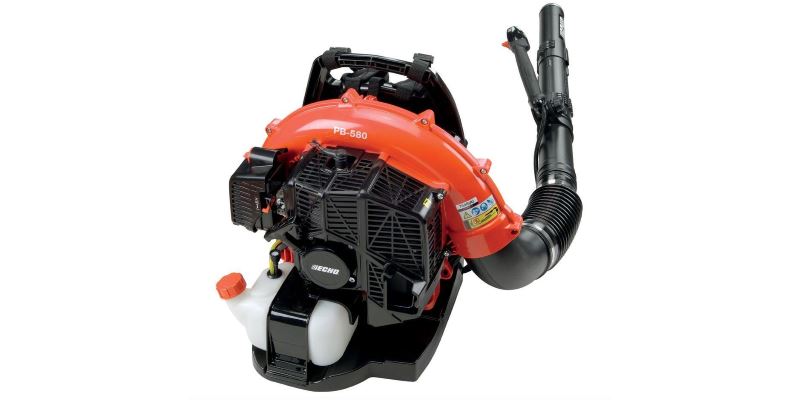 Echo PB-580T is one of the most reasonable, powerful, and efficient gas-powered leaf blowers on the market. Gas-powered leaf blowers have a lot of advantages over corded electric leaf blowers. They are completely portable so you can carry them around anywhere, they can last a long time without needing to be charged or refueled, and they are generally more powerful than electric leaf blower so they can also blow heavy debris like pieces of rocks, twigs, and branches.
Like most gas-powered leaf blowers, however, starting it requires a bit of work. You have to prime, choke, throttle, and pull at the trigger to engage it. This is quite a few steps and sometimes you need to try it repeatedly. Furthermore, it is also quite noisy. It's not any noisier than any other gas-powered leaf blower, but it might still lead to noise complaints from neighbors if you live in a compact neighborhood. You should only use this if you don't have neighbors around and you should wear ear muffs while operating this machine.
If you are fine with all the disadvantages that come with it being a gas leaf blower, you'll love its performance. This leaf blower has a maximum speed of 215 mph which is fairly impressive. The overall weight of this device, however, is 22.6 pounds, so it's not for the frail and weak.
Best Cordless Electric Leaf Blower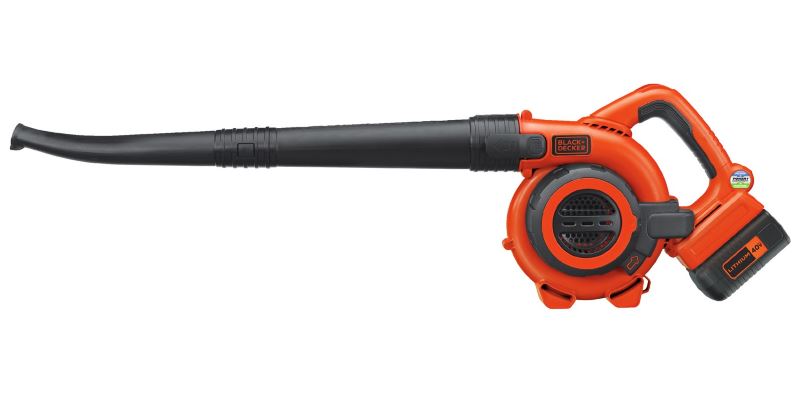 Black & Decker LSWV36 is the best cordless electric leaf blower that runs on a 40V battery. It has everything you need from an electric blower, including vacuuming capacity and cushioned handles that can absorb vibrations. As a battery-powered leaf blower, it allows you to move around anywhere in your yard. However, it doesn't have a strong runtime and can get discharged within 30 minutes so you should complete your work fast. It's not suitable for large yards unless you're willing to stop in between to charge the leaf blower.
This leaf blower runs at a speed of 120 mph, which is only enough to blow debris around 17.5 feet. But it's not powerful enough to blow larger debris, rocks, twigs, branches, etc. This, however, is common to all battery-powered electric leaf blowers. It makes up for that lack of speed with some great additional features. This leaf blower has a built-in scraper that can loosen matted and large pieces of debris so they can be easily vacuumed without clogging your machine.
All things considered, Black & Decker LSWV36 is one of the best cordless battery-powered electric leaf blowers. At 6.9 pounds, it's extremely lightweight and you can easily carry it around as well. It doesn't release any emissions so it's eco-friendly. And you can easily carry it around without being limited by an annoying cord.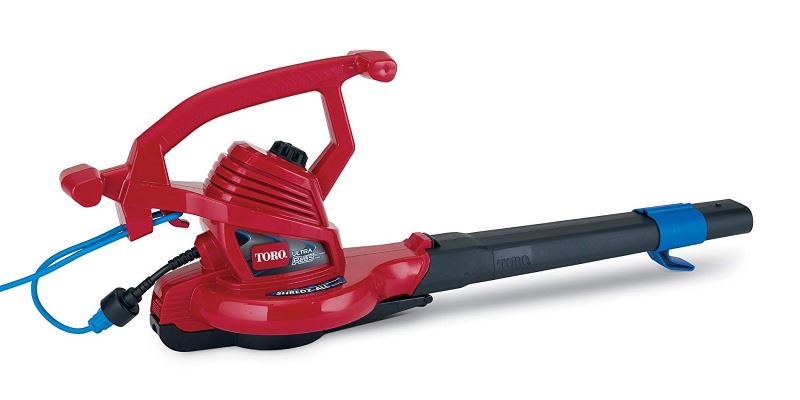 Toro 51621 is a corded electric leaf blower meant for mid-sized yards. It can perform three functions in one — leaf blowing, mulching, and vacuuming. Since it's an electric leaf blower, you don't have to worry about running out of battery or generating noxious fumes from gas. However, your movement range is considerably limited so it's not wise to use this leaf blower if you have an extremely large yard or area to clear.
This leaf blower also has a metal impeller that can shred leaves and other debris so that they can be bagged and disposed of. It has a maximum speed of 250 mph, which is quite powerful, more so than all other electric leaf blowers on the market. It also comes with a variable speed setting so you can increase or lower the speed as you please for different surfaces or tasks.
The biggest drawback here is that the cord is only a few feet long so it's necessary to use an extension cord with it. It generates 96 dB of noise, which is extremely high for an electric corded leaf blower, even more so than most gas-powered blowers, and you'll need to use ear muffs. In terms of weight, it's very easy to carry around, being only 7 pounds.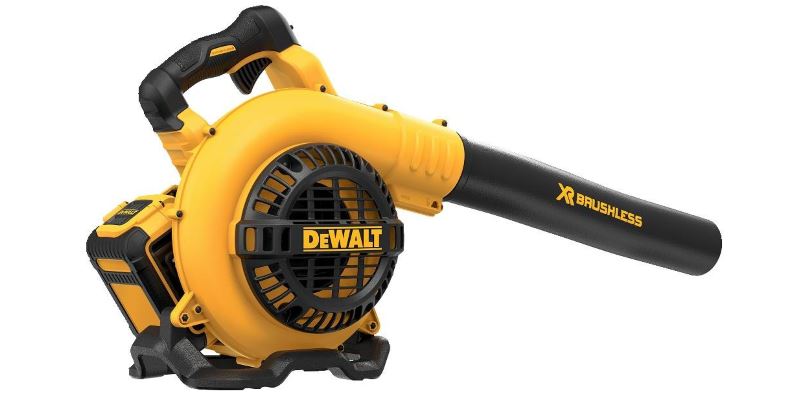 Dewalt DCBL790H1 is a battery-powered leaf blower and has the same advantages and drawbacks as most other battery-powered blowers. It's lightweight, portable, and doesn't generate any noise, making it suitable for light yard work. But it also has an incredibly low runtime, is weak in power and speed, and is usually quite expensive. All of that holds true for Dewalt DCBL790H1.
This electric leaf blower runs on a 40V 6.0AH Lithium-Ion Battery. It blows air at the speed of 120 mph or 400 cubic feet per minute, making its highest speed setting as powerful as the lowest setting on most electric corded or gas-powered leaf blowers.
However, if you are just looking for a leaf blower for yard work, you can't find a better device. It's extremely lightweight at 15 pounds and is ergonomically designed. It has a well-padded handle that can absorb most of the shock from the vibrations so you don't experience any fatigue. It also has a variable speed setting and speed lock, both of which can be triggered easily with a flick of a finger. The entire device has Xenoy housing to increase its durability.
In terms of speed, this leaf blower can only run for 30 to 45 minutes at a single stretch. So you should only use it for small tasks that can be completed within that time. It's completely quiet and generates little to no discernible noise.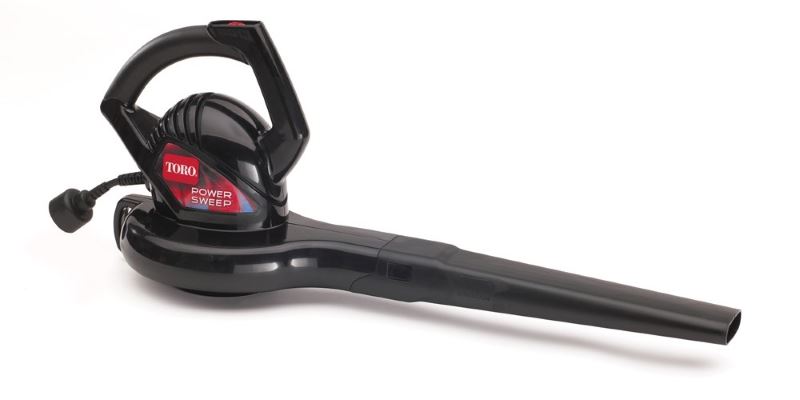 Toro 51585 is a simple low-energy corded electric leaf blower. It's not nearly as powerful as some of the other leaf blowers on this list and is about as powerful as the battery-powered leaf blower. However, it's still worth it for some people because it's incredibly cheap, perhaps one of the cheapest leaf blowers on the market.
This leaf blower has two speed settings — low at 130 mph and high at 160 mph. As such, both speed settings are fairly weak and they're just enough to blow leaves and some light debris. They're not enough to get rid of larger rocks, twigs, etc. The whole leaf blower only weighs 5 pounds and generates minimal vibrations so anyone can carry it around and use it for hours at a stretch without fatigue.
If you're looking for an extremely cheap leaf blower for some light maintenance task, then Toro 51585 is the ideal choice.