Best Men's Electric Shavers for Sensitive Skin
Best Men's Electric Shavers
You might think all men's shavers are the same. After all, the one you use probably does the job of shaving or trimming your beard just as well as any other, right?
Wrong. There are a lot of different men's shavers on the market and all of them come with their unique features and drawbacks. If you use the incorrect men's shaver — one with a razor that doesn't suit your skin or beard, for example — you might end up with razor burns. Furthermore, continued use of inferior men's shavers can also make your sensitive skin prone to redness.
Your face is the first thing people notice about you. So be sure that you treat it right and get one of the following best men's electric shavers for sensitive skin to get the perfect shave.
Best Men's Electric Shavers – Buyer's Guide
Best Luxury Men's Shaver for Sensitive Skin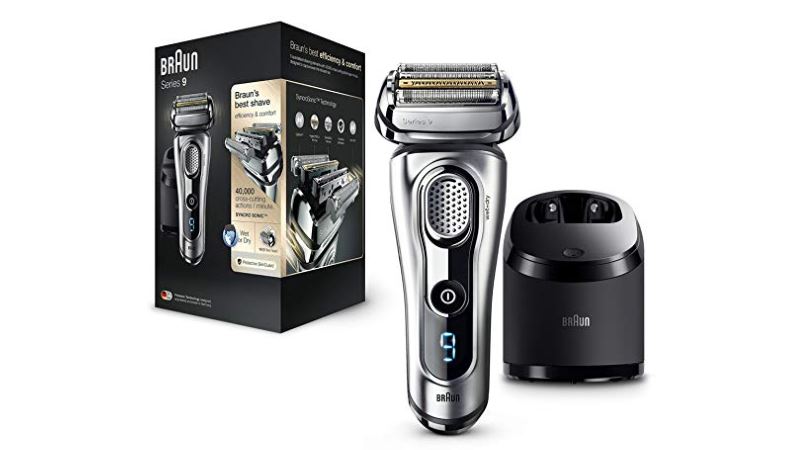 Braun is one of the world's most luxurious and premium companies for men's grooming products. Their Series 9 is widely considered to be the best men's shaver for comfort and efficiency. It features a ten-directional swiveling head along with two titanium-coated trimmers. As such, you can reach even the smallest and most inconveniently located bits of scruff on your face without worrying about breaking skin.
You should, however, note that this is also one of the most expensive men's shavers on the market, costing twice as much as other premium shavers. As such, you are pretty much owed an experience unlike any other, and this shaver sure delivers on that promise beautifully.
This men's shaver also comes with five specialized shaving elements. As such, they can capture all the minutest of hair follicles on your face with far fewer strokes. Furthermore, the SyncroSonic technology has the ability to understand your facial terrain and adapt itself accordingly to provide just the right level of pressure.
Best Overall Men's Shaver for Sensitive Skin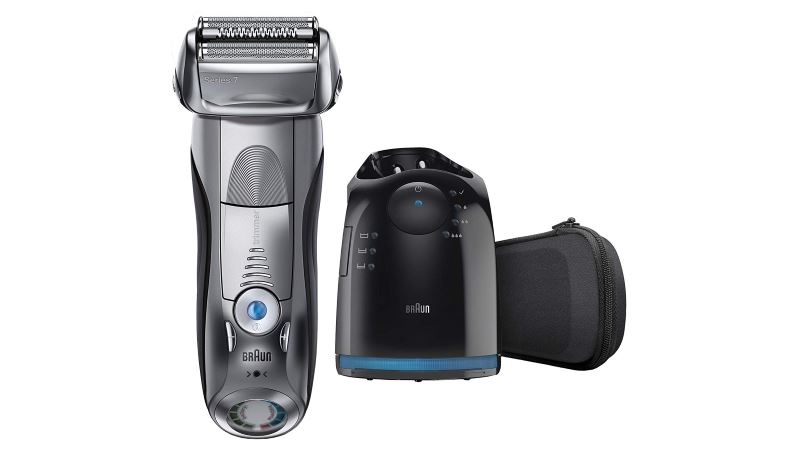 It is entirely possible that you were left shocked by Series 9's price tag. You're not alone, most people are. If you thought the Braun Series 9 was overkill and would rather prefer a more affordable alternative, you can go for Braun Series 7.
Made by the same German powerhouse company, Braun Series 7 is the half the value of Series 9 while also being smart in its design. This men's shaver comes with three trimmers. Two of them are called OptiFoil and the other is called ActiveLift. The OptiFoil trimmers are helpful in covering a larger area with fewer strokes whereas the ActiveLift is ideal for rooting out the remnant follicles of hair. As such, you should first go over your face with one of the OptiFoil trimmers and then switch over to an ActiveLift trimmer for a completely clean look.
This also happens to be designed with Pulsonic technology. As such, it can generate 10,000 micro vibrations per minute, ensuring that more of the facial hair is captured easily. The head of this men's shaver is also extremely flexible. As such, it twists and turns to accommodate your facial terrain, making sure it can adapt to any face without breaking skin or causing irritation.
All things considered, if you want a smart men's shaver from the world's leading shaving company but don't want to break your bank, then Braun Series 7 is the one for you.
Best Wet/Dry Men's Shaver for Sensitive Skin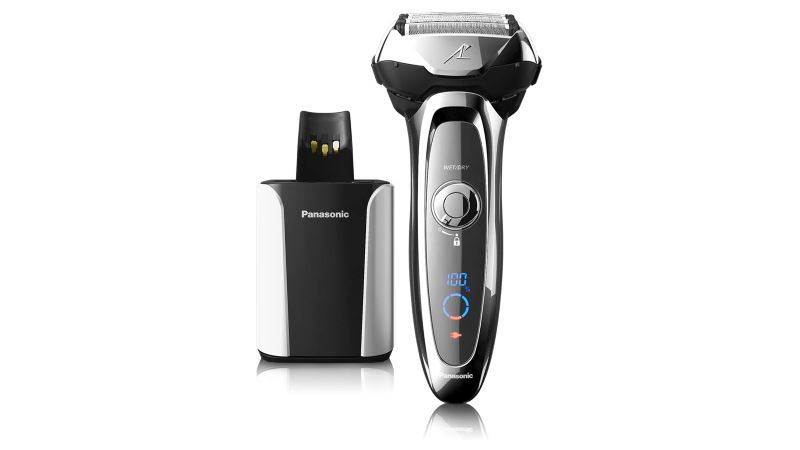 Panasonic ES-LV95-S Arc5 is perhaps Braun's only real competition as far as foil men's shavers are concerned. This is one of the world's first 5-bladed linear men's shavers, which means it has 5 arched cutting points. It also has a high-performance motor that can deliver 14,000 cuts per minute.
Like the aforementioned Braun shavers, this men's shaver also comes with a pivoting head that can twist and turn in accordance to the user's facial structure. This feature is really helpful in making sure it perfectly reaches every part of the user's face without ever breaking skin or causing any surface irritation.
The area in which this shaver surpasses even the Braun shavers is in its Wet/Dry shaving capacity. As such, you can use this shaver both in and out of the shower. A lot of people prefer this feature because it allows them to shave while they're already in the shower, thus also washing themselves off simultaneously.
The only complaint leveled against the Panasonic ES-LV95-S Arc5 is that it isn't suitable for sensitive skin. If you have skin that's prone to redness and irritation, this men's shaver might exacerbate your condition. As such, you're advised to use this shaver in combination with a good pre-shave lotion.
Best Rotary Men's Shaver for Sensitive Skin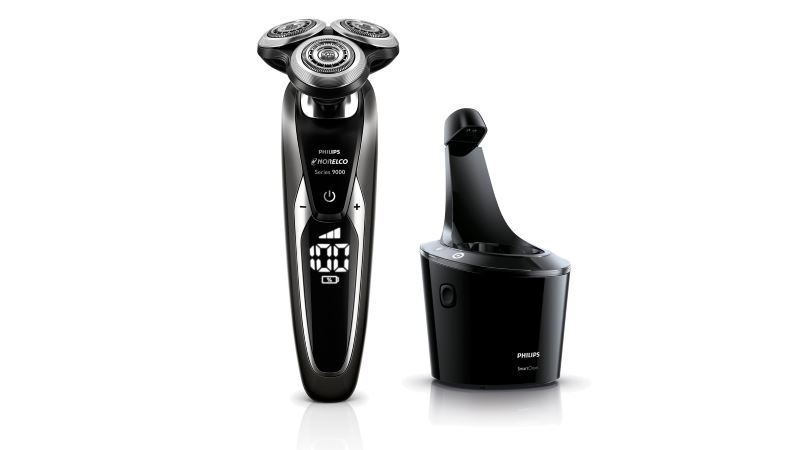 Philips Norelco Electric Shaver 9700 is the best rotary men's shaver on the market with eight-directional blades, ContourDetect technology, and V-Track Precision capacity. Furthermore, this men's shaver is also pretty multifunctional because you can attach both trimmers and facial brushes to it, making it versatile and increasing the efficiency of your morning routine.
The three-head shaver provides an extremely close shave, getting rid of all your facial hair in a few strokes. The ContourDectect technology can bend and adapt the blades to your facial contour. And the V-Track Precision feature can cut each individual hair on your face from two directions, thus trimming instead of pulling the hair. All of these features come together to provide you with one of the closest shaves you can expect.
This men's shaver is also equipped with a large LED display that lets you observe the battery life, the replacement head indicator, and the cleaning indicator, thus enhancing the convenience of using this shaver.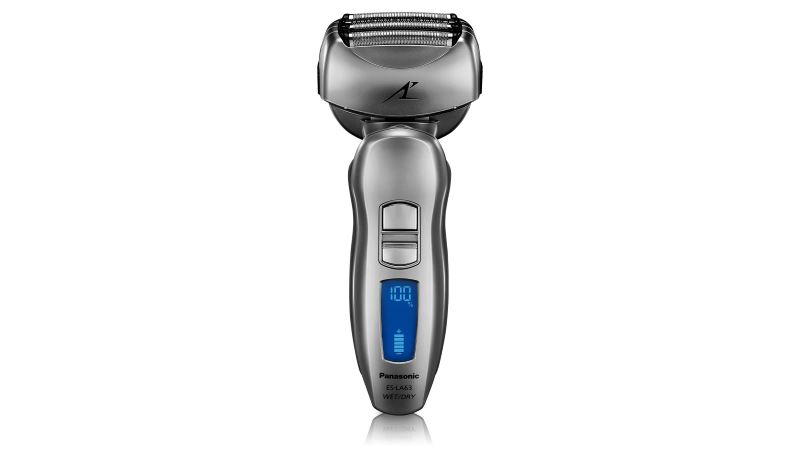 Panasonic ES-LA63-S Arc4 is a small step down from the aforementioned Panasonic ES-LV95-S Arc5. However, considering it's almost as powerful and is available at half the cost, it is well worth your consideration.
This men's shaver is equipped with 4 shaving heads in one, thus capable of providing you with an extremely accurate and close shave. It has all the features available in the Arc5, minus one trimmer. The available blades are extremely sharp and durable, capable of pivoting by 30-degrees in any direction. While the head isn't as flexible as some of the other men's shavers on this list, it is still pretty capable of adapting to any facial structure.
Panasonic ES-LA63-S Arc4 also happens to be a Wet/Dry Shaver. As such, you can use it both in and out of the shower, depending on what you find most convenient.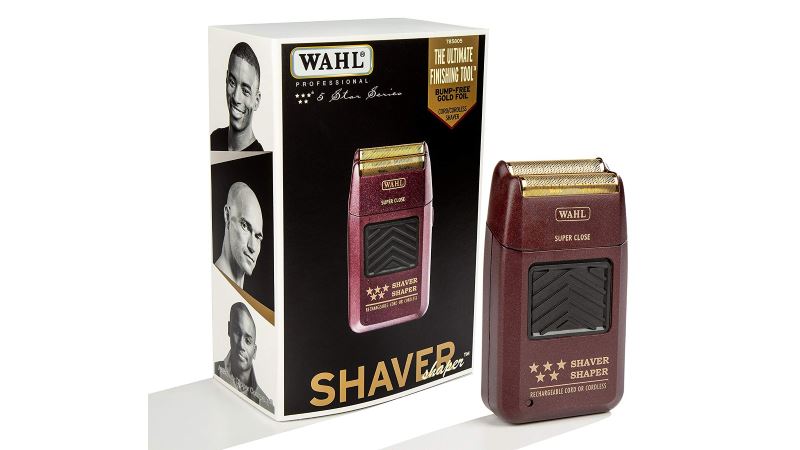 Wahl Professional 8061 is one of the most popular men's shavers used by barbers across the United States. It's quite efficient and a lot more affordable than most of the other premium men's shavers on this list.
This men's shaver uses a Dynaflex Cutting technology that can reach some of the harder areas like the neck and jawline. It provides some much-needed flexibility to ensure that it doesn't cut or irritate the user's skin. Furthermore, the Hypoallergenic foils ensure that it remains free from bacteria and that it can provide a smooth shave to everyone without triggering any underlying skin condition. This makes it ideal for people who have sensitive skin.
In terms of design, it is durable but it doesn't look classy. It has a plastic maroon body with yellow trimmer blades. The whole thing looks quite old or toy-like. That's one of the main reasons it features so low on this list.
You should also know that this is a finishing shaver. As such, it can only be used to shave beards that are at stubble-length. If you intend to shave on a daily basis, you can go ahead and purchase it. However, if you shave once in a while after your beard has grown out considerably, you'll have to get another men's shaver.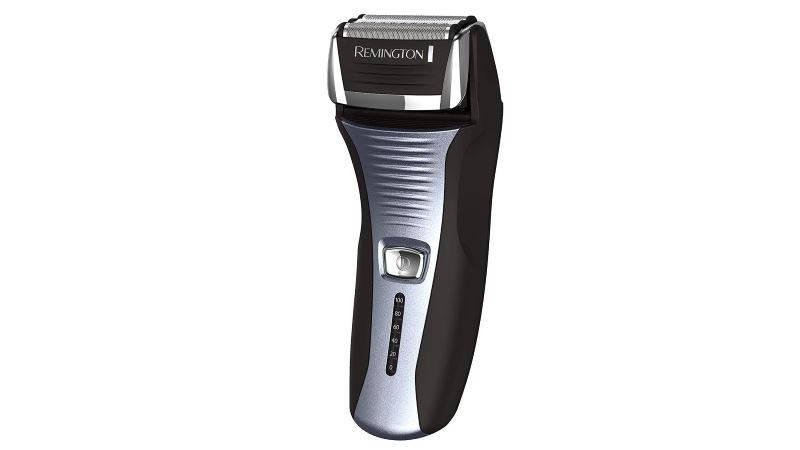 Remington F5-5800 is the cheapest men's shaver on this list. Available at less than $50, this men's shaver is equipped with 2 foils and 1 trimmer. The shaver's head can pivot up or down but it cannot rotate into various different positions to adapt to the facial contours. However, it is comfortable to use and shouldn't offer much resistance to most people.
This men's shaver is also easy to clean. You just have to remove the head and rinse it with water. My biggest issue with this shaver is that it's made of cheap plastic material and doesn't shave quite as closely as some of the other shavers on this list. If you want to maintain a stubble, you can go ahead with this men's shaver. However, you can't use it for a clean look.
All things considered, this is a perfectly adequate men's shaver that can do the bare minimum of shaving your beard. However, it doesn't have any of the advanced features available in the previously mentioned premium shavers.