Best Portable Mini Projector
Want to give stunning presentations or watch movies on large screens straight from your phone or laptop? Then you'll need to find the
best mini projector
!
Best Portable Mini Projectors for 2020
Not too long ago, projectors used to be large hulking devices. They were also pretty unreliable and you had to tinker with them in front of an impatient audience before they actually started working right.
But those days are gone.
Modern projectors are highly portable and lightweight. As such, you can now carry the
best mini projector
wherever you go and project straight from your iPhone, Android phone or laptop.
Whether you want to give stunning presentations or watch movies with friends in make-shift theaters, these are the
best mini projectors
on Amazon in 2020.
Best Mini Projector ~ Buying Guide
Best Budget Mini Projector for iPhone & Android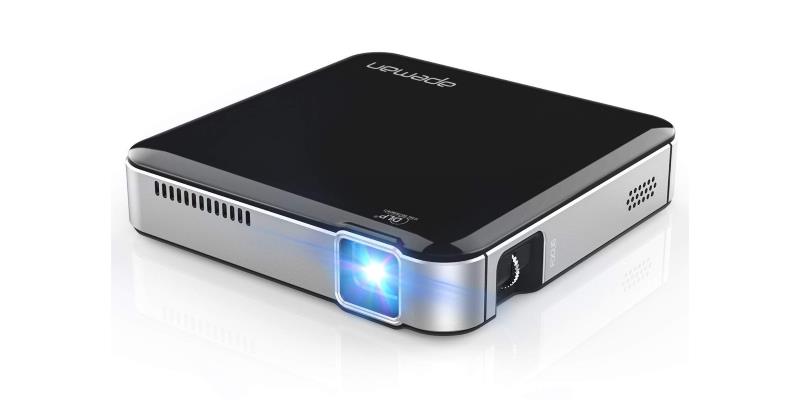 Apeman is an extremely lightweight pocket-sized mini projector that only weighs 0.44 pounds and has physical dimensions of 3.85 x 3.85 x 0.85 inches. As such, it's one of our best portable projectors that you can easily carry it around in your pocket and use it to cast a large projection in parties, office events, or anywhere else.
This mini projector uses an advanced DLP technology that is perfectly compatible with 1080p videos with a 10,000:1 contrast ratio. It has a native resolution of 854×480 and can project an image of around 30" to 100" from a distance of 1 to 4 meters. Furthermore, the resultant video is considerably brighter and sharper than most other projectors and it retains most of the video's original quality.
A lot of projectors tend to be extremely loud and the sound of their internal machinery overwhelms the presentation or movie. However, Apeman is equipped with cooling technology that completely minimizes or negates the sound of internal machinery. Furthermore, it also has an inbuilt dual-stereo speaker that can boost the sound quality and provide a theater-like sonic experience.
The average lifespan of the projector's lens is around 45,000 hours. As such, even if you watch a single long movie a day, it would last you for a period of 40 years or more. However, it has a battery life of only 120 minutes so you'll need to keep it connected if you need to use it longer than that at a single stretch.
Best Smart Mini Projector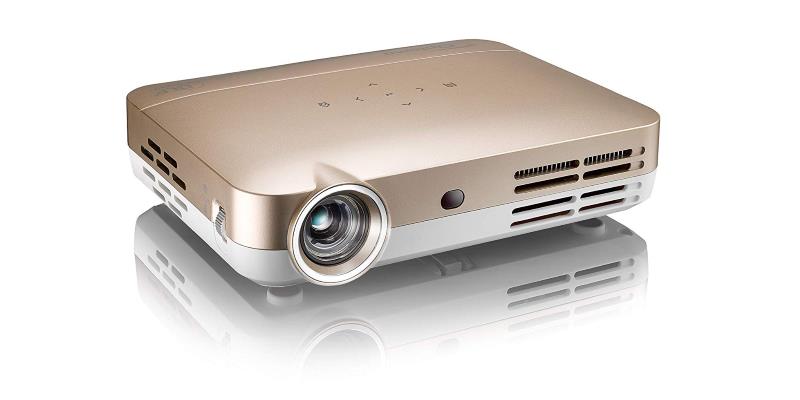 Optoma IntelliGO-S1 is perhaps one of the most advanced and best mini projectors available on Amazon right now, but it also comes at a premium price point. Weighing 16 ounces, it is a little heavier than the aforementioned Apeman, but it can still fit on the palm of your hands and has overall physical dimensions of 6.2 x 4.7 x 1.2 inches.
In terms of performance and visual quality, this mini projector is undefeated. Unlike Apeman (which has a native resolution of 480p), this mini projector has a native resolution of 1280 x 720. As such, it doesn't just support HD videos, it can also project HD videos. It also has a higher contrast ratio of 15,000:1 so the resultant videos never look washed out. Due to the advanced processor, the mini projector also eliminates all instances of latency or motion blur, even when you view 1080p videos. The 500-lumen lamp is also bright enough that you can watch it with some lights on, however, as with all protectors, it is still meant to be seen in dark rooms.
With a throw ratio of 1.2:1, this mini projector is ideally suited for screens ranging from 20" to 150". This mini projector is also equipped with powerful 2-watt speakers that are loud enough for parties or large gatherings.
The best aspect of this mini projector is its smart capability. It runs on Android 4.4 and is compatible with Bluetooth and WiFi. As such, instead of connecting to your computer or smartphone via an HDMI cable, you can also do so wirelessly. Furthermore, you can also use the internal 8GB storage to download apps like Hulu and Netflix and stream directly through the projector. All these features considered, Optoma IntelliGO-S1 is the smartest and most advanced mini projector on the market.
Best Value Mini Projector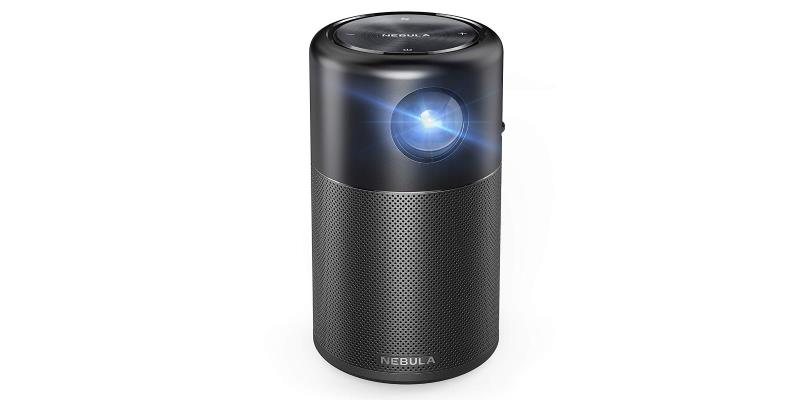 Anker Nebula Capsule is our pick for the best value mini projectors because it's one of the most affordable smart projectors on the market that doesn't sacrifice either visual quality, functionality, or design. It weighs on 1 pound and has physical dimensions of 2.68 x 2.68 x 4.72 inches. It is smaller than most other mini projectors and can easily fit into your pocket.
This mini projector has excellent battery life and can deliver up to 4 hours of video playback on a single charge. As such, you won't have to recharge the device between sessions. Furthermore, recharging takes less than an hour thanks to Quick Charge technology.
In terms of video quality, it is similar to the aforementioned Apeman. It is capable of projecting 1080p videos as well, but its native resolution is limited to 480p. It uses advanced DLP technology, IntelliBright algorithms, and has a lens brightness of 100 ANSI lumen. All of these features ensure that you can use the projector even in bright settings, however, at 100 lumens, it will appear slightly washed out and is best suited for dark rooms. This mini projector is suitable for screens ranging from 20" to 100″ in size. And it is also equipped with a 5-watt 360° speaker. As such, the speakers aren't as powerful as the aforementioned Optoma IntelliGO-S1, but it delivers an even experience from all around the room.
Anker Nebula Capsule also has smart technology. It runs on the Android 7.1 platform and you can control it via a smartphone app as well. You can connect your smartphone or device to it via HDMI cables or wirelessly through Bluetooth or WiFi. And you can also stream videos directly through it via apps such as Netflix, Hulu, etc.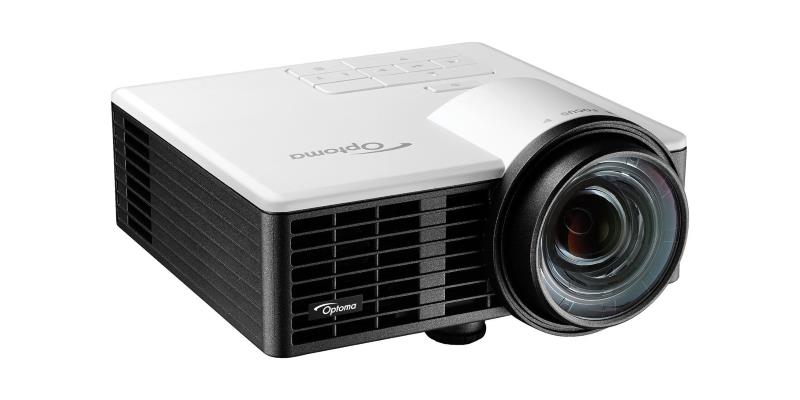 Optoma ML750ST is not meant for the casual user. It's twice as expensive as some of the aforementioned best mini projectors and it's also a lot more powerful. It weighs only 0.88 pounds and has compact physical dimensions of 4.4 x 4.8 x 2.2 inches. While it is not a smart mini projector, it delivers the best visual output possible.
This mini projector can support Full HD videos and has a native resolution of 1280 x 720. It also uses DLP technology and IntelliBright algorithms to deliver a stunning lens brightness ranging from 700 lumens to 1000 lumens, which is twice as bright as the aforementioned mini projectors. It also boasts a contrast ratio of 10,000:1. As such, it can also be used to project videos in brightly-lit rooms, making it perfect for use in business settings for professionals. From a distance of 1.8 to 10.6 feet, this projector is suitable for screens ranging from 17" to 100″.
RIF6 Cube is the smallest mini-projector on the market. This is a thimble-sized 2-inch cube that weighs less than 1 pound. It certainly doesn't have the same visual quality as the aforementioned projectors but it's also a lot cheaper, making it perfect for casual users.
It can project HD videos with a lens angle of 120°. The lens isn't very bright at only 50 lumens, so you can only use it in completely dark rooms. In terms of connectivity, this mini projector isn't Bluetooth or WiFi enabled, nor is it a smart device. However, you are not purely limited to HDMI cables either. Yes, you can connect your device via an HDMI cable. But you can also protect videos via USB drives and microSD cards.
The battery life is strong enough for 90 minutes, which is enough for a presentation or a single moderate-length movie. The lens has a lifespan of 20,000 hours so that should be enough to last over a decade with moderate use.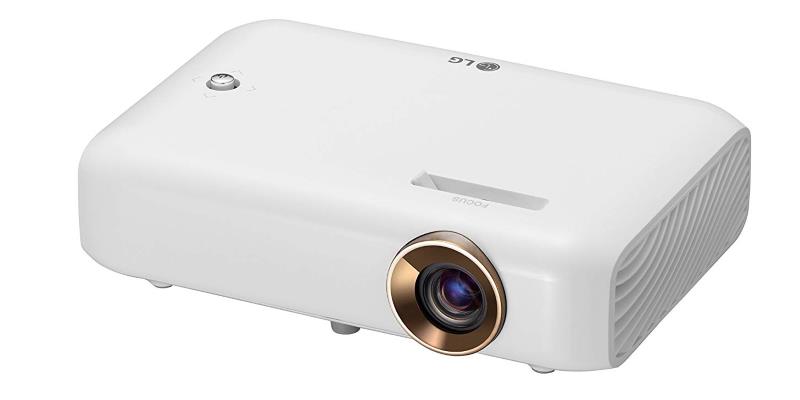 LG Electronics PH550 is a fairly bare-bones mini projector that comes close to imitating the style and functionality of older projectors while stripping the design of all their problems. It weighs around 1.43 pounds and has physical dimensions of 6.9 x 4.3 x 1.7 inches. As such, it's not as small as some of the other projectors on this list, but it's still portable and one of the best portable mini projectors available right now.
This mini projector can support full HD videos without any latency or motion blur issues. Furthermore, it has a native resolution of 720p and is equipped with a lens capable of 550 ANSI lumens, making the resultant video sharper and brighter than most in this price range. It can be projected on a screen size up to 100" in length.
This isn't a smart device, nor is it equipped with Bluetooth, WiFi capacity, or slots for USB or microSD cards. As such, you will have to stick to regular HDMI inputs. A single charge can take this projector through for about 2.5 hours, which is perfectly adequate. The lens can provide up to 30,000 hours of life, which is enough to last several decades.