Best Pillows for Neck Pain
Best Pillows for Neck Pain
When it comes to proper sleep, there's nothing quite as important as a good pillow. This is especially true for people suffering from chronic neck pain and other bodily illnesses. You need to find a pillow that's just the right level of soft and has the right dimensions to make sure that you are comfortable.
In addition to the dimensions and softness, you should also look at the material used to fill them up. Different materials provide different levels of pressure relief and heat retention.
Choosing the right pillow to relieve your neck pain can be quite difficult. However, in this article, we'll give you a detailed overview of the best pillows for neck pain on the market so you can enjoy a restful and luxurious sleep.
Best Pillows for Neck Pain – Buyer's Guide
Best Memory Foam Pillow for Neck Pain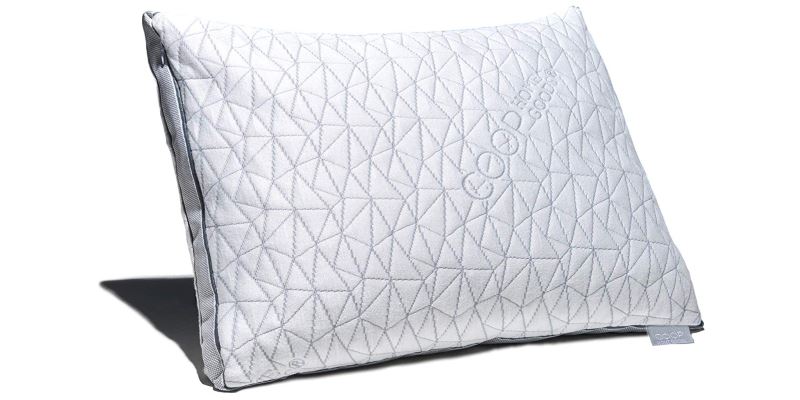 Coop Home Goods Eden Pillow is a memory-foam pillow with a "medium soft" firmness. The inner cover is made of 100% polyester and the outer cover is made of a combination of polyester and bamboo-derived rayon.
The outer cover has been designed to be breathable so that you don't sweat while sleeping. The pillow is stuffed with cooling gel memory-foam so that it can draw your body's internal heat and keep you cool. And finally, the memory foam has been shredded into cross-cut stitches to prevent it from clumping together. This ensures that there's greater airflow in the pillow, which is yet another design feature that maintains a cool temperature. All of these features are geared towards ensuring that you don't get sweaty or hot at night.
This pillow has a gusseted design that can prevent the fill from getting pushed out from under your neck. As such, wherever you rest your head, you get optimal support for your neck. However, the best part of this pillow is the adjustable loft. Basically, you can undo the zippered covers to gain access to the pillow's filling so you can remove as much of it as you want to adjust the pillow's height or firmness according to your needs.
All things considered, this is clearly one of the best pillows on the market because it can be adjusted to every sleeper's specific needs. You adjust the loft however you like so its firmness is completely in your hands. It is also designed so as to provide maximum coolness and comfort throughout the night. Coop Home Goods Eden Pillow comes in three sizes — Standard, Queen, and King.
Best Latex Pillow for Neck Pain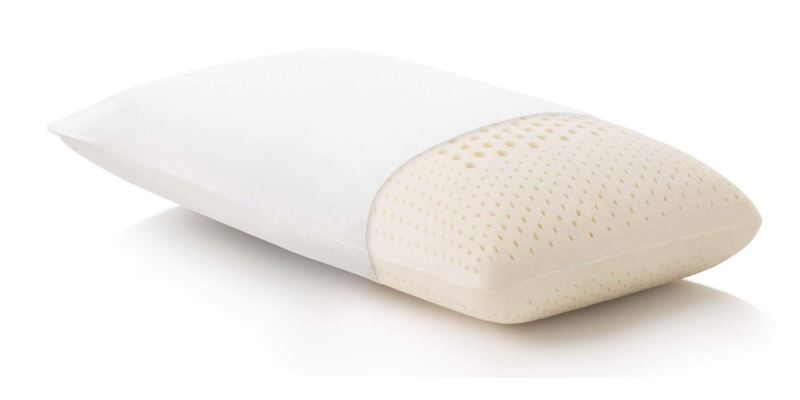 Malouf Z is 100% natural Talalay Latex pillow. As it has been derived completely from sustainable latex trees, it is eco-friendly and there are no synthetic materials used. This is a fairly firm pillow that can provide optimal support to keep your head elevated all night.
This pillow has been designed with unique foam consistency and zoned technology. As such, the foam won't clump in regions and the zoned support can relieve pressure. The outer cover is made of 100% cotton so it's extremely breathable and washable. Furthermore, the entire pillow is well ventilated and has been designed as mildew-proof and dust mite resistant.
Malouf Z is available in two sizes — Queen and King. However, in terms of firmness and loft height, it is available in Firm High Loft, Firm Low Loft, Plush High Loft, and Plush Low Loft. As such, there are various different firmness and height levels available. This makes it perfectly suitable for all kinds of sleepers.
Best Buckwheat Pillow for Neck Pain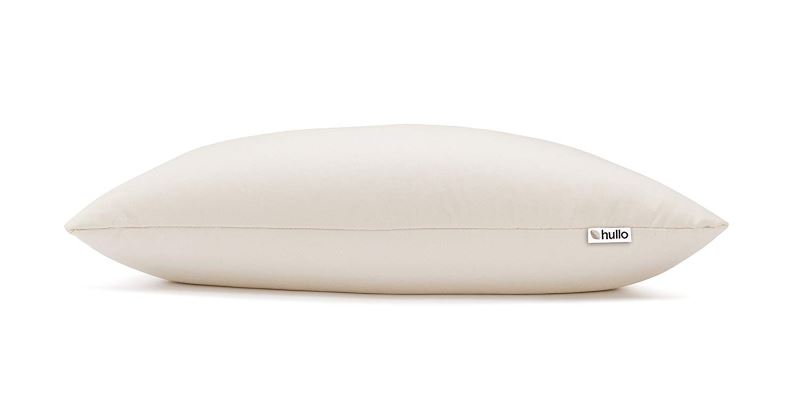 Hullo Pillow is made of one of the most popular eco-friendly materials used for pillows — buckwheat. It can conform closely to your head and provide great support to your neck while also relieving pressure. It is similar to latex pillows or memory-foam pillows in terms of pressure relief, but it's 100% natural.
Hullo Pillow is one of the best pillows on the market because it's completely adjustable. You can modify the thickness by simply adding or removing as much hull as necessary from the pillow. You can also purchase extra hulls of buckwheat from Hulltex LLC when you need to get more hull. If you find that the quality of the hull deteriorates down the line, you can simply replace it with more and you don't need to purchase a new pillow again.
This pillow is also pretty cool when it comes to sleeping. Hulls can enhance air circulation organically, so this pillow is extremely breathable and won't cause your head to start sweating. The pillow also comes with an organic-cotton twill cover that is breathable and can be machine-washed when necessary. Furthermore, you never have to worry about cleaning the inside of the pillow because hulls don't have to be cleaned.
Hullo Pillow is available in two sizes — Standard and King. The Standard size is 14 x 20" and weighs only 4 pounds. All things considered, Hullo Pillow is ideal for side and back sleepers who want a medium-firm pillow that can support their necks and one that's eco-friendly, cool, and adjustable.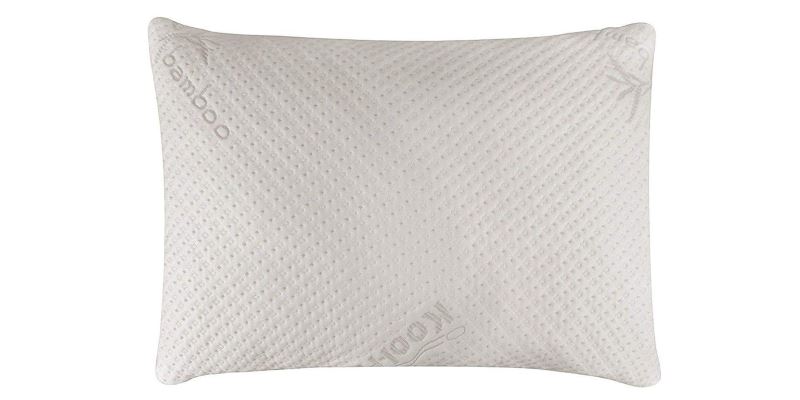 Snuggle-Pedic Pillow is a shredded-style memory foam pillow with a bamboo pillow cover. As a memory-foam pillow, it never goes flat and the foam never clumps together in places, thus ensuring that it remains perfectly even throughout. The cover is made of 43% Viscose of Bamboo and 56.4% Polyester. This micro-vented cover is extremely breathable and enhances air circulation, keeping you cool throughout the hottest nights.
The outer cover of this pillow is zipper removable so that you can adjust the foam inside the pillow. While the foam can conform to your body perfectly, you can modify the amount of foam to adjust the loft height. As such, this pillow is suitable for people with varying preferences in terms of firmness and height. This makes it perfect for side, stomach, and back sleepers alike.
Snuggle-Pedic Pillow is also hypoallergenic and dust mite resistant. Furthermore, it has been rolled and vacuum-sealed to render it eco-friendly. It is available in three sizes Standard (26×19"), Queen (28×20"), and King (35×20").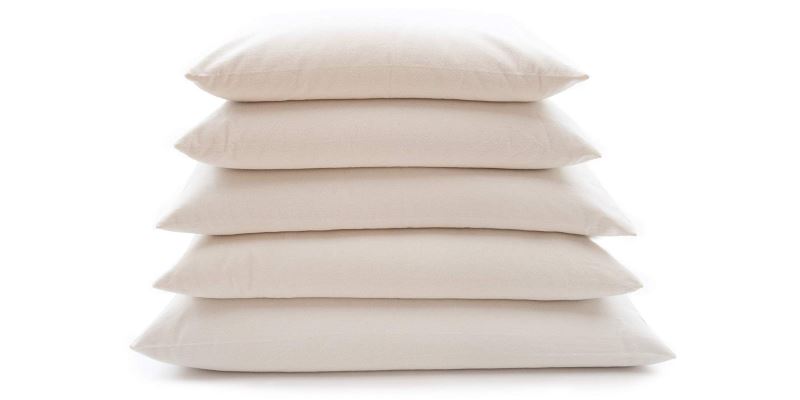 ComfySleep Pillow is a 100% natural buckwheat pillow. Like the Hullo Pillow, this too is made from natural buckwheat material and it can be adjusted by adding or removing hulls. Buckwheat is one of the coolest materials for pillows because it facilitates perfect airflow and doesn't retain heat. However, buckwheat hulls also make the pillow considerably hard so they're not suitable for people who prefer soft pillows or those who sleep on their stomachs.
The best aspect of this pillow is that you can buy more hull to add or remove hull and adjust the height accordingly. Furthermore, the hull never has to be cleaned so it's easy to maintain as well. You should, however, note that the hull can sometimes create scratching sounds. So if you or your partner is sensitive to sounds at night, this might not be the perfect choice for you.
You can get this pillow either with or without the pillowcase. If you choose to go for the pillowcase version, you'll get a cotton pillowcase with the pillow. The cotton cover is completely breathable and it will prevent you from sweating at night.
ComfySleep Pillow is available in 5 different sizes — Standard (20×26"), Queen (20×30"), Classic (14×23"), Classic Plus (14×26"), and Traditional (14×21").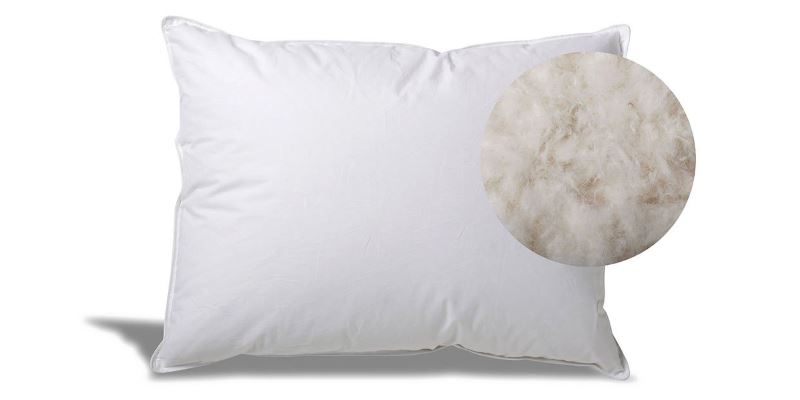 eLuxurySupply Pillow is an extremely luxurious and soft goose down pillow. The most noticeable aspect of this pillow is that it only weighs around 3 pounds. The loft height is medium/high, but it adjusts according to your head and neck perfectly. As such, it can easily suit most people. A single Queen-sized pillow has 600 goose down. It is a combination of 80% goose down and 20% feathers. The pillow cover is made of a combination of cotton and bamboo. It's perfectly breathable and there's plenty of air circulation so you won't sweat considerably.
eLuxurySupply Pillow is available in 4 sizes — Standard (20×26"), Jumbo (20×28"), Queen (20×30"), and King (20×36").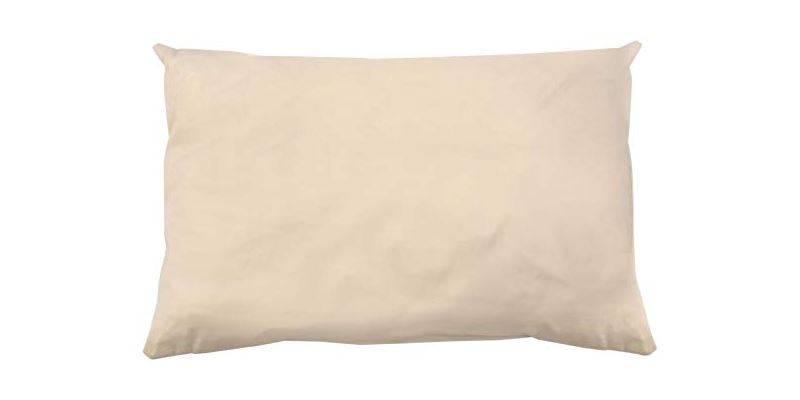 Naturepedic Pillow is a 100% cotton pillow that's completely organic and safe. It has been made without any chemicals or flame retardants. The pillow has a 300 thread count that cannot be penetrated by allergens or dust mite. It is extremely soft and has a sateen-like finish.
You should, however, note that this pillow isn't very fluffy and, over time, it might even start flattening out. However, cotton is one of the best materials for air circulation so this is completely breathable and you won't sweat through it.
All things considered, if you want a homegrown all-natural cotton pillow, then this is ideal for you. However, you have to take the good with the bad. Naturepedic Pillow is available only in a standard size of 20 x 26 inches.