Find the
best pocket knife
that's perfect for your everyday needs and self-defense purposes.
Best Pocket Knife 2020
Buying pocket knives can be a complicated task. In recent decades, knife manufacturing has become so specialized that you have pocket knives that serve a multitude of purposes.
Some of the
best pocket knives
can be used for everyday handyman purposes like slicing boxes open or cutting through packaging tape. Some pocket knives are meant for self-defense. You also have pocket knives meant for chopping vegetables and fruits.
As such, selecting a pocket knife that meets your specific purposes can be hard. In this article, we'll give you an overview to help you find the
best pocket knife
for your needs so you can make an informed purchase.
Best Pocket & Folding Knife ~~ Buying Guide
Best Overall Pocket Knife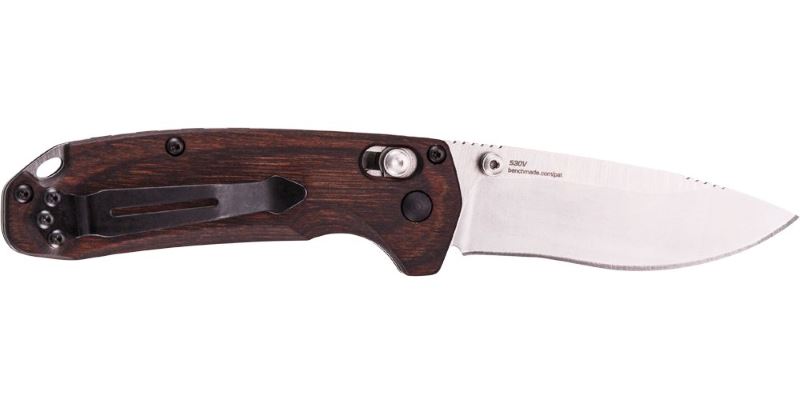 Benchmade North Fork 15031-2 has been made using CPM S30V steel. This is widely considered to be the best quality of steel on the market and it can maintain its edge while also avoiding corrosion and rusting. As such, it can be left out in the heat in a humid climate or submerged in water, it won't rust. Furthermore, it will retain its edge even after you hack through hundreds of cardboard boxes.
This pocket knife has an extremely stylish and sleek dark wood handle and it's also available in a version with a high-pressure fiberglass laminate G-10 handle. This little detail adds a warm touch to a pocket knife whereas most keep their blades looking cold and tactical.
This pocket knife also has an extremely smooth opening and closing mechanism. You can pull the blade open with a simple swipe of the thumb stud and an inbuilt spring helps it close again. The spring also ensures that the knife doesn't open up on its own. Since you never have to place your fingers in the knife's path while closing, it's also extremely safe.
Benchmade North Fork 15031-2 is 3.9 inches in length, which is considered to be a fairly decent size for pocket knives in general. All things considered, it is an extremely high-quality, safe, and convenient pocket knife that's well worth its price tag.
Best Budget Pocket Knife
Kershaw Blur 1670OLBLK is one of the most popular pocket knives on the market currently because it packs a wide range of features at an extremely reasonable price point. Even though it has been made from premium materials, it's around half the cost of the aforementioned Benchmade North Fork pocket knife.
This pocket knife has been made with a sleek yet dark aesthetic. The handle comes in olive drab, navy blue, or black colors and the blade comes in black or silver shades. The overall length of the pocket knife is 7.8 inches and the length of the blade is 3.3 inches, which is fairly standard for pocket knives.
This is a Drop Point pocket knife. The blade has been made of 14C28N stainless steel material and the handle has been made of aluminum. The entire pocket knife only weighs 3.9 ounces so you can easily carry it around without it dragging down your pockets.
In addition to the durable materials and design, this pocket knife also includes a speed safe opener that renders it even safer to use. This feature ensures that the knife won't accidentally open up when it's in your pocket. Thanks to the thug stud, you can slide this blade open or closed with a single smooth gesture.
All things considered, Kershaw Blur 1670OLBLK is an extremely effective, durable, and safe pocket knife available at a reasonable price.
Best Value Pocket Knife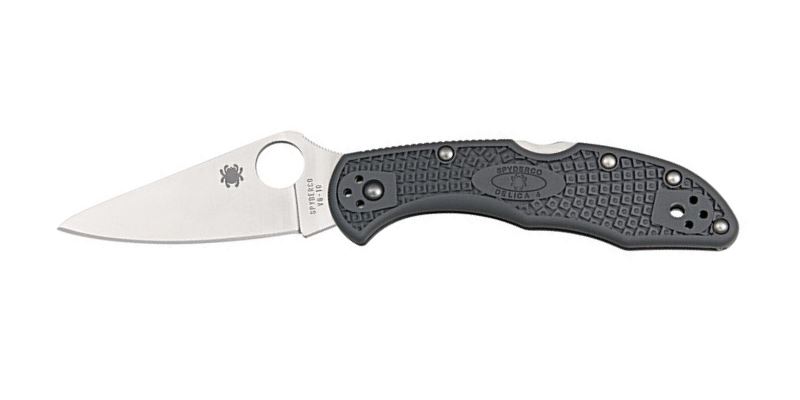 Spyderco Inc. is one of the world's most popular and well-reputed companies when it comes to manufacturing knives, especially pocket knives. The Delica 4 is one of the company's most renowned pocket knives, combining some high-end construction details at a reasonable price.
Spyderco Inc. Delica 4 only weighs 2.5 ounces, making it one of the most lightweight pocket knives on the market. It's made of VG-10 steel, which isn't ideally suited for heavy-duty tasks like woodworking, but it can still handle those tasks once in a while.
This pocket knife's signature is the "Spyder Hole", a feature that allows users to quickly and rapidly open the knife with a single thumb. This design is even better, more efficient, and more ergonomic than a regular thumb stud and you can use it repeatedly without straining your thumbs.
You also gain access to a 4-way clip that allows you to place the pocket knife however you want, making it easy to carry around. You can clip it to your belt, your pockets, or even your shirt. While it can attach itself firmly, it can also be withdrawn at a split second. There are three screws in the clips that prevent it from slipping or coming open.
Spyderco Inc. Delica 4 is also an extremely ergonomic pocket knife. It's made of Bi-Directional Texturing that provides great stability and comfort. You also have access to a pivot screw with which you can adjust the blade and tighten it if it ever comes loose.
All things considered, Spyderco Inc. Delica 4 is a really great pocket knife with some signature innovative features not available anywhere else. It's available in eight colors — Black, Blue, Gray, Green, Brown, Orange, Purple, and Zome Green.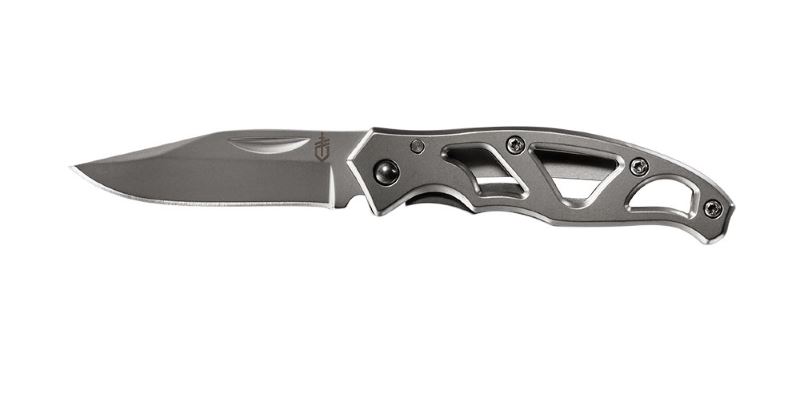 Gerber Paraframe 22-48485 is an excellent tactical knife but it can be used for a variety of other purposes as well. This is an extremely compact and lightweight pocket knife that only weighs 3.2 ounces. Best of all, this is one of the cheapest pocket knives on the market by a large margin.
This pocket knife also has an extremely sleek and rugged all-steel design. The stainless steel handle is extremely safe to use and is equipped with an open frame lock mechanism. This ensures both the knife's durability and performance. The stainless steel material is completely rust and corrosion resistant so you can use it in any situation without fear of warping the material.
The biggest drawback here comes in terms of sharpening. The stainless steel blade is extremely sharp at its best, but it doesn't retain the edge for too long. Furthermore, once it starts going blunt, sharpening it again can be a cumbersome task and you never really recover the blade's original edge.
This pocket knife can also easily fit into someone's pocket or it can be clipped to a belt. All things considered, Gerber Paraframe 22-48485 is an extremely effective pocket knife that can be used for military, industrial, defense, or tactical purposes. Whatever your needs may be, it can fulfill them. Most importantly, it also happens to be the cheapest pocket knife on the market so it really won't pinch you.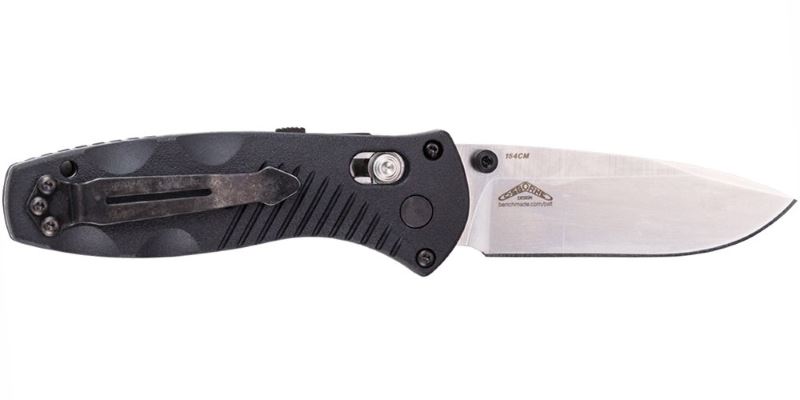 Benchmade Mini Barrage 585 is one of the most precise and sharp pocket knives on the market. It's razor-sharp right from the get-go and it doesn't lose that edge even after several months of consistent use. All these advanced features and functionality, however, comes at a pretty steep and advanced price. However, if you're going to use your pocket knife on a regular basis, this is a great selection.
This pocket knife can easily be held with a firm grip. It's perfectly ergonomic while still being lightweight. It also has an assisted opening system that allows you to easily and conveniently pull the blade with either hand, making it perfect for ambidextrous individuals. It also has a locking mechanism that can keep it in the closed position when it's in your pocket or in a bag.
The biggest drawback here — besides the cost — is the blade length. When opened, the blade only measures 2.9 inches, making it one of the shortest blades in this list. If you're using the pocket knife for hunting purposes, that might be a great issue.
All things considered, however, Benchmade Mini Barrage 585 is one of the best pocket knives for daily heavy-duty use for those who can afford it.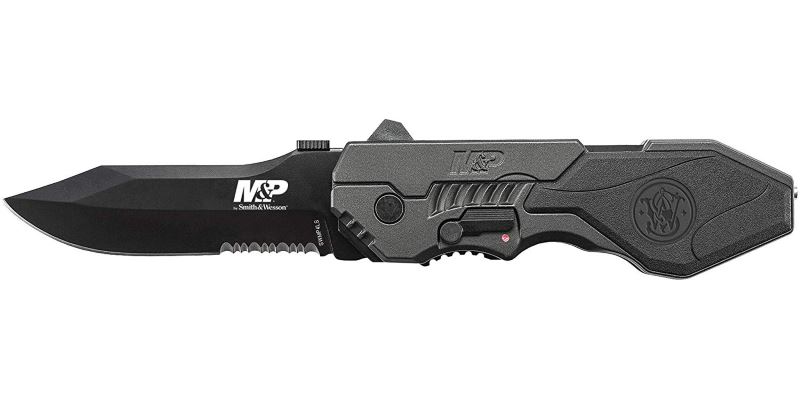 Smith & Wesson M&P SWMP4LS has an extremely powerful and rugged appearance and its performance definitely lives up to that. This pocket knife is robust and has been made of 4034 Blade Oxide High Carbon Stainless Steel. It has great longevity and edge retention. Even if the blade blunts over time, you can easily get it sharpened to restore the edge.
At 7.5 ounces, this pocket knife is definitely a lot heavier than other pocket knives. It might even weigh down your pants a little. But if you like hefty knives that mean business and are ideal for hunting purposes, you can't do better than this one. However, if you're looking for a pocket knife for simple everyday tasks like opening boxes, then this would be quite an overkill.
All things considered, Smith & Wesson M&P SWMP4LS is one of the best pocket knives for tactical and hunting purposes.