Best Running Shoes for Men Under $150
Best Running Shoes for Men
Whether you're a beginner or professional, whether you run trails or tracks, your choice of running shoes can make or break your performance.
Running shoes can offer you the comfort you need to push past your breaking point and keep going. If you select the wrong shoes with inadequate support, your ankles or soles might start hurting, thus preventing you from reaching your maximum potential.
Furthermore, running shoes should also cater to your specific needs, habits, and the shape of your feet. You need to find running shoes that can offer the ideal blend of stability and support, while still adding enough bounce to boost your performance.
However, there are so many different types of running shoes on the market that the choice can be overwhelming. To help you out, we'll give you a detailed overview of some of the best running shoes for men under $150 in 2019.
Best Running Shoes for Men – Buyer's Guide
Best Road Running Shoes for Men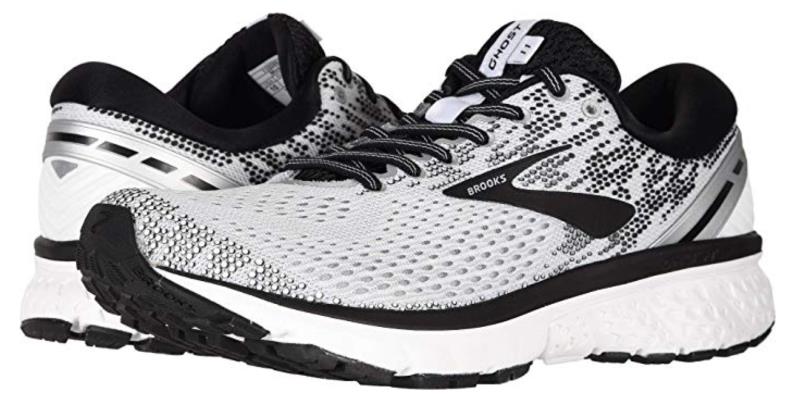 Brooks Ghost 11 is the ideal running shoes for men who jog or run on solid concrete pavements around the city. It is a preferred choice for all kinds of runners. Beginners generally lean towards it because of its sleek design and moderate 10-ounce weight. Marathon runners lean towards it because of the buoyancy with which it allows you to run for a longer duration. And sprint runners lean towards it because it is fast and comfortable.
This running shoe for men is equipped with a lightweight midsole foam that provides ideal shock absorption, dispersing impact immediately upon contact with the ground, thus allowing you to stride along smoothly. The midsole foam also allows runners to quickly move from the heels to the toes.
The outsole of the shoes works perfectly on a variety of terrain. It is rubberized and has enough traction that there's no slippage even if you're running on slippery wet concrete ground during rainy days. As such, the traction is far superior to that provided by most other running shoes on the market, making it the best road running shoes.
The upper part of this running shoe is made of mesh and perfectly canvases around your foot, keeping it snug inside. The material is elastic enough that you can wiggle your toes easily but not so much that your feet swim inside. This also happens to be one of the most breathable shoes for those who get sweaty feet.
Brooks Ghost 11 is available in 12 unique colors and styles — Grey/Blue/Silver, Black/Ebony, Ebony/Grey/Silver, Black/Graystone/Cherry, Black/Silver/Orange, Black/White/Merlot, Navy/Red/White, Nightlife/Black/White, White/Black/White, Black/Grey/Oyster, Blue/Black/Nightlife, and Black/Green/PopArt.
Best Trail Running Shoes for Men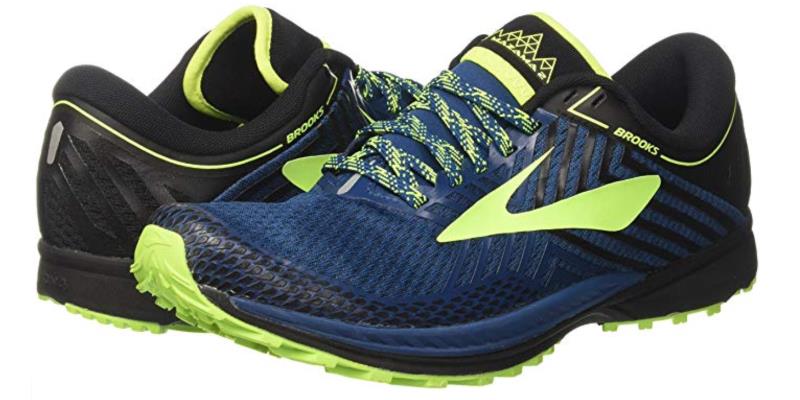 Brooks Mazama 2 is the perfect running shoes for men who like to push themselves with complex trails full of gravel, roots, dirt, sand, and a number of other challenging terrains. It is designed with an extremely lightweight mesh upper, a minimalist but effective midsole cushioning, and a firm grip that can withstand all kinds of terrain.
This running shoe has a moderate weight of about 9 ounces which is achieved by keeping the cushioning minimal. The midsole has a moderately stable cushion with two overlapping layers that provide easy traction with every stride. The midsole is kept minimal for two reasons — to minimize the weight so as to avoid fatigue, and so the shoes are kept close to the ground, allowing the runner to feel the terrain under their feet. This is pretty essential in trail running shoes so you can navigate rocks or pebbles under your feet. The outsole of this running shoe has grooves and traction similar to those found in track spikes. However, it's not too pronounced and allows users to easily navigate a wide range of terrains. It can be used for both dry and wet terrains alike.
One of the most unique design elements on this shoe is the lace garage, which is a kind of flap within which the laces can be tucked. The upper construction of the shoes is made with durable water-resistant mesh fabric that allows breathability without sacrificing the protection one needs during complex trails.
Brooks Mazama 2 is available in only one color combination — navy blue with neon green nightlife accents.
Best Track Running Shoes for Men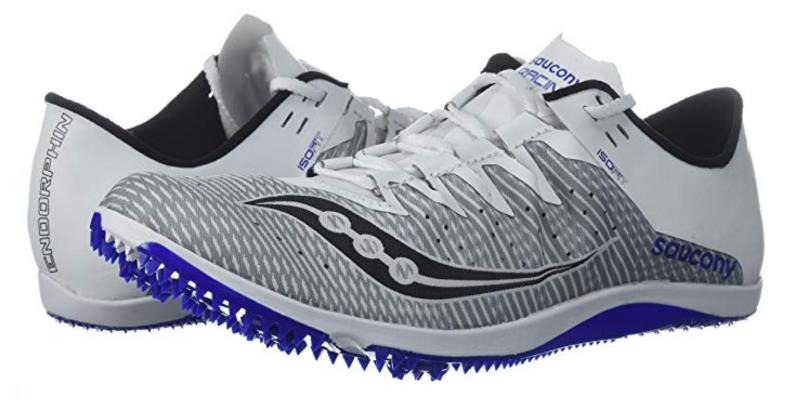 At 3 ounces, Saucony Endorphin 2 is the most lightweight track running shoes for men. This is a narrow-footed track spike shoe for men who want to run as fast as possible or participate in competitions. These shoes have, in fact, held the record as the lightest track shoes for almost a whole decade.
Despite the light weight, these track shoes have a pretty thick midsole along with a thick layer of cushion underfoot as well. The upper is made of an extremely lightweight mesh fabric that's durable and comfortable, with just enough wiggle room in the toe box. The only major issue here is that the contoured shape of the shoes makes it suitable only for runners with narrow feet. Furthermore, the toe area is slightly upturned, which might cause discomfort to some runners, though they also enable others to achieve greater bounce.
The spike plate on the outsole is shaped like a horseshoe, extending back to the heel and curving up under the inner arch. This can again be a blessing for some and a boon for others. On the one hand, it provides some arch support and offers aggressive traction, but it also causes some rigidity.
Saucony Endorphin 2 is available in various colors and styles including Green/Blue, White/Blue, and Slime/Black.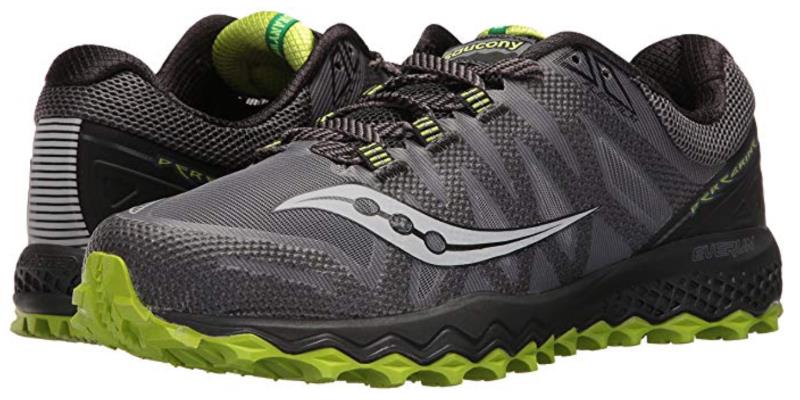 Saucony Peregrine 7 is one of the best fast trail running shoes for men on the market. It's one of the most versatile shoes that can be used by marathon runners, track runners, or trail runners alike, though it's most suited for the latter.
This running shoe has a durable mesh upper with ample room in the toe box for comfort. It's also equipped with an Everun topsole that provides cushioning and protection. Weighing 10 ounces, they're certainly not the lightest on the market, but they're incredibly durable, something that's necessary if you'll put them under strenuous conditions like rain, dirt, and rocks. These running shoes have aggressive lugs that allow you to handle muddy and snowy terrains with ease as well.
The biggest drawback here is that the insole sometimes slips when it's wet, which can cause some frustration when running in rainy conditions. It has been recommended that the insole can be glued down if it starts slipping, but that's not an ideal solution. All things considered, if you're looking for a highly responsive trail running shoes, Saucony Peregrine 7 is a great purchase at a reasonable price point.
Saucony Peregrine 7 is available in 3 colors and styles — Grey/Black/Lime, Red Navy, and Red/Orange/Blue.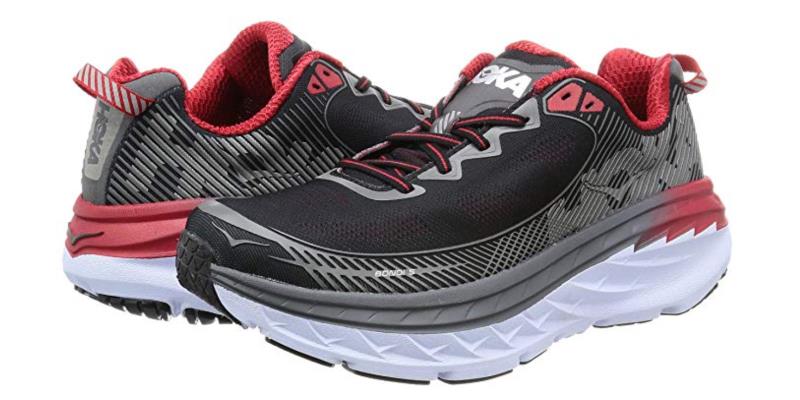 Hoka One One Bondi 5 is one of the most comfortable running shoes on the market with an extremely wide cushioning sole. It is certainly not one of the prettier running shoes on the market, but it's highly functional and suitable for long periods of rugged use.
It has a 37mm stack height and the cushioning envelops your foot like a pillow. The heel-to-toe drop is only 4mm despite the stack height. The entire shoe weighs 10 ounces, which is admirable considering the amount of comfort it offers. The sole has been designed in a rounded rocker style to provide better strides with a smooth heel to toe transition. Perhaps the biggest issue with this running shoe is its long tongue, which can sometimes get in the way and cause discomfort. Some of the users have even noted that they've had to cut the tongue off.
Hoka One One Bondi 5 is perhaps not suitable for professional runners. However, if you run and jog for fitness and also need a shoe you can use on a regular basis to walk around in, this is perfect. It is available in 9 colors and styles — CharcoalGray/TrueBlue, Grey, CoolGray/MidnightNavy, Blueprint/White, Black/Anthracite, Black, CharcoalGrey/Blue, Niagara/Midnight, and CoolGrey.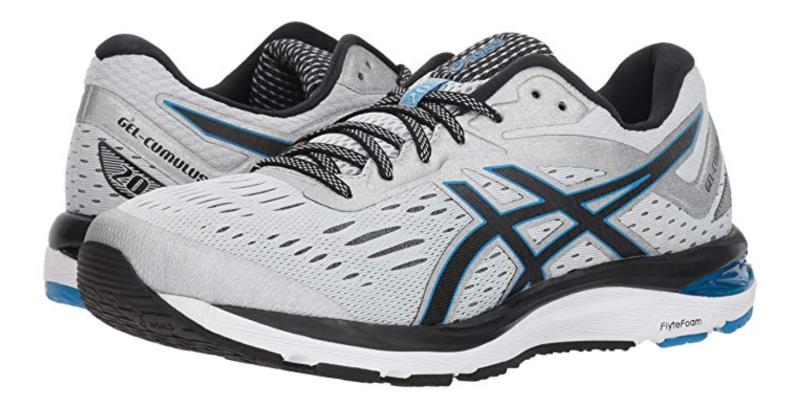 ASICS Gel-Cumulus is an extremely smooth, comfortable, and durable running shoe that focuses on cushioning and shock absorption. It weighs 10 ounces and has a moderate heel drop height of 10mm, and it's one of the most affordable running shoes for everything it offers.
It has a rubberized sole that offers great traction whether you're running on wet or dry grounds. The midsole is where they've paid most attention — it's equipped with Gel placement, a stability plate, and FltyteFoam. All of these features enhance overall comfort and durability. The FltyteFoam is lighter than the EVA foam used in most similar running shoes and it also provides better comfort.
ASICS Gel-Cumulus is available in 10 different colors and styles — MidGrey/Black, Black/White, Burgundy/Black, IronClad/Black, RaceBlue/Peacoat, RedAlert/Peacoat, GlacierGrey/Silver, Black/RedAlert, Black/BerylGreen, DarkGrey/Black.