Best Slim Card Holder Wallets for Men
There's nothing that says elegance quite like a well-considered wallet. The following are some of the
best slim card holder wallets for men
with a discerning eye.
Best Slim Wallets for Men
Over the past decade, the market has exploded with minimalist slim wallets for men. These are wallets with minimal pockets and design elements that can easily slip into your jeans pockets without creating a clear bulge.
The best slim card holder wallets for men manage to be compact without sacrificing the wallet's functionality and ability to hold notes and cards. However, that is a pretty delicate balance to manage, and most slim card holder wallets either sacrifice the functionality or the aesthetics or both.
However, in this article, we've compiled a list of the best slim wallets that get it just right. Read on for a detailed review of the
best slim card holder wallets for men
with a discerning eye.
Best Card Holders/Slim Wallets for Men
Most Multi-Functional Slim Wallet for Men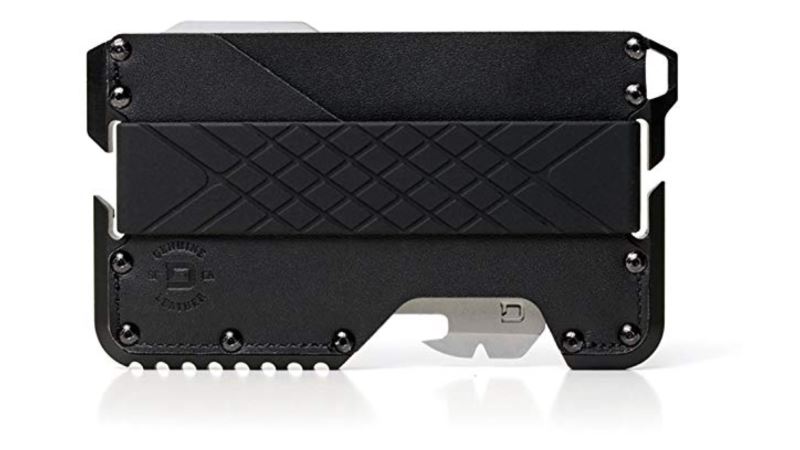 Dango Tactical EDC Wallet is clearly the most innovative and multi-purpose slim wallet for men and it deserves props for that. But it has one major issue — there is absolutely no way it would ever be allowed to get through airport security so you'll need to keep a second pair handy.
This is an extremely lightweight top-grain leather slim wallet and has enough slots for all your cards and cash. However, the reason it won't pass through airport security is that it comes with a 6061 aerospace-grade CNC aluminum multitool. Basically, this slim wallet can double as a saw, a knife, paracord tensioner, nail pryer, ruler, 10/15 millimeter hex, and so much more. Whatever tool you might need, you'll have it in your slim wallet. Furthermore, despite accommodating all these tools and 12 card slots, it only weighs 6 ounces. As such, for those who like this multifunctional approach, this is a masterfully crafted slim wallet.
This slim wallet also has an RFID blocker built into the walls of the wallet, thus preventing others from accessing your cards through your jeans pockets. It is also extremely durable and you can take it with you anywhere, even to beaches where they may get wet.
Most Compact Slim Wallet for Men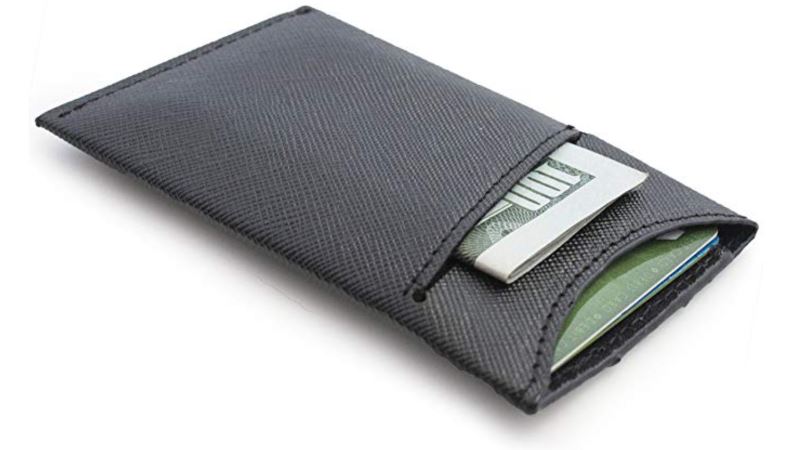 DASH Premium Mens Slim Wallet is one of the original and best slim wallets for men that was designed out of a Kickstarter campaign in 2013. This is the wallet that single-handedly launched the minimalist slim wallet movement and it has sold over a million units across the globe.
This is an extremely lightweight slim wallet weighing only 5.6 ounces and it comes equipped with 3 utility compartments, 2 card slots, 1 cash slot, and can hold up to 8 cards simultaneously. It is made of eco-synthetic leather, which is the same leather used in the most high-end wallets.
The cards and cash can easily be retrieved or inserted as well. Furthermore, there's a card slot at the back of the wallet as well for easy draw. However, you should only store non-essential cards in that slot — such as a metro card — because it can easily be retrieved by someone else. Furthermore, the whole wallet has an RFID blocker built into the walls, but the card placed on the back slot won't have access to that blocker.
All things considered, this is a great slim wallet if you don't want the unsightly wallet lines in your jeans pocket. However, if you need to store a lot of different cards and several cash notes, this isn't suitable.
Most Lightweight Slim Wallet for Men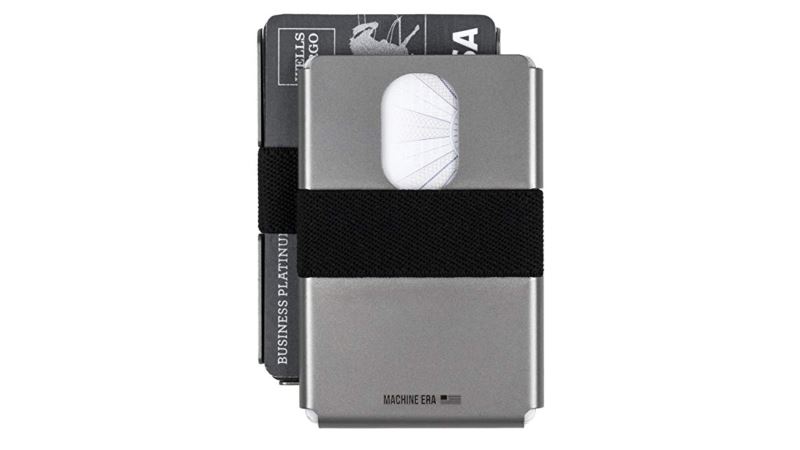 Machine Era Wallet is one of the most durable and most lightweight of our top slim wallets for men on the market. It is made from a corrosion-proof stainless steel alloy, which ensures that it won't ever tear and that it's completely waterproof. Furthermore, instead of the metal weighing it down, it renders it even lighter. This slim wallet is reasonably-sized with dimensions of 4 x 3 x 0.4 inches but it weighs only 0.8 ounces.
This slim wallet has enough slots to be able to hold up to 7 different cards. Furthermore, it has a thumb slot as well, along with a bottle opener. The latter of these seems like a pretty random addition, but if you often find yourself with a bottle of beer in hand, it might prove to be useful.
Machine Era Wallet also comes with RFID Protection so you don't need to worry about your cards being swiped from your back pocket. This feature is especially valuable for those who travel regularly as it helps protect your personal effects.
The only potential drawback here is the lightness of the card slots. Since this is made of metal and not leather, you can't easily stretch the slots to retrieve the cards. As such, several users have noted that it's extremely hard to retrieve some of the cards, especially the ones that aren't in the front pockets.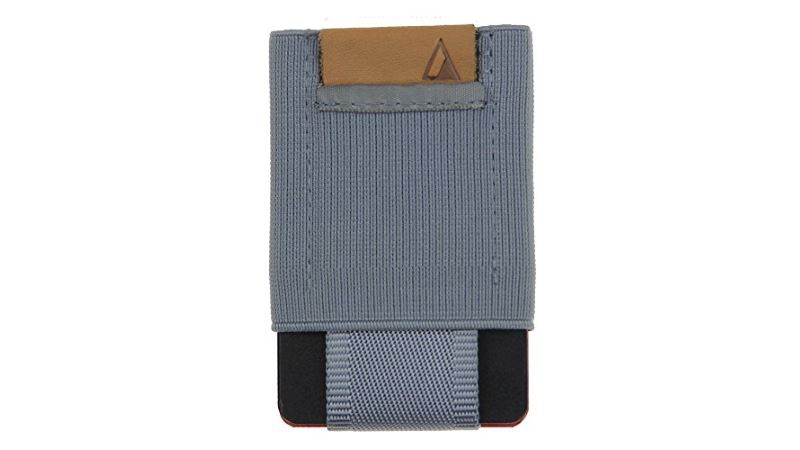 Basics NOMATIC Men's Slim Wallet is an extremely slim and durable slim wallet for men that weighs only 0.8 ounces. It's available in two colors — grey and red. The most impressive feature of this slim wallet is that it can accommodate up to 15 cards despite being one of the most lightweight slim wallets on the market.
This slim wallet has been made with medical-grade elastic and a leather pull-tab. The pull-tab can give you access to four of your most important cards whereas the stitched inseam can hold a total of 15 cards. The elastic material is durable and it can also be stretched, thus allowing you to retrieve your cards easily and then snapping back into its slimmest form. The case can be stored in the 2.2 x 1 inch pocket.
All things considered, this slim wallet has a lot going for it. The material is durable, it can hold a large number of cards, and it's extremely lightweight. However, since all of the cards have to be kept in the same slot — as opposed to various different slots — you kind of have to remove all of them to find the one you're looking for. This can land you in a tight spot if you're in a busy place and need to retrieve one of your cards.
Lethnic Slim Wallet is a 6 x 4 x 0.4 inches wallet that weighs only 0.8 ounces. Amongst all the other slim wallets in our best slim wallets for men list, this one is available in the greatest range of colors and styles ranging from Classic Black to Antique Rose and 14 others. It is made of handpicked PU leather that can sustain consistent wear and tear, in addition to also being waterproof. The corners of this slim wallet are rounded, oiled, and features solid stitches to really amp up the luxe factor.
This slim wallet has 5 card slots along with 3 cash pockets. As such, despite being slim and lightweight, it can still accommodate a lot of cards and cash. The linings of this slim wallet also incorporate an RFID blocking technology that can prevent others from swiping on your cards through the wallet.
The only drawback here is that it's not quite as sleek and modern as the aforementioned slim wallets for men. All of the styles and colors are purposefully designed to look antique. However, that is a purely subjective matter and I'm sure some would prefer the antique look.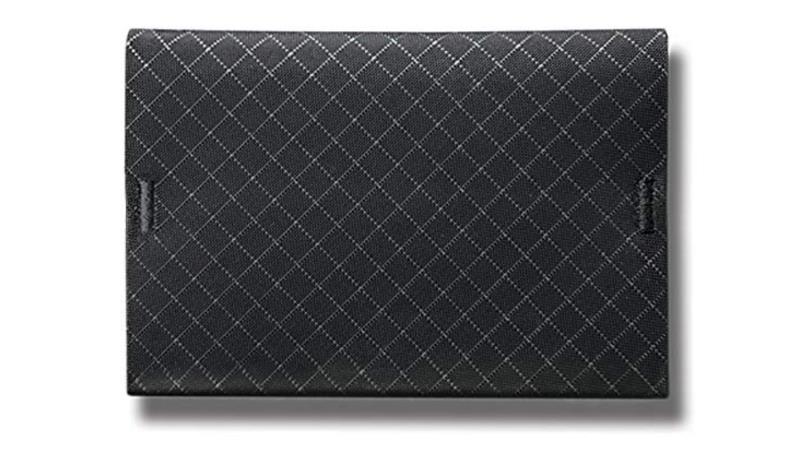 Pioneer ION Wallet is an onyx-colored slim wallet that weighs 3.5 ounces only. It is made of 10XD ripstop fabric and future-form molded technology, which ensures that it can endure the toughest of circumstances which was an important factor in earning its spot in our best slim wallets for men list. This wallet only has 2 dedicated card slots, but they can easily hold about 6-8 different cards. However, that means you'll have to insert several cards in each slot, which means retrieving them will be difficult later.
In terms of aesthetics, this slim wallet looks sleek and modern — onyx-black and with silver accents. Compared to some of the other slim wallets on this list, it is also quite reasonable.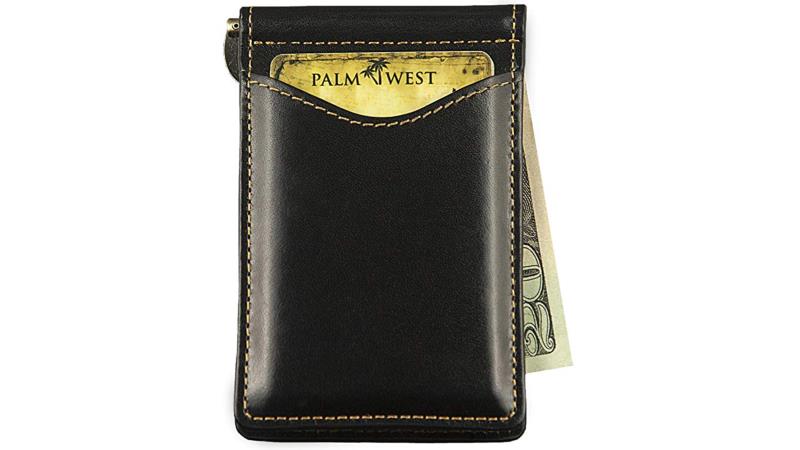 Palm West Leather Cheyenne Wallet is a slim wallet for men that exudes a sense of old-money luxury and opulence. It is available in four colors — Black, Dark Brown, Dark Cherry, and Saddle. They measure 4.25 x 2.75 inches and weigh 3.2 ounces. They are slim but spacious, capable of accommodating up to 6 different cards.
Instead of a cash pouch, this slim wallet comes with a cash clip. As such, you have to raise the clip, insert the cash, and then put the clip back down to hold them in place before folding the wallet again. This makes storing cash extremely easy, however, it comes with one major drawback. You have to be extremely careful when lifting the clip because a slight breeze can make all your notes fly away since they're not kept in a secure pocket.
This slim wallet incorporates RFID technology to prevent machine readers from swiping your cards through the wallet.