Best Smartwatches for Men
Best Smartwatches for Men in 2020
Smartwatches have existed for a while now, however, for the longest time, they were seen as redundant because of the presence of smartphones.
But with Apple and Samsung taking up the mantle of smartwatches, people have started paying more attention. A smartwatch is essentially a watch strapped to your wrist that can do a whole lot more. It can make calls, connect to your smartphones, track your fitness, give you health statistics, monitor heart rate, etc.
If you want your smartphone essentially strapped to your wrist, then a smartwatch is your best option. In this article, we'll give you an overview of some of the best smartwatches for men.
Best Smartwatches for Men – Buyer's Guide
Best Budget Smartwatch for Men
One of the main reasons smartwatches are taking so long to become mainstream is their price tag. The primary smartwatches on the market by Apple and Samsung are extremely expensive. However, if you want a budget smartwatch, the Rookee S928 is the ideal choice.
This watch is pretty minimalist and has a simple monochrome display. While it isn't the most stylish, it does have all the necessary smartwatch features you need. It can monitor your heart rate and provide real-time update. It also has an inbuilt 3D accelerometer and gyroscope3D, features that can allow users to monitor all of the user's movements every minute of the day. Finally, this watch also provides real-time updates about the weather conditions.
All of the aforementioned features are geared towards providing a great fitness experience. The heart monitor can help you gauge your cardio, the GPS tracker can tell you how much distance you have covered, and the weather forecast can help you determine if you should go outdoors or to an indoor gym.
Compared to the other smartwatches on the market, the watch has an incredibly limited set of features. You cannot pair it to smartphones, you cannot place calls with it, and you definitely cannot use it as a substitute for smartphones. However, at this price range, it's the best you can get.
Best Smartwatch for iOS Users
There is no denying it — this Apple smartwatch is the best in the market for iOS users. if you own an iPhone or iPad, this smartwatch is perfect. It comes with the widest range of features available in any smartwatch and it can perfectly interact with other products in the Apple ecosystem.
This smartwatch has a case size of 44mm. The frame itself is quite small so that every inch of that space is taken up by the considerably sized OLED screen. The watch also provides detailed notifications so you can receive all your updates with a simple glimpse of the watch screen.
This watch also has some of the best fitness features on the market. These features include GPS tracking, heart rate monitoring, and even an electrocardiogram. The latter of these features is a breakthrough because it can determine heart irregularities that can warn you if you are pushing yourself too far.
This watch is completely waterproof so you can even wear it while swimming. Furthermore, it has WiFi and 4G capability so it can be paired with your iPhone to transmit all your fitness data. The only slight drawback here is that you'll have to recharge the watch every 18 hours or so, but that's expected considering all the available features.
Reviewers in Digital Trends were especially impressed with the watch's user-friendliness and features.
Best Smartwatch for Android Users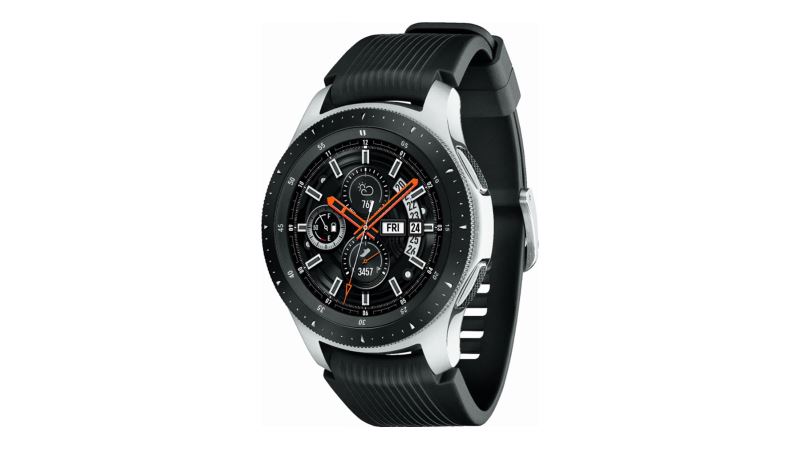 In the world of smartwatches, the aforementioned Apple Watch and the Samsung Galaxy watch are the reigning champions. While the Apple watch is the best smartwatch for iPhone users, the Samsung Galaxy is the best smartwatch for Android users.
Unlike many other Android smartwatches that use the Wear OS, the Samsung Galaxy watch uses its own Wizen OS, which is far superior. This OS is made of a rotating bezel interface so you can scroll past the various app options more easily. The rotating bezel interface minimizes the need for screen touches as well.
One of the best aspects of this smartwatch is that it most closely resembles an actual traditional watch. It doesn't look like you're wearing a smartphone on your wrist, it looks like a stylish watch. However, once you access the features, you can track your fitness, configure your workouts, monitor heart rate, and use a number of fitness apps. It also comes with 4GB internal space so you can store your workout playlists that can be operated via the bluetooth. As such, you can plug wireless earphones or bluetooth speakers and workout without relying on a smartphone.
Samsung Galaxy Watch can be used with iOS devices as well. However, it is most effective and has the widest range of features when used with other Android devices. Reviewers in Digital Trends were all praise for its rotating bezel navigation.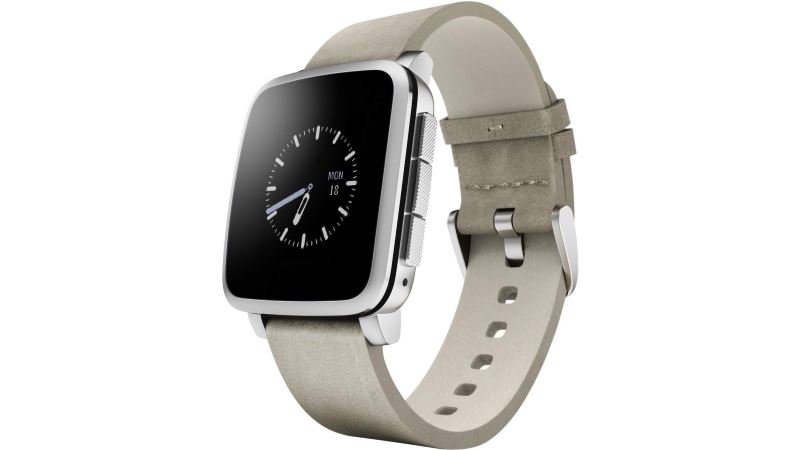 Pebble Time Steel is one of the cheapest and simplest smartwatches on the market. The watch features a very simple interface and it comes with either a rubber or steel strap. The display comes with a colorful reflective display. However, while the screen is clear, it's not bright enough to be able to view clearly under bright sunlight. It is completely waterproof up to 30 meters so you can wear it in the shower or while swimming.
If you are annoyed by the poor battery life in the advanced Apple and Samsung smartwatches, you'll love this. The Pebble Time steel has a strong battery backup and you can go over 4 days without having to charge. It also has internal storage and you can store over 8000 apps from the App Store such as Uber, ESPN, or others. You can also load fitness apps into the watch so you can track your fitness statistics.
The biggest issue with this watch is in regards to the navigation. It doesn't have a touchscreen so you have to use the navigation buttons, which is a lot less responsive and takes a long time. However, considering how cheap this watch is, and how many features it packs, that omission doesn't bother me too much.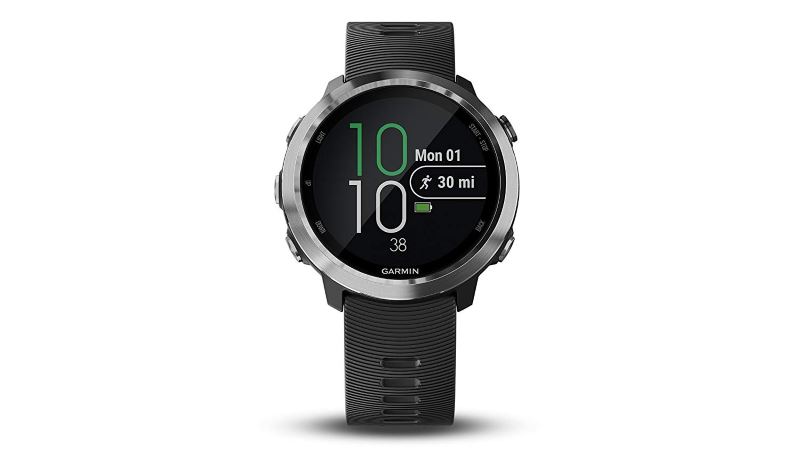 If you want access to the most advanced fitness features in your smartwatch, then the Garmin Forerunner 645 is your best bet. This smartwatch is as expensive as the elite Apple and Samsung smartwatches. However, since it belongs to neither of those, it doesn't have any particular allegiance and works just as well with both iOS and Android devices.
This smartwatch has the appearance of an actual digital watch but it comes packed with some of the most advanced fitness features available. It provides advanced running statistics such as your heart rate, fatigue level, speed, distance covered, ground contact time balance, stride length, and other insanely advanced features that you'll love if you're a fitness freak. It can also evaluate your training status so you can monitor how you are advancing.
It also comes with internal storage so you can download and store up to 500 songs. You can then connect them to bluetooth speakers to activate music while working out without having to use a phone. It also has the ability to sync music directly from streaming services like Spotify or Apple Music if you don't want to store any music.
The Garmin Forerunner 645 also has a strong battery life of up to 7 days when in standby. However, if you constantly use the GPS mode, it can only give you 5 hours. Reviewers in EndGadget were especially impressed with its wide array of exercise tracking abilities.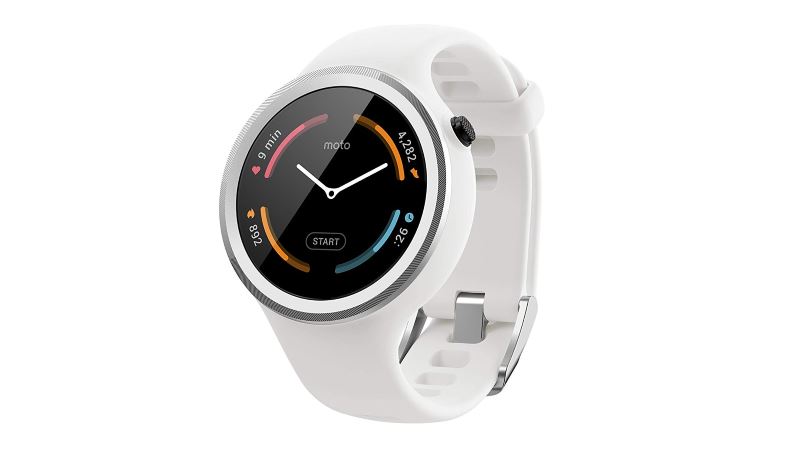 The Motorola Moto 360 Sport is one of the most sleek and minimalist smartwatches on the market. It can be connected to your smartphones — either iOS or Android — so you can receive messages and other notification updates directly on your watch display. As such, you don't have to activate your phone to check them out, a simple glimpse of your wrist is enough. This smartwatch is compatible with all Android 4.3+ and iOS 9+ devices.
In terms of fitness tracking, this smartwatch can track your steps, calories, heart rate, distance, etc. Unlike Garmin Forerunner 645, it cannot track some of the more advanced details like stride length, ground contact time, etc. However, this smartwatch is also a whole lot cheaper so that is perfectly alright.
You should, however, note that this smartwatch has a weaker battery life than most other smartwatches. If you use the watch sparingly, you might be able to stretch it out for an entire day. But it certainly can't last much longer than that.