Looking for the best standing desk to work from home during the COVID-19 pandemic? In this article you will find our recommendations to the best standing desks on the market that you can get delivered quickly via Amazon!
We all know that sedentary office desk jobs can be bad for health. They enhance fatigue, lead to back pain and lumbar issues, and can have a whole host of other issues. That's why standing desks have gained such popularity in recent years.
Best Standing Desk for the Home Office
Studies show that standing desks can lower your risk of obesity and weight gain, can lower your blood sugar levels, lower your risk of heart disease, keep your back healthy and stable. In addition to these long-term health benefits, using standing desks regularly can also prevent fatigue and sleepiness, which can, in turn, increase your work productivity.
As you can see, standing desks can be extremely beneficial for you. However, to maximize benefits, you need to get a standing desk that's also comfortable. In this article, we've given you an overview of some of the best standing desks for the office on the market.
Home Office Standing Desks – Buyer's Guide
Best Premium Standing Desk for the Home Office
Jarvis Bamboo Standing Desk is one of the best standing desks on the market because its height is fully-customizable and it has a beautifully contoured design. It has a weight capacity of 350 pounds and it's available in three sizes — 48" rectangle, 60" rectangle, and 72" rectangle.
The front edge of the standing desk is contoured and beveled to increase comfort as it can follow the curve of the human body. This allows you to more comfortably reach all the items on your desk and also provides amble resting space for your forearms. The entire desk is made of rich and glossy bamboo material. It's a lot smoother to the touch than most bamboo desks that are usually quite grainy. The frame is made of solid steel and available in black, silver, or white colors. The frame is extremely sturdy and durable.
This desk also comes with additional customizable accessories that can increase its utility. For example, you can get an additional power grommet for your laptop. You can also adjust your table between four different heights according to your personal preference. As such, if you need to sit down, you can also retract the height and use it as a regular sitting desk. The only slight issue here is that it makes a mechanical thudding sound whenever it's being lowered.
Best Designed Standing Desk for the Home Office
ApexDesk Elite is a 77" wide and 33" long standing desk with a height adjustable from 29" to 48" at 1.3" per second. It has dual motors in place and the entire desk has a weight capacity of 225 pounds. The entire desk takes approximately 60 minutes to assemble from scratch.
This standing desk is incredibly generous with its space. Even after placing a laptop and a keyboard, you still have over half the space left for other accessories and objects. Standing desks tend to get shaky when they are fully extended. However, ApexDesk Elite is fully stable even when it's extended to its maximum 48" height. This is perhaps one of the most stable desks on the market. It is entirely possible to assemble the entire standing desk on your own if you follow the instructions carefully. However, you can also hire professional help to get it done in less than half that time.
One of the key drawbacks of this standing desk is the construction material. It is made of fiberboard, which is not as durable or eco-friendly as the aforementioned bamboo desk. Furthermore, even though it is rated with a weight capacity of 225 pounds, you should probably not put that to the test as it can crack. Finally, the biggest drawback is the fact that this desk only has a maximum height of 46", even though it's advertised as 48", which is misleading.
Best Compact Standing Desk for the Office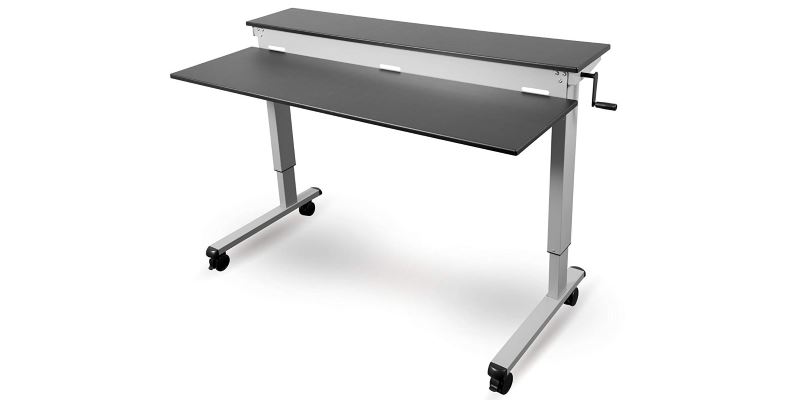 Stand Up Desk is one of the most compact and durable standing desks on the market. It offers great utility and has a two-tier design that's comfortable to use and ideal for the posture. The top-tier is meant for the computer screen and the bottom-tier is meant for the keyboard. As such, this design keeps the desk ergonomic and ensures that your arms remain at a 90-degree angle. The lower tier can be adjusted between 29" and 43". And the upper tier can be adjusted between 33.5" and 47.25".
In terms of working space, this standing desk is available in two widths — 48 inches and 60 inches. Both of them, however, are smaller than the aforementioned standing desks. As such, if you want a compact standing desk for a narrow space, this is ideal. However, if you have a lot of space to spare and you like to spread out, this isn't suitable for you. The frame on this desk is made of powder-coated durable steel, which is sturdy, but it still only has a weight capacity of 150 pounds, which is a lot less than the other standing desks.
The biggest issue with this standing desk is the confusing set of instructions. Novice users will get extremely confused with the instructions and even most technical assistants will take upwards of an hour to put this together. Furthermore, the desk has to be adjusted using a hand-crank, which makes it difficult to operate and it is also extremely shaky. If you have a glass of water on the table while adjusting the height, it will likely spill over.
Stand Up Desk is available in 5 colors and designs — Black Frame/Black Top, Black Frame/Teak Top, Silver Frame/Black Top, Silver Frame/Dark Walnut Top, and White Frame/Birch Top.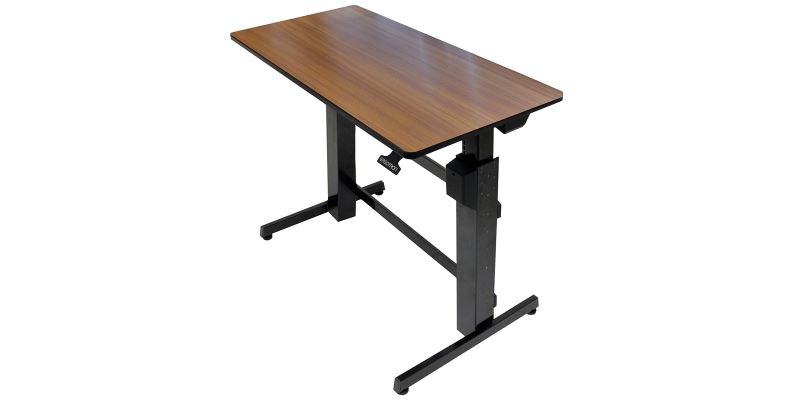 Ergotron WorkFit-D is one of the more expensive and premium standing desks on the market. It's a great desk, but only if you're not on a budget. It is an adjustable standing desk that allows you to work according to your standing or sitting preference.
The minimum height is 30.6" and the maximum height is 50.6". It has a work surface area of 47.6" x 23.5". As such, is a lot more compact than all of the previously mentioned standing desks. Furthermore, it only has a weight capacity of 65 pounds so you can keep your laptop and associated accessories, but you shouldn't stack heavy books on it.
One of the best aspects of this standing desk is the presence of four leveling glides that allow you to set the table on uneven ground as well. It also comes with a braking system that can be used to halt the height in place so it doesn't accidentally shift.
Ergotron WorkFit-D uses counter-balancing adjustment mechanism and CF technology to ensure that there's even weight distribution to keep it stable. The Neo-Flex Underdesk Keyboard Arm also ensures that your arm is in ideal distance from your body and encourages ergonomic use. And finally, the LX LCD Arm offers an ideal range of motion and display viewing.
Ergotron WorkFit-D is available in 3 colors — Birch, Light Grey, and Walnut.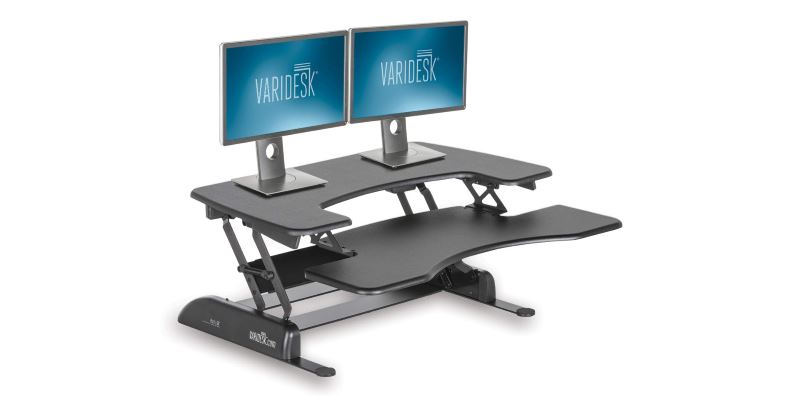 VARIDESK Pro Plus is ideal for those who need standing desks that can accommodate multiple laptops or monitors, along with several related accessories. It has a two-tier construction. The upper tier is meant for the computer and the lower tier is meant for the mouse and keyboard.
This standing desk has a surface area of 36" x 12.25". As such, it is about half the size of some of the other standing desks in terms of width. It can still accommodate one monitor and a smaller notebook, but that won't leave space for anything else. You'll have to keep the mouse and keyboard on the lower tier. However, the presence of two tiers at least makes it more ergonomic since your arms can maintain the ideal 90-degree angle. There are a total of 11 adjustable height settings on this desk.
The best aspect of this standing desk is that it comes completely assembled right off the box. As such, you don't have to spend hours putting it together nor do you need to hire external help. The biggest issue with this standing desk is that it has an incredibly limited weight capacity of only 35 pounds so you shouldn't keep anything other than essentials on it.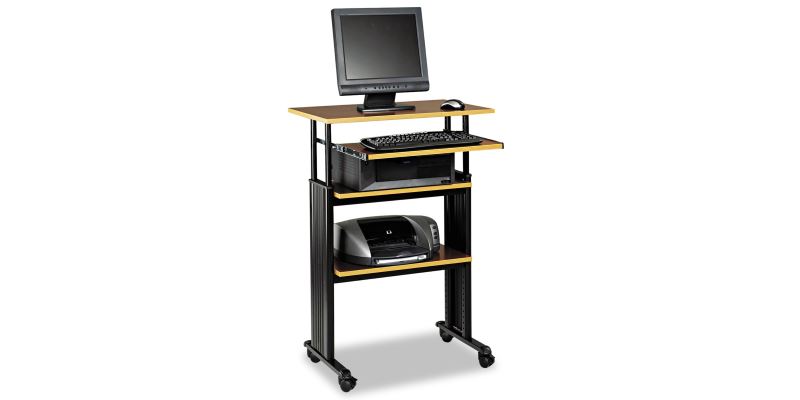 Safco Products 1929CY is the most multi-tiered standing desk on the market. It is extremely compact and only has a surface width of 29.5", which is just about enough for one monitor. However, you can store other accessories and objects like printers, keyboards, etc, on the other levels. There are a total of four tiers on this standing desk. As such, if you need storage space, but don't want your desk to take up too much physical space in your room, you can get this compact standing desk.
It also has an adjustable height ranging from 35" to 49". Safco Products 1929CY is available in 3 colors — Cherry, Gray, and Medium Oak.