Best Tactical Flashlight 2020
Tactical Flashlights are a lot more lightweight, reliable, and a lot brighter than your regular flashlights. They are used for self-defense purposes, during hunting, or in conjunction with a firearm. However, their utility is far-reaching and they can also be used for everyday purposes, hiking, camping, etc.
There are a lot of tactical flashlights for self denense on the market now, some of them equipped with LED bulbs that can provide up to 100,000 hours of use. When looking for the
best tactical flashlight
, you have to take several factors into consideration, including the brightness, which should ideally be over 500 lumens.
In this article, I'll give you a detailed overview to help you find the the
best tactical flashlight
on the market for both self-defense and everyday use.
Best Tactical Flashlight ~~ Buying Guide
Best Tactical Flashlight for Combat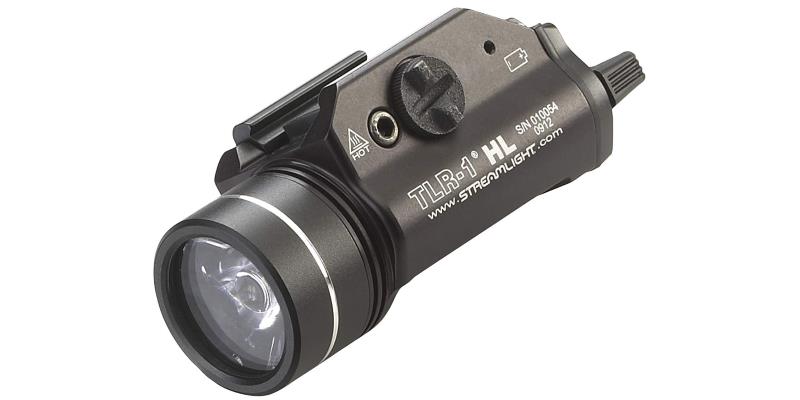 Streamlight 69260 TLR-1 HL might be a little steep in terms of cost, but it's undoubtedly the best tactical flashlight on the market. It can generate up to 800 lumens of light via a C4 LED bulb. This isn't as bright as a few other tactical flashlights that can also produce 1000 lumens, but it's more than enough to provide clear directional light. The glass lens is shock-mounted to produce a concentrated beam of light with plenty of peripheral vision as well.
This tactical flashlight can easily fit into most weapons and has been designed such that it can be snapped on with a single fluid motion. Furthermore, it can be attached and tightened with a single hand so you don't have to move your hand from your weapon to handle it. The On/Off switch is ambidextrously positioned so it's suitable for both left and right-handed individuals.
The body of this tactical flashlight is made of aircraft-grade anodized aluminum. As a result of these features, Streamlight 69260 TLR-1 HL is incredibly durable and can sustain temperature conditions ranging from -40 to +120 degree Fahrenheit. It is also waterproof with an impressive IPX7 rating so it can be submerged in 1 meter of water for up to 30 minutes without any damage.
Best Budget Tactical Flashlight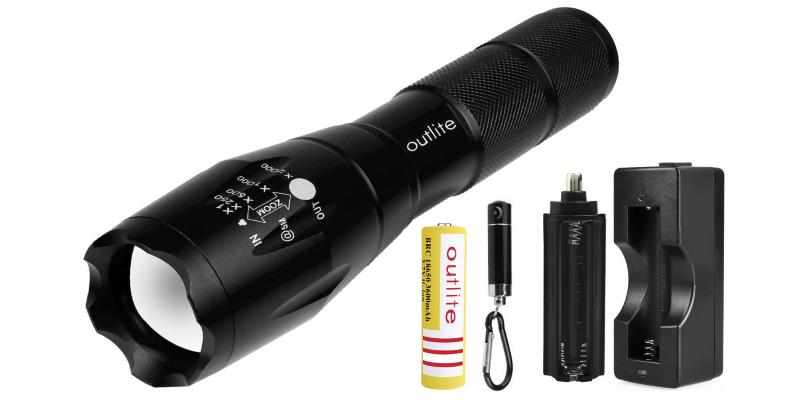 Outlite A100 is one of the most affordable and budget-friendly tactical flashlights on the market. At 5 ounces, it is extremely compact and lightweight, making it perfect for hiking, camping, and other forms of everyday use. It has been constructed from scratch-proof aircraft-grade aluminum with an anodized finish, making it incredibly tough and durable. While it doesn't have an IPX7 waterproof rating, it is still capable of sustaining heavy rainfall.
This tactical flashlight has a Cree XM-L T6 LED bulb that can generate up to 900 lumens of light. That is extremely bright, even more so than the aforementioned Streamlight 69260 TLR-1 HL, and can blind someone temporarily if it catches them off-guard. If you think that's too intense, you can also moderate the brightness by using one of its 5 adjustable modes. You can set it up for high, medium, or low brightness. The Circle Floodlight mode can illuminate a larger radius of vision. And the Intense Spotlight mode has a longer uni-directional range of up to 600 feet.
This tactical flashlight's bulb can last for up to 100,000 hours in high brightness mode, so it will last you for several decades. While this flashlight isn't suitable for combat purposes, it is one of the best flashlights for camping, hiking, and trekking purposes wherein you need bright lights and a wide field of vision.
Best Value Tactical Flashlight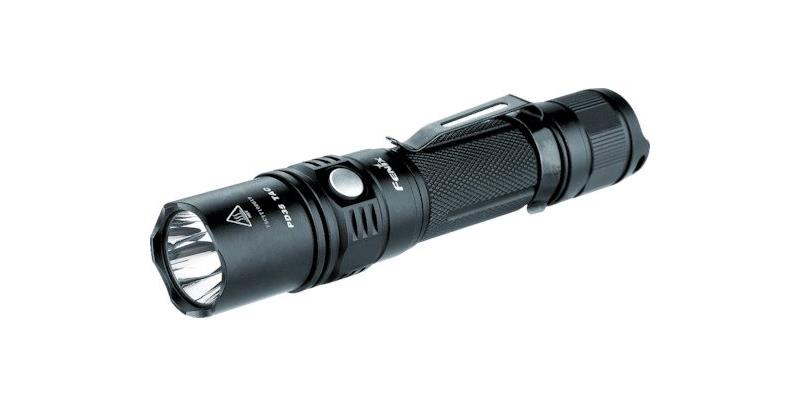 Fenix FX-PD35TAC is the 'Best Value Tactical Flashlight' because it's an affordable flashlight that can be used for both camping purposes and combat purposes in conjunction with other weapons. It is made of durable aircraft-grade hard-anodized aluminum that's incredibly durable and has a waterproof rating of IPX8, which means it can be submerged in up to 2 meters of water for 30 minutes.
Equipped with CREE XP-L LED bulb, this tactical flashlight can produce 1000 lumens of light, making it brighter than both the Outlite A100 and Streamlight 69260. The lens is made of ultra-clear glass with anti-reflective coating to ensure that there's no glare. It can be rotated between six different modes of operation — High, Medium, Low, Eco, Strobe, and Turbo. The High, Medium, and Low modes relate to the adjustable brightness of the flashlight. The other modes relate to the width, length, or quality of the light, all of which are suitable in different situations. In its brightest setting, it has a brilliant range and can illuminate up to 200 meters, making it perfect for use in dark trekking trails so you can see what lies well ahead of you.
Weighing only 3 ounces, this tactical flashlight is extremely portable and you can carry it around in your pockets at all times. In terms of power, you can either use 2 CR123A Lithium batteries or a single 18650 rechargeable Lithium-ion battery. It also comes with a low-voltage warning system so you know exactly when to recharge it and aren't taken by surprise when it runs out of charge.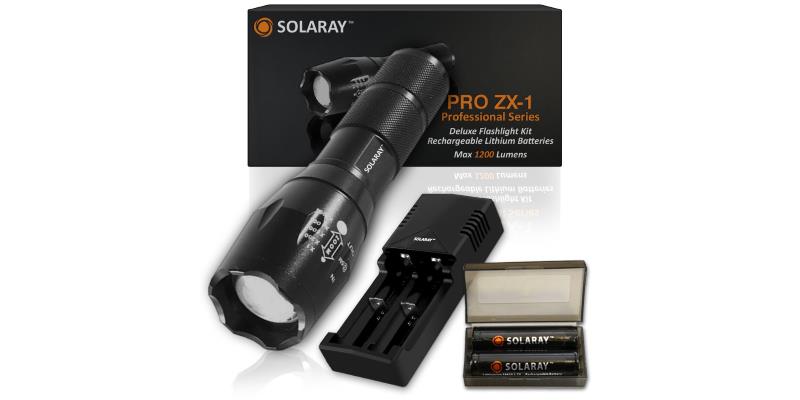 Solaray Pro ZX-1 is an extremely reliable and reasonably-priced tactical flashlight that's only 6 inches long and weighs 5 ounces, making it highly portable. It has been constructed from aircraft-grade aluminum equipped with a deluxe lanyard. This ensures that the flashlight is highly durable, resilient, and waterproof.
This tactical flashlight uses a powerful and extremely bright CREE XML-T6 powered LED that can produce up to 1200 lumens of light. There are 5 different modes for you to cycle through. The High, Medium, and Low modes can be used to change the brightness levels. The Strobe mode can be used to fluctuate the light and potentially blind the intruder. And the SOS Emergency mode can be used to extend the light's range of vision in case you want to draw attention to yourself.
This tactical flashlight can also be mounted on various different guns and weapons with a single snap-on fluid motion. It can operate with either 18650 lithium-ion battery or AAA alkaline batteries, both of which provide a long lifespan.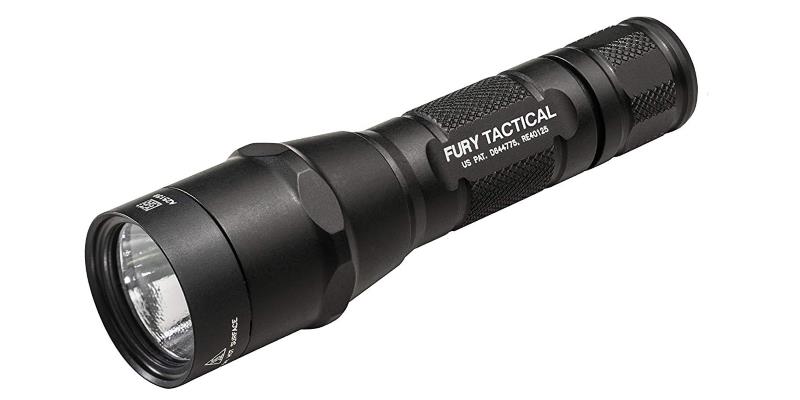 SureFire P2X Fury is a mid-range tactical flashlight that can produce up to 600 lumens of light. Its LED bulb is equipped with a high-precision micro-textured reflector that can create a smooth and highly targeted beam of light. It is extremely rugged, constructed from aerospace aluminum material and hard-anodized for enhanced durability. Furthermore, the LED emitter is also regulated in order to maximize its run-time.
One of its most functional features is the "tail-cap" switch. If you push it partially, you can turn the light on briefly. If you push the switch down all the way, you can turn the light on permanently. This flashlight is also equipped with Intellibeam Technology which can detect the light settings in the surroundings and adjust the light automatically. Finally, SureFire P2X Fury is also ergonomically designed so you can hold it comfortably even in rainy or wet conditions without fear of the flashlight slipping.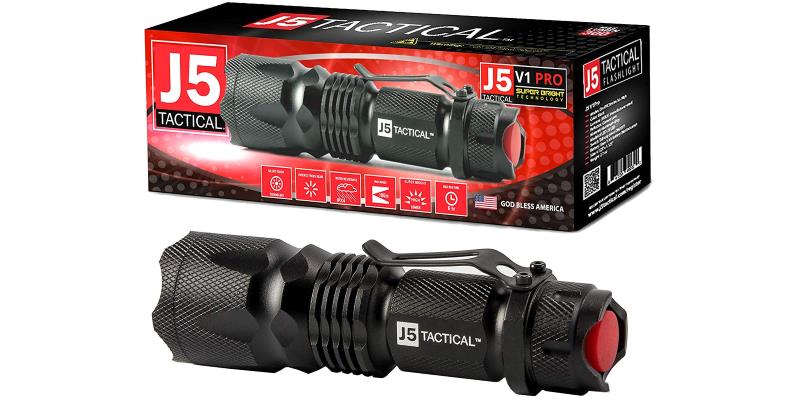 J5 Tactical V1-PRO is one of the most long-lasting tactical flashlights on the market. It can be powered by a single 14500 rechargeable lithium-ion battery or AA batteries, and it can continue uninterrupted for several hours in a single charge. As such, if you need to use the flashlight continuously for long stretches of time, this is ideal.
This tactical flashlight can produce up to 300 lumens of light that can illuminate a distance of around 600 feet. It is also equipped with a fully-adjustable zoom focus. There are three user-settings for the light's intensity — Low, High, and Strobe. If you activate the Strobe setting, the flashlight will start blinking rapidly, which can temporarily blind potential assailants, making it suitable for combat and self-defense purposes.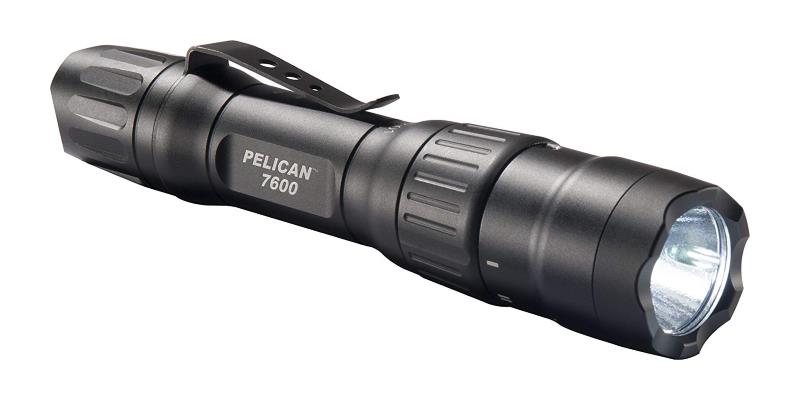 Pelican 7600 is a 10-ounce tactical flashlight that can produce up to 944 lumens of light. There are 3 different user-modes you can use. High mode can produce a full range of 944 lumens. Medium mode can produce around 479 lumens of light. And Low mode can produce 37 lumens of light. You can use the setting most suited for the surroundings. In the highest setting, the generated light can illuminate up to 225 meters of distance in complete darkness. You can also use Strobe Light mode to blind possible assailants.
This tactical flashlight features 3 LED colors — White, Red, and Green. It is IPX8 Certified so it can function perfectly even 2.5 meters underwater for up to 30 minutes. Finally, it also has excellent battery life and can last for 3 hours at High Mode and up to 29 hours at Low Mode. As such, you can use it for several days and perhaps even weeks with a single charge.