Best Camping Tents
When you're out in the wilds, it's incredibly important to get the right camping gear, especially the tent. Your tent is the only thing that protects you from sudden storms, insects, and provides a safe haven for you to get a good night's sleep.
As such, you need to make sure that your tent is safe, durable, spacious, and can withstand a number of weather conditions and rain storms. However, there are a lot of different tents on the market with different sets of features and qualities.
In this article, we'll give you a detailed overview of the best tents for camping so you can make an informed purchase.
Best Camping Tents – Buyer's Guide
Best Budget Tent for Camping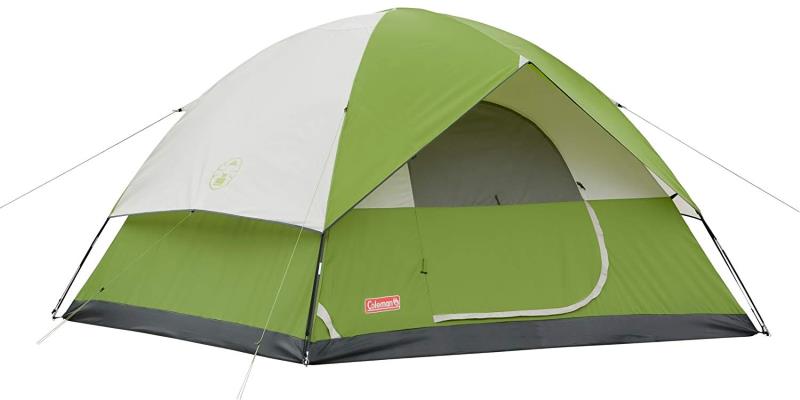 Coleman Dome is one of the best tents on the market at a budget of less than $100. Even though it's pretty cheap, it's superior to most tents much more expensive as well. This tent has a total floor area of 100 sq. feet and a single point of entry. The complete tent weighs 16 pounds, so it's certainly not the lightest tent on the market, but it's not too heavy either. Furthermore, this tent can accommodate up to 6 people, though that might prove to be a tight squeeze.
This is a dome-style tent and it's pretty easy to set up. You can use the snag-free pole sleeves to set it up easily and the rainfly awning provides some shade outside the tent as well. The whole installation process shouldn't take any more than 10 minutes. It uses WeatherTec™ System patented welded floors and the fabric of the tent uses inverted seams — both of these features ensure that the water is kept out and it also provides enough room to move about.
The tent also features a large window and a floor vent, both features geared towards increasing ventilation so the insides remain fresh and there's no water stagnation. Storage pockets are also located around the interiors of the tent so you can conveniently store your possessions and valuables. The floor-to-ceiling height of the tent is 6 feet so most people can stand up and stretch as well.
While this tent has some pretty great features, its overall construction quality leaves something to be desired. The material is cheap and doesn't keep rain out completely. Furthermore, the clips and poles aren't as strong as they can be, and a strong gust of wind could very well knock them down. However, the spaciousness and the other convenient features — combined with the cheap price — makes it all worth it. As long as you don't use it in extremely cold, rainy, or windy areas, you shouldn't have any problem.
Best Overall Tent for Camping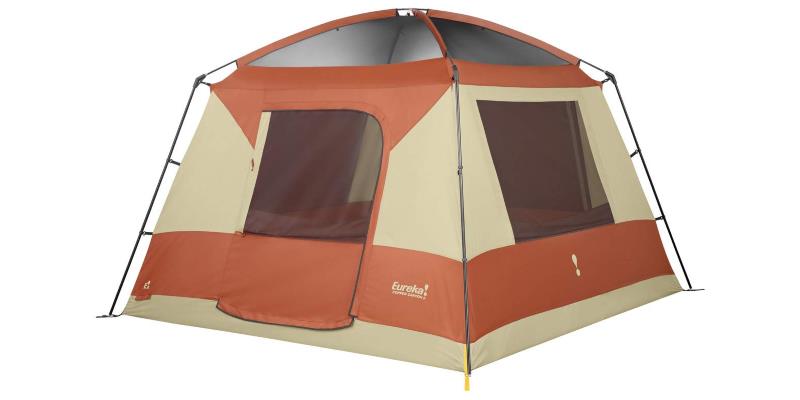 Eureka! Copper Canyon is considerably more expensive than the aforementioned Coleman Dome, but it's completely worth it if you want ample space and quality as well. This tent is available in four different sizes depending on the number of people it accommodates.
The smallest version meant for sleeping 4 people has sleeping dimensions of 8×8 feet and weighs 18 pounds 10 ounces. The 6-people sleeper has dimensions of 10×10 feet and weighs 23 pounds 2 ounces. The 8-people sleeper has dimensions of 13×10 feet and weighs 34 pounds 2 ounces. And the largest 12-people sleeper has dimensions of 14×12 feet and weighs 38 pounds 12 ounces. All of them have a floor-to-ceiling height of 7 feet, making them perfect for standing and stretching as well. And they feature only one point of entry with several windows for ventilation.
This tent features a full-mesh roof along with several windows so it is perfect for ventilation. However, by that same virtue, it is not suitable for rainy conditions because the water could easily get through. The pole sleeves, hubs, and pins and powerful enough that they can withstand the windiest of conditions without much of an issue. The interior of the tent also features two storage pockets and a gear loft. As such, if you have any valuables, you can store them in the pockets.
All things considered, Eureka! Copper Canyon is one of the best tents for camping and backpacking. However, you should only use it in locations that don't register heavy rainfall because the tent has a mesh ceiling and the rainfly doesn't encompass the entire tent.
Best Premium Tent for Camping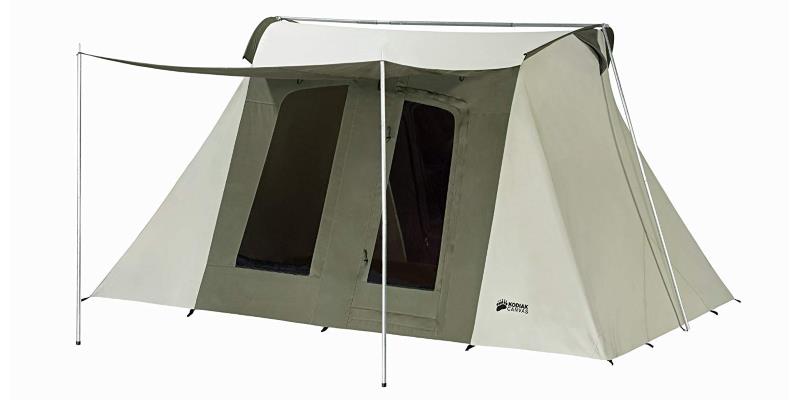 Kodiak Canvas Flex-Bow is one of the most expensive tents on the market. However, the high price is perfectly warranted considering it's made with one of the most durable and weather-proof materials out there. This tent has a total floor area of 140 sq. feet and it can comfortably sleep up to 8 people. As such, it's perfect for a large group of friends or a family as well. Weighing 79 pounds, this tent is heavier than most tents out there but that too is understandable considering the ultra-strong material it is made of.
This tent is made of 100% cotton duck Hydra-Shield canvas. This material is pretty heavy but it's extremely heavy and can withstand all climatic conditions such as heavy rains, storms, winds, and snows. It is completely water-resistant and rain will simply bead off the surface. Despite being so strong and watertight, it is still pretty breathable thanks to the four large mesh windows and the two funnel-flow vents. As such, the temperature inside is always pleasant, well-regulated and there's plenty of airflow. The floor-to-ceiling height is 6'6", which is enough for most people to easily walk around without having to slouch.
All things considered, this is one of the most durable and premium-quality tents on the market, perfect for all kinds of climates. However, it's only suitable for regular campers trekking in extreme climates. For the casual camper, it would be an overkill.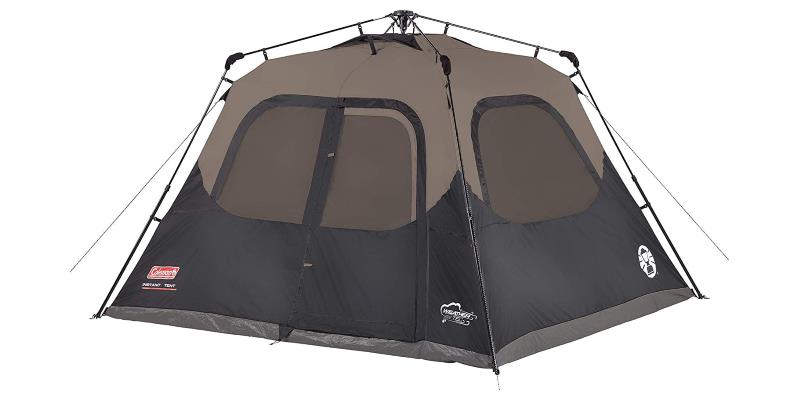 Coleman Cabin is yet another affordable tent made by one of the behemoths of the camping industry. It is available in three sizes — 4-person, 6-person, and 10-person. The 4-person tent has dimensions of 9×7 feet. The 6-person tent has dimensions of 10×10 feet. And the 10-person tent has dimensions of 14×10 feet.
All of these tents are also available in two styles — with or without Dark Room. If you get the Dark Room version of these tents, the windows and doors will provide complete ventilation while blocking out 90% of the sunlight so as to keep the tent cool and prevent sunlight from pouring in during the day and disturbing your sleep.
This tent is also extremely easy to set up, which is why it is also called an "Instant Tent". It comes with pre-attached poles so you just have to prop them up, a process that takes less than a minute. As such, you can simply take the tent out of the bag and start using it.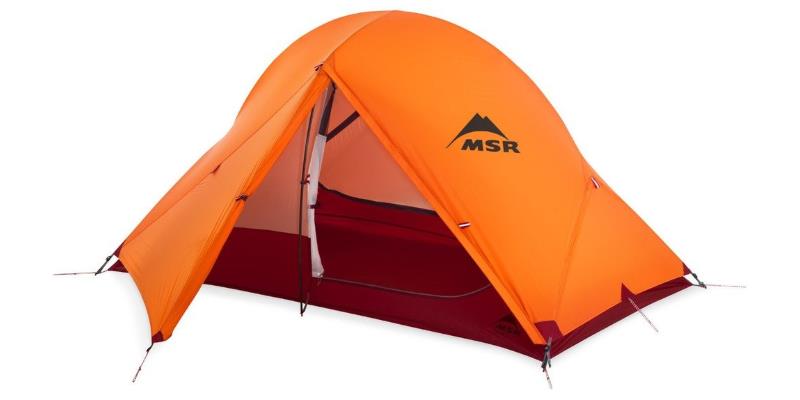 MSR Access 2 is a small tent meant for only two people. It weighs only 4 pounds and has a floor space of 29 sq. feet. Despite being so small, it still features two doors, one at the front and one at the rear. This also happens to be one of the most expensive tents on the market, especially considering it can only accommodate 2 people. However, the premium price is owing to the fact that it's extremely durable and meant for use in snow-covered plains and mountain regions.
This tent is orange in color to increase visibility from the distance and in the dark. It is made of 20D ripstop nylon and has a 10D polyester micromesh canopy. It's also equipped with a DuraShield polyurethane and silicone rainfly which can block out all rain and snow. All of these features ensure that you can use this tent in the toughest of situations.
This is one of the most lightweight and compact tents on the market, but it should only be used by people who frequent regions with extreme climatic conditions.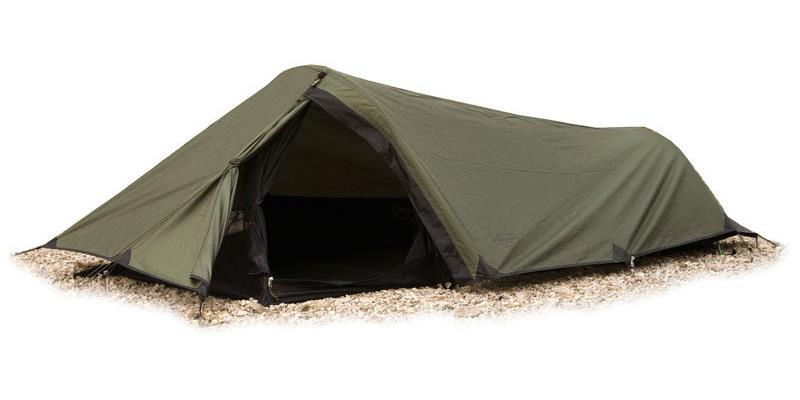 Snugpak The Ionosphere is a one-man tent that weighs only 3 pounds. It has dimensions of 94x 39×28 inches, making it one of the most compact tents on the market. This is essentially only used for sleeping purposes. You can lie down within it and roll around a little if necessary. It has just about enough space to accommodate a bag or two. However, this is not meant for groups of people or for people who want to camp with a lot of belongings.
This is a military-grade tent that's meant for people who want to tough it out in the wilds with little to no possessions. It's extremely low lying and comes in two colors — Coyote Tan and Olive Green.