Best Gaming Keyboards Under $100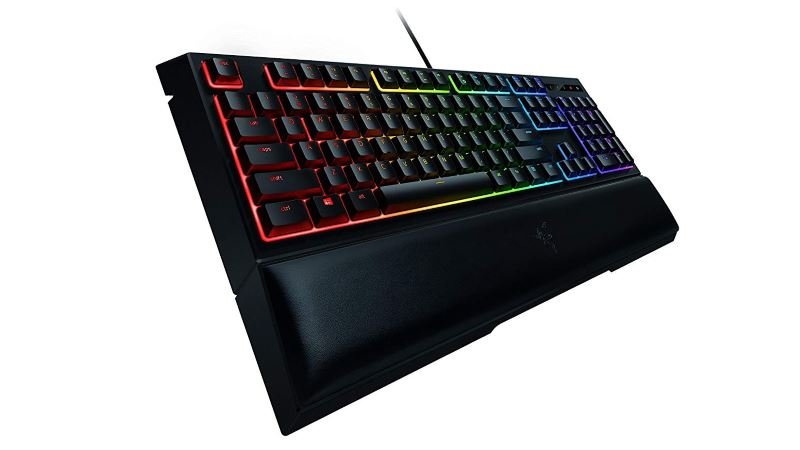 Then read this article for an overview of the best gaming keyboards under $100 on the market in 2019.
Best Gaming Keyboards Under $100
While most components of the computer have changed drastically in the past decades and years, the keyboard remains largely the same. You still have QWERTY keys in the same layout and minimal modifications available.
The major choice you have to make in regards to your gaming keyboard is about whether you want a mechanical keyboard or a membrane keyboard. The two mostly differ only in terms of how much noise they make while typing and how cheap or expensive they are.
Modern gaming keyboards are also highly customizable in terms of the function of their keys and their backlighting. If you want a sleek gaming keyboard that can enhance your gaming skills and look extremely cool, read on for a review of the best gaming keyboards under $100 in 2019.
Best Gaming Keyboards Under $100
Best Value Gaming Keyboard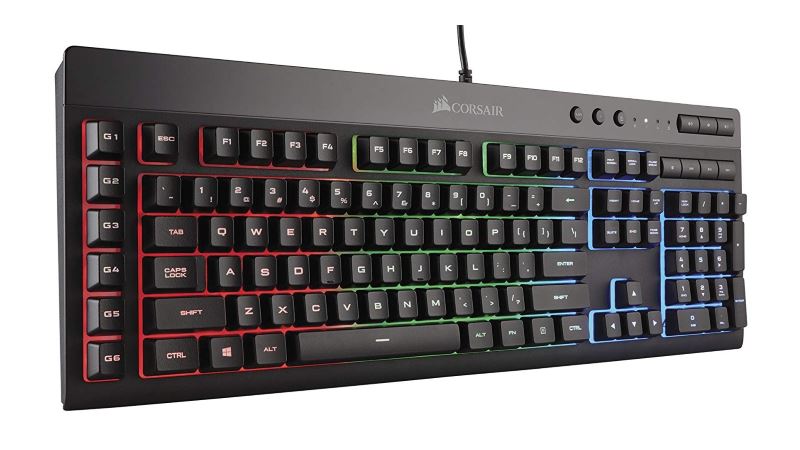 Corsair is one of the best companies when it comes to gaming computer parts. They have over a dozen gaming keyboards, some of them extremely advanced. However, the Corsair K55 is one of their most affordable gaming keyboards that can still pack a real punch.
Corsair K55 is a membrane keyboard, even though it looks like a mechanical one, and it features some pretty cool features for its price range. In terms of aesthetics, this gaming keyboard has three-zones of RGB backlighting. As such, you can set up different backlight colors for the different sections. You can also detach the wrist-rest provided by the keyboard. In terms of performance, this keyboard has a series of six programmable macro keys on the left side of the keyboard. Using the associated software, you can set up complex actions that can be executed at will using these keys.
All things considered, Corsair K55 is an aesthetically pleasing and customizable membrane keyboard that's also ergonomic. Reviewers at IGN called it one of the most advanced gaming keyboards at its current price range.
Best Value Gaming Keyboard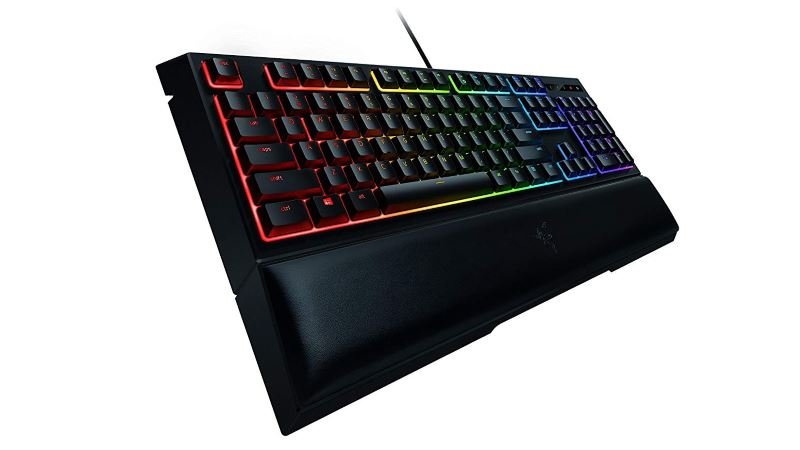 The Razer Ornata Chroma is a hybrid of both mechanical and membrane keyboards, combining the best of both worlds. It's available in the lower price point of a membrane keyboard while being as customizable, responsive, and capable of tactile feedback as a mechanical keyboard.
In terms of aesthetics, this is one of the most attractive gaming keyboards on the market. It has mecha-membrane keys that can be customized to include tactile feedback. As such, you can set up the keys to vibrate or glow or respond in very specific ways to events unfolding in your gaming experience. Furthermore, the Chroma backlighting is the best in the industry — every single key can be customized with its own RGB lighting and all of them can be programmed to respond to specific events. You can't find a more attractive or specific keyboard on the market. In terms of comfort, this keyboard also has a detachable cushioned wrist-rest for those who like to indulge in long gaming sessions.
If you want an extremely stylish and highly-programmable gaming keyboard that marries the best of both mechanical and membrane keyboards, then Razer Ornata Chroma is the one for you. Reviewers at PCMag were especially impressed by the value-for-money inherent in packing so many features into a relatively affordable keyboard.
Best Budget Gaming Keyboard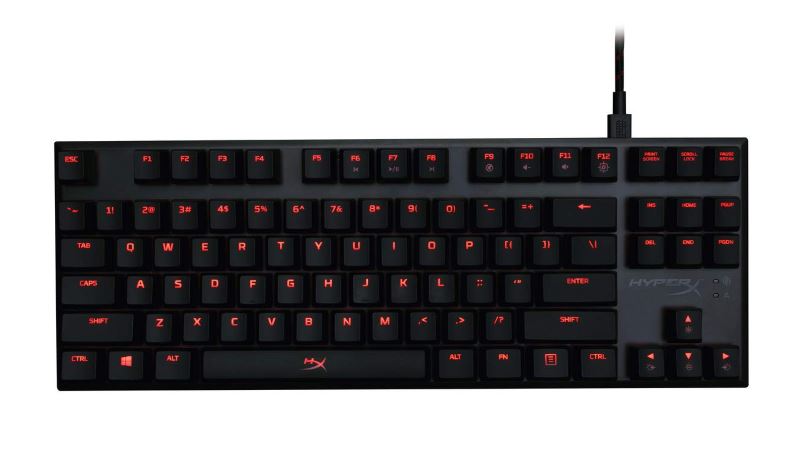 HyperX Alloy FPS is an extremely lightweight and portable mechanical gaming keyboard that's also pretty reasonably priced. The body of the keyboard is kept minimal with a low-profile and the keys are designed to jut out and stand tall, making them easier to press down on.
This keyboard doesn't have customizable RGB backlight like a lot of other gaming keyboards. The entire keyboard has a uniform red backlight, which is the least distracting color because of its low wavelength. However, if you want to customize your keys with individual colors, you should look elsewhere. This is highly portable as a result of its light weight (1.8 pounds), detachable power cable, and the presence of a padded carry case. Finally, the numbers pad is often superfluous in gaming keyboards because they serve no purpose while gaming. As such, when you're gaming, you can even remove them to add to its compactness.
I only have two major issues with this gaming keyboard. First, the backlighting can't be modified and it doesn't feature RGB illumination. Second, there are no macro keys available so you can program shortcuts. However, considering how cheap it is, that's alright.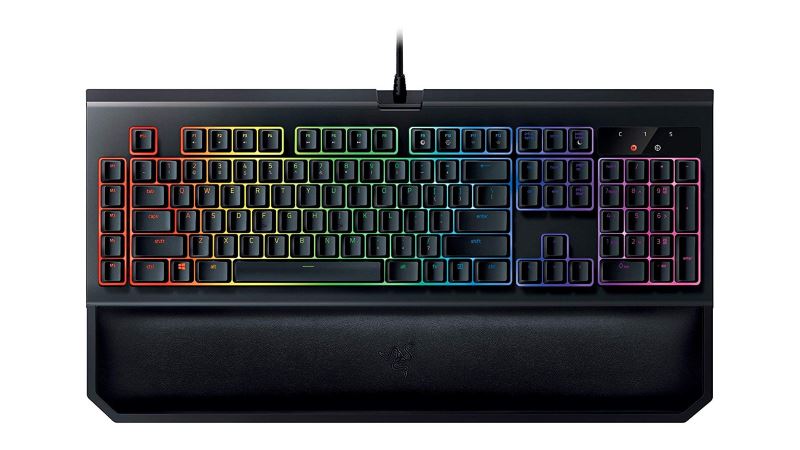 Razer BlackWidow Chroma V2 is perhaps one of the most advanced gaming keyboards on the market, built by the world's best gaming keyboard company. This keyboard delivers an ergonomic design with sleek and stylish aesthetics, high customizability, and advanced features — basically, it has everything you need from a gaming keyboard and then some.
In terms of aesthetics, this gaming keyboard has highly customizable RGB backlighting. You can essentially set up specific RGB colors for each of the buttons along with specific effects associated with different events that transpire during your gameplay. It also includes three specific switches —green, orange, and yellow. They are all highly durable, even though the yellow switch has a shorter actuation distance. It also has a rubber wrist rest which can prove helpful during long extended hours of gameplay.
The best feature in terms of gameplay is the presence of five macro keys. You can set up specific complex commands for all of these keys. As such, when you're playing the game, you can trigger complex motions without needing to hold several keys simultaneously. This can greatly reduce your response time and enhance your gameplay.
All things considered, it's easy to see why reviewers in IGN would be so in thrall of its advanced gaming capabilities.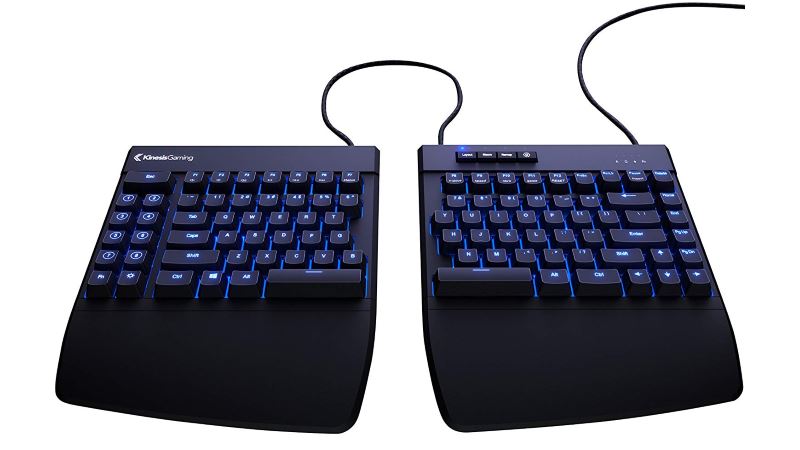 Kinesis Freestyle Edge is one of the most unique (and expensive) gaming keyboards on this list. For starters, it has the ability to simply split open down the middle with the two halves connected via 20" cables. While I personally never had a need for this feature, several users have mentioned that it allows them to angle the two halves ideally for their desired hand positions.
Furthermore, if you want a compact design, you can push aside one of the sides to only use one half of the keyboard. It also comes with a detachable wrist rest and a lift kit that can elevate the entire keyboard. As such, in terms of pure physicality, this is one of the most versatile keyboards you can find.
This keyboard can be equipped with the Cherry MX Brown, Red, Silver, or Blue switches. In terms of backlighting, you cannot, unfortunately, customize it. You only get blue lighting. However, this keyboard does include 12 dedicated macro keys, which is the highest number of macros available in gaming keyboards. As such, you can set up specific complex commands for all the macro keys to really slash your response times and take your gaming instincts to the next level.
The only major issue I have with this keyboard is how expensive it is and the fact that it skimps out on the RGB backlight customizability. At this price point, I wouldn't expect a gaming keyboard to hold back on any feature, especially one that is such a standard in the gaming environment.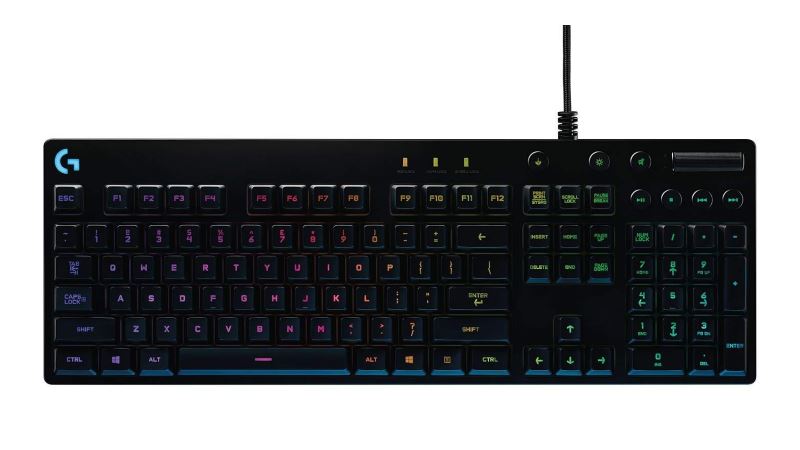 Gaming keyboards have a reputation for being extremely loud in terms of aesthetics. As such, Logitech G810 Orion Spectrum is perfect for those who like their gaming setups to be more minimalist. This is a compact gaming keyboard with a stylish yet minimal design, even though it doesn't sacrifice RGB backlight to achieve that.
This keyboard has complete customizability in terms of RGB backlight. Each of the keys can individually be customized for specific colors in a spectrum of 16.8 million colors. However, instead of the illumination arising from under the keys and enveloping it in a halo, the illumination only stems from the lettering on the key. As such, the backlight here is sleeker.
Logitech also has its own range of proprietary switches called Romer-G. These are more advanced than the Cherry MX switches and they're also more responsive due to shorter travel distances. They also happen to be more durable and capable of enduring more abuse.
This keyboard also has highly customizable macro keys. Keys F1 to F12 can all be customized with specific macro functions so you can use them to execute complex commands easily. You can't find 12 macro keys even in the most advanced gaming keyboards so we're pretty happy with that.
All things considered, if you prefer your gaming keyboards to have strong features and heavy customizability while being minimalist in aesthetic, Logitech G810 Orion Spectrum is the one for you.