Best Sports Watches for Men Under $500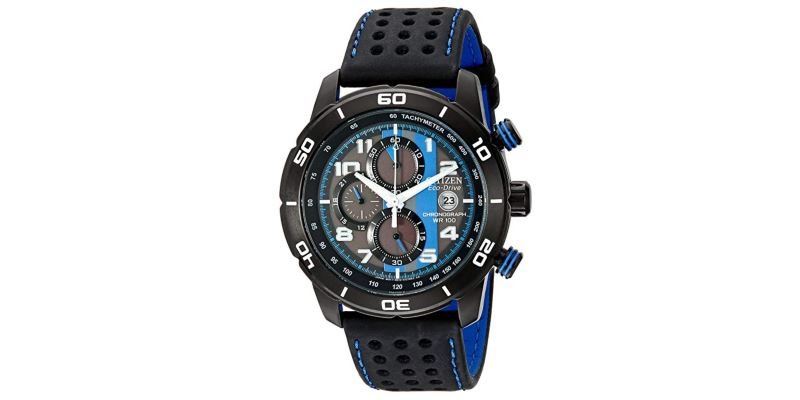 These are the best sports watches for men under $500 who want to up their game.
Best Sports Watches for Men Under $500
If you're an athlete who likes to monitor all his statistics and vitals, then a sports watch is an absolute must for you.
Sports watches are basically watches that can monitor all your miles, vitals, and other statistics. You can set them up to give you notifications and reminders every time you hit certain milestones. For example, you can set them up to notify you every time you've run a mile.
Additionally, the most advanced sports watches are smart so all your details are uploaded online where you can track them over time and draw important comparisons. If you want to enhance your game without doing all the tedious job of monitoring your every move, you can simply strap on a sports watch!
In this article, we'll give you an overview of some of the best sports watches for men under $500 that can help you up your game.
Best Sports Watches for Men Under $500
Best Overall Sports Watch for Men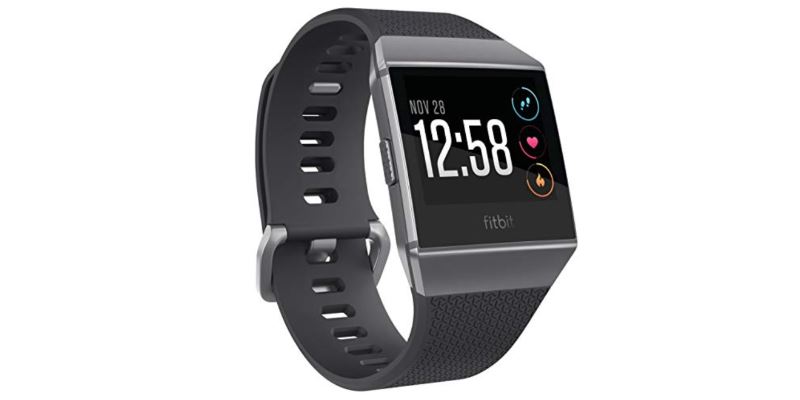 Fitbit Ionic is one of the most feature-heavy sports watches on the market. It has a wide range of features that can keep you motivated.
It has a Dynamic Personal Coaching feature meant for both beginners and advanced athletes that gives you coaching instructions on-screen. This smart sports watch can also store over 300 songs and play them upon request. You can also store your personalized playlists or access Fitbit Ionic's Pandora stations to find motivational playlists based on specific themes.
Fitbit Ionic is also equipped with an inbuilt GPS with GLONASS that allows you to check the map and reach your destination. In addition to normal GPS services, it also lets you track your pace, distance, and other necessary statistics. If you're riding uphill or climbing stairs, it can also calculate the elevation or number of stairs climbed.
One of the best features of this sports watch is PurePulse. This feature can monitor your heart rate so you can track the number of calories you're burning and optimize the intensity of your exercise accordingly. This is perfect for those who are engaging in High-Intensity Interval Training (HIIT). You can then track your progress and your vitals over time to gauge your progress.
This sports watch also has various different sports modes. You can use the Multi-Sport & SmartTrack feature to gain real-life statistics on the sports you're engaged in, such as swimming, biking, running, etc.
Fitbit Ionic gives you a battery life of over 4 days, which is pretty good for a smartwatch of this caliber. It's also waterproof and can be submerged in up to 50 meters of water without damaging it. All things considered, Fitbit Ionic is one of the most effective and powerful sports watches on the market.
Best Budget Sports Watch for Men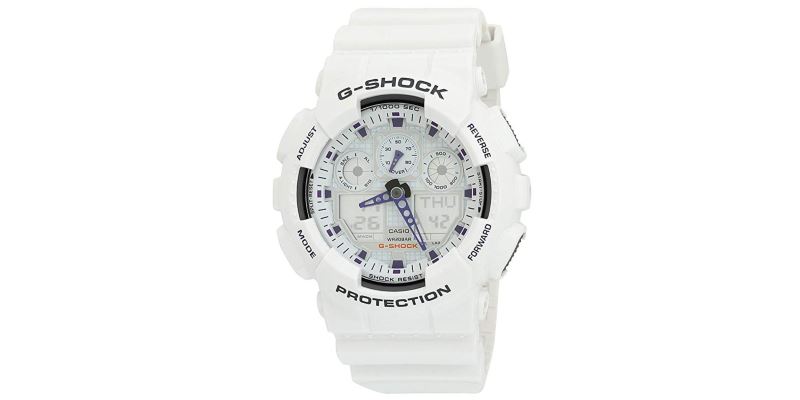 Most effective sports watches — such as the aforementioned Fitbit Ionic — cost a lot and aren't affordable for most people. However, Casio G-Shock GA100A-7A is an extremely affordable and budget-friendly sports watch that still packs some decent features.
Casio G-Shock GA100A-7A is a shock-resistant sports watch. As such, it can sustain a lot of abuse and vibrations without being harmed. It's also water resistant and you can swim with it, going as far underwater as 200 meters without harming it. Basically, it's not just suitable for swimming, but also for professional marine activity and diving.
The white-and-blue analog dial looks classic and sleek. The dial features a countdown timer and a stopwatch if you need to track your time. It also features an LED light so you can see the dial in complete darkness. The entire dial window is made of 51.2 mm resin case.
If you need to monitor the time in other parts of the globe, you can do that with this sports watch as well. It can be used to check out world times from over 48 cities. This sports watch also serves as an alarm clock, one equipped with a snooze feature.
All things considered, Casio G-Shock GA100A-7A may not be a smartwatch, but it's still an incredibly effective (and incredibly cheap) sports watch.
Best Value Sports Watch for Men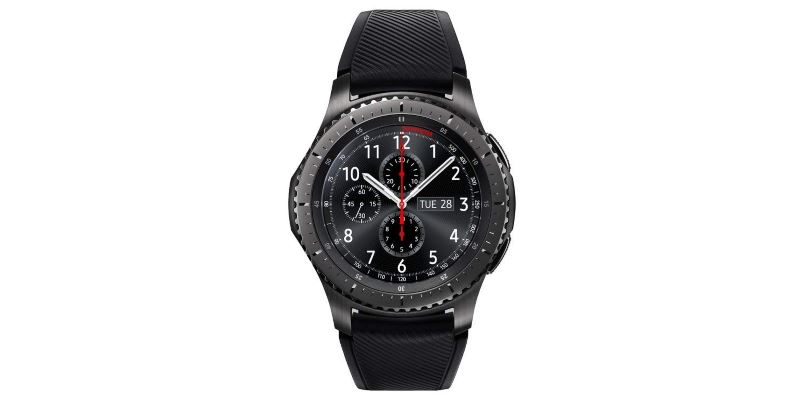 Samsung Gear S3 is another smart sports watch that comes equipped with bluetooth connectivity. However, unlike most smart sports watches that have a digital face, this one has a traditional analog face. As such, even though you're wearing a sports watch, it doesn't look like you're wearing your phone on your wrists. It simply looks like a traditional classy wristwatch.
This sports watch has a distinctive bezel which you can use and rotate to access a variety of different apps. If you connect your watch to your smartphone via the bluetooth, you can get all your notifications and messages directly in your watch. And if you have the watch connected to earphones, you can even hear the messages instead of having to look down and read them in the middle of your training or sports.
This is a military-grade sports watch and it has been tested to be resistant to water, dust, shock, and extreme temperatures. You can go diving with it and it will be fine. It can even fall off and it won't get damaged.
Samsung Gear S3 is compatible with Android OS 4.4 and above and iPhone 5 with iOS 9.0 and above. Both of them, however, give you access to all the sports watch features you need.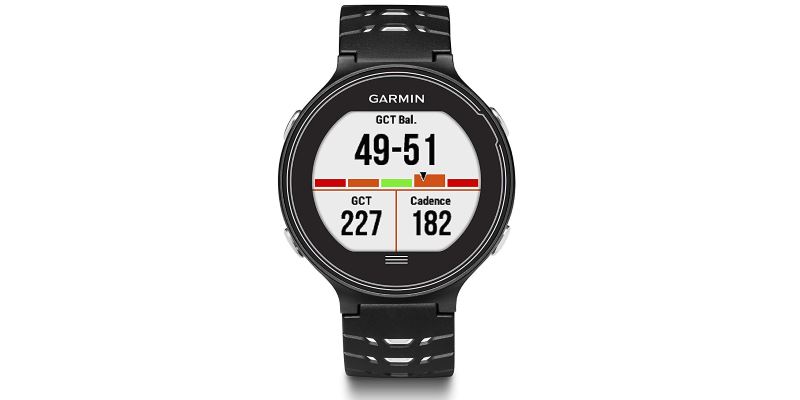 Garmin Forerunner 630 is one of the most advanced smart sports watches on the market, which is why it's also one of the most expensive. This sports watch is essentially a smartphone for your wrist. It features a touchscreen display with a high resolution.
This sports watch can calculate a total of six advanced running statistics — ground contact time, cadence, ground contact time balance, vertical oscillation, vertical ratio, and stride length. In addition to running, it can also track various other sports like swimming, biking, etc. As such, this is the perfect sports watch to use when you're training for a triathlon.
In addition to calculating sports statistics, it can also keep track of your physiological vitals. It can track your stress level, lactate threshold, VO2 max, performance condition, recovery time, and predicted race times. Once you have access to their statistics, you can better improve your performance and check your performance over time via the smartphone app.
Garmin Forerunner 630 also has bluetooth connectivity and it's compatible with most Android and iOS smartphones. After you've connected them, you can get all your notifications and messages on your phone. Furthermore, this sports watch also has a speaker so you can hear the messages without looking down.
All things considered, Garmin Forerunner 630 might be expensive, but it's completely worth it for serious athletes.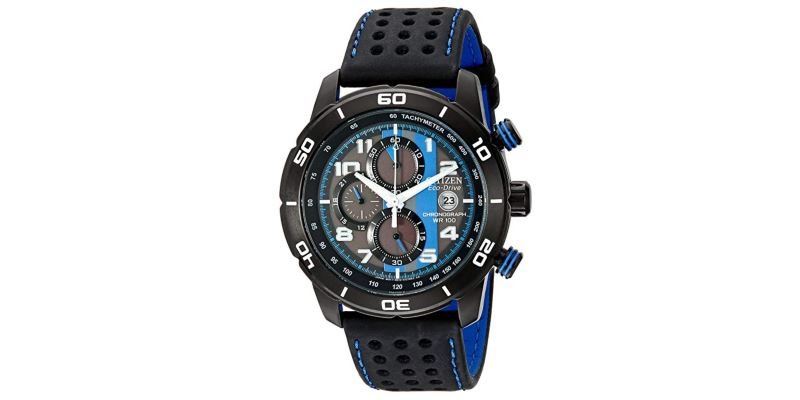 Citizen Men's Primo is one of the most stylish analog sports watches on the market. It also happens to be one of the most expensive sports watches, almost twice as expensive as the aforementioned Fitbit Ionic.
This is a black ion-plated sport watch with sport-like blue stripes on the dial and a sleek perforated leather band. The most impressive feature here — the thing that accounts for the high cost — is that it's an eco-drive watch. As such, it runs on light energy and doesn't need any batteries.
This sports watch also features a mineral crystal dial window and a 60-minute chronograph. Furthermore, it's waterproof to around 100 meters underwater so it can be used for snorkeling, diving, swimming, etc. However, it can't be used for deep-sea diving.
Citizen Men's Primo is the most expensive sports watch on this list. However, it's not a smartwatch, nor does it have the advanced features available in some of the other sports watches. At most, it can track time and distance.
If purchasing a light-fueled eco-drive sports watch is important for you, this is suitable. If that's not a priority, this watch doesn't offer much.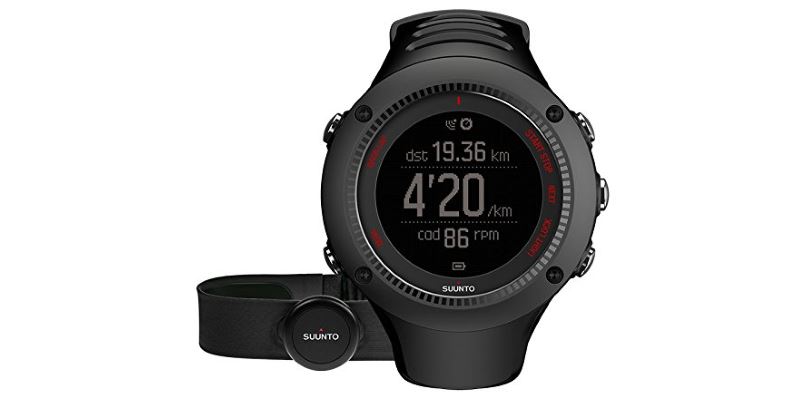 Suunto Ambit3 is a smart sports watch that can track a number of physiological vitals along with your sports performance. It can track various running statistics and average them out over the week. It also transmits those data to a smartphone app so you can check a graph of your progress over the weeks.
If you purchase this sports watch with the associated Suunto Smart sensor, you can also check your post-workout recovery status. The sensor will take a quick recovery test to determine how exhausted you are and how much recovery you require. This can help you perfectly align your training schedule to maximize your potential.
The sensor can also be worn during sleep so it can track your sleep patterns and offer recommendations. As with all other smart sports watches, Suunto Ambit3 can also be connected to your smartphone app to gain access to a number of apps and receive all your messages and notifications on the watch.