Best Nerf Guns for Office Wars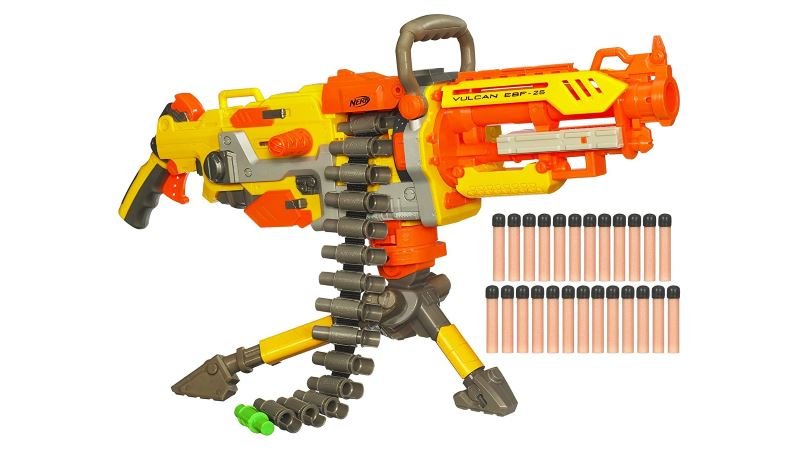 Do you want to engage in some silly stress-busting activities with your office co-workers? Then go ahead and buy one of these best Nerf Guns for office wars!
Best Nerf Guns for Office Wars
Most guys have spent countless hundreds of hours playing with Nerf Guns in their childhood. It used to be one of the most fun activities to engage in with all your friends.
Even though you're an adult now, you don't have to say goodbye to this activity. Nerf Guns help you with target-practice while being extremely fun activities you can enjoy with your friends, kids, or anyone else. This is the perfect weekend activity to relieve some of the accumulated stress from the whole week.
So read on to find out about some of the best Nerf Guns for office wars to fire away and let loose!
Best Nerf Guns for Office Wars
Best Value Nerf Gun for the Office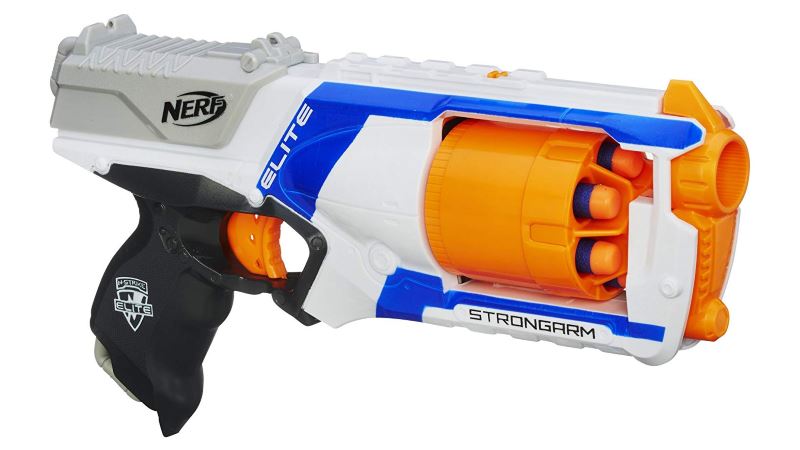 Nerf N-Strike Elite Strongarm Blaster is a lightweight 1.2 pounds revolver-style nerf gun. It comes with six darts but you can buy additional N-Strike or Elite darts as well. This nerf gun has a pretty strong range of about 90 feet. It has a rotating 6-dart barrel that you can flip through to easily load up the darts. This is a completely hand-powered nerf gun and you don't need any batteries. The package it comes in can be easily opened and is also recyclable.
Best Premium Nerf Gun for the Office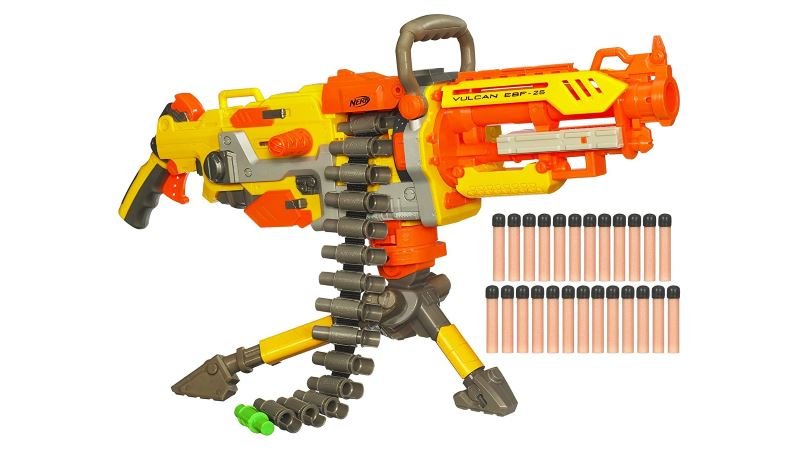 Nerf N-Strike Vulcan EBF-25 Dart Blaster is one of the most expensive and premium-priced nerf guns on the market. As such, it is certainly not made for those simply looking for stress-busting weekend activities but for those who engage in play laser tag regularly. This is a massive nerf gun equipped with a fully-automatic blaster that can accommodate up to 25 ammo darts at the same time. As such, you can fire up to three darts at your enemies continuously. It comes with 25 Whistler darts but you can buy additional as well. In case you need to set it down to take cover and shoot, it also comes with a removable and foldable tripod.
Best Compact Nerf Gun for the Office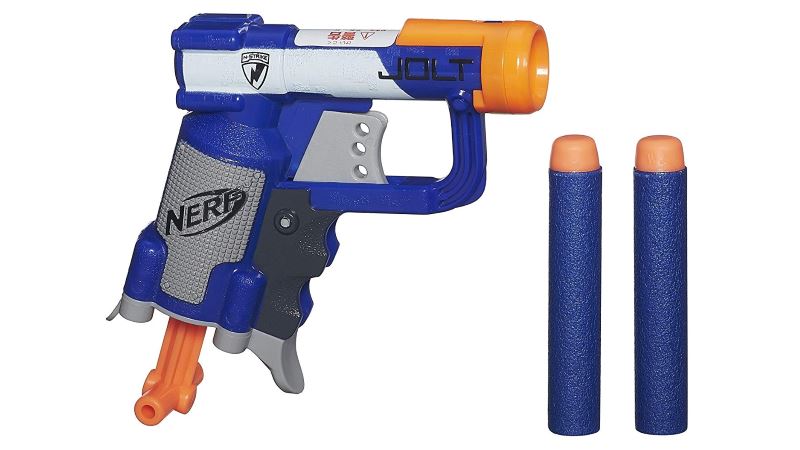 Nerf N-Strike Elite Jolt Blaster is one of the cheapest and most compact nerf gun on the market. It is a pistol-style nerf gun that can only hold a single dart at a time, though the package comes with two Elite darts. This is the ideal gun to keep hidden in your holster so you can withdraw it when the ammo in all your bigger guns have exhausted. It weighs only 5 ounces but can still shoot at quite a great distance.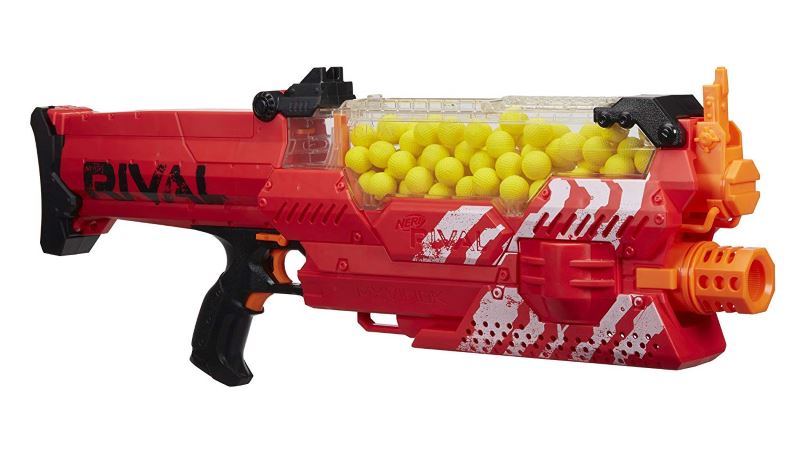 Nerf Rival Nemesis MXVII-10K is one of the best nerf guns for adults because of the large and wide handles. Furthermore, it is ambidextrous so it is ideal for both right-handed and left-handed individuals. Unlike some of the other nerf guns on this list, this one is battery-powered so you'll have to recharge it or change the batteries once in a while. It is completely automatic and can fire up to 100 rounds at 100 feet per second, which is quite powerful. However, it makes a lot of noise as well so you shouldn't get it to missions that require stealth.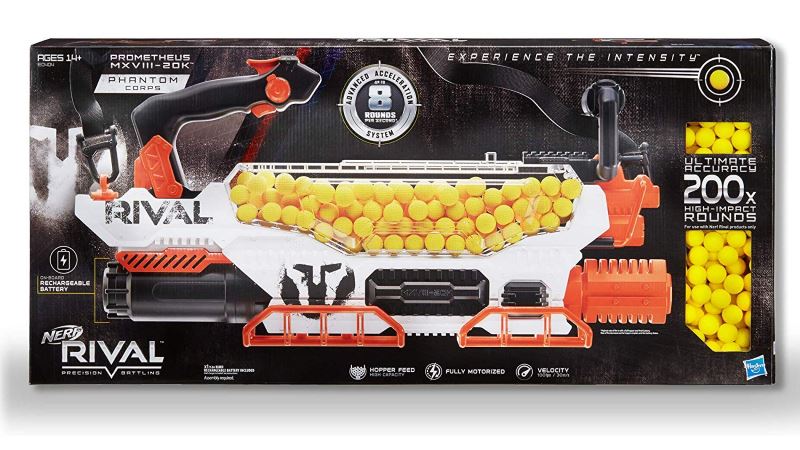 Nerf Rival Prometheus MXVIII-20K is a massive 5-pounds double-handed nerf gun with an extremely high capacity of 200 darts. This ensures that you don't have to keep reloading over and over, cutting down your downtime and helping you fire away at more of your opponents. It comes with an Advanced Acceleration System that lets you fire up to 8 darts per second. Furthermore, these darts can travel at the speed of 100 feet per second, making them extremely fast and effective. This is a battery-powered nerf gun and comes with a 9.6volt NiMh rechargeable battery.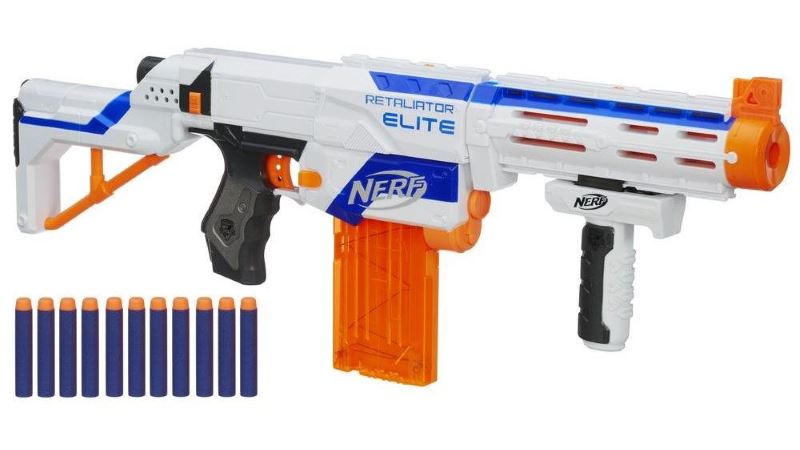 Nerf N-Strike Elite Retaliator is a 2.58-pounds nerf gun with the ability to hold up to 12 darts at a time. The nerf gun comes with a single 12-dart clip but you buy more separately as well. This nerf gun has a strong range of 90 feet, but the flight path of the dart starts curving downwards at the 75 feet mark, thus inhibiting your long-range aim. Large stock-and-barrel nerf guns of this nature are usually pretty expensive, but this one is fairly reasonable.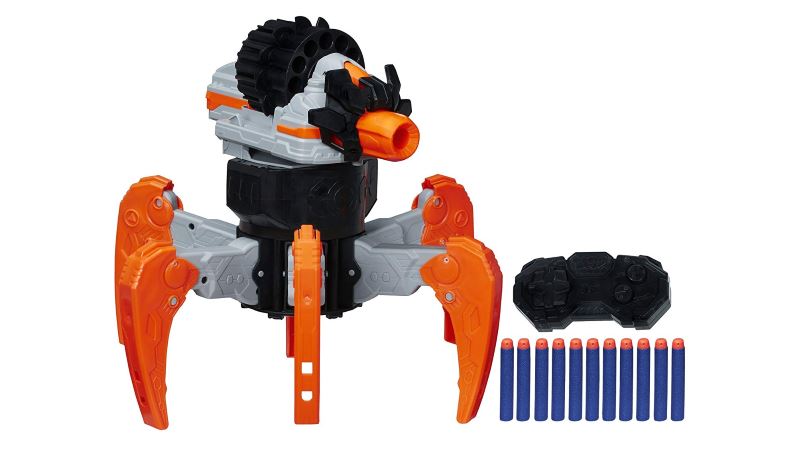 Nerf Combat Creatures TerraDrone exemplifies the perfect implementation of robotics technology in nerf guns. This is a remote-controlled combat robot equipped with a gun that can fire up to 12 Elite Darts at a distance of 45 feet. Yes, it doesn't have as much of a range as several of the other nerf guns on this list, but you can use it from a distance as well, which protects you from putting yourself in the line of fire. Furthermore, this nerf gun's head can rotate 360-degrees so you can fire at enemies at all corners. The blast angle can also be remotely adjusted and it can walk on all kinds of terrain. This nerf gun is a great way to take down your enemies without endangering yourself, but it doesn't have the same thrill of being able to hunt down your opponents with a gun in hand.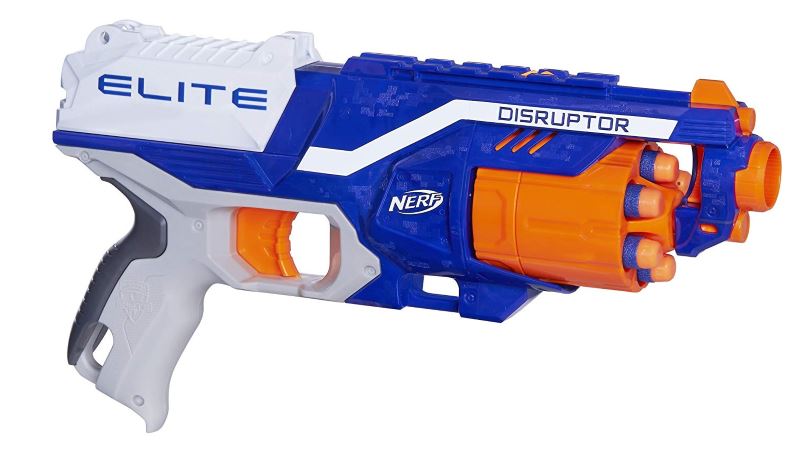 Nerf N-Strike Elite Disruptor is one of the best six-dart nerf gun on the market. It's a compact 1-pound nerf gun which you can draw instantly and fire with using a single hand. The darts are inserted into the 6-dart rotating drum so they can be fired on rotation. Each dart can travel a distance of around 90 feet. Finally, this nerf gun comes with a tactical rail so you can customize it with other NERF range products as well.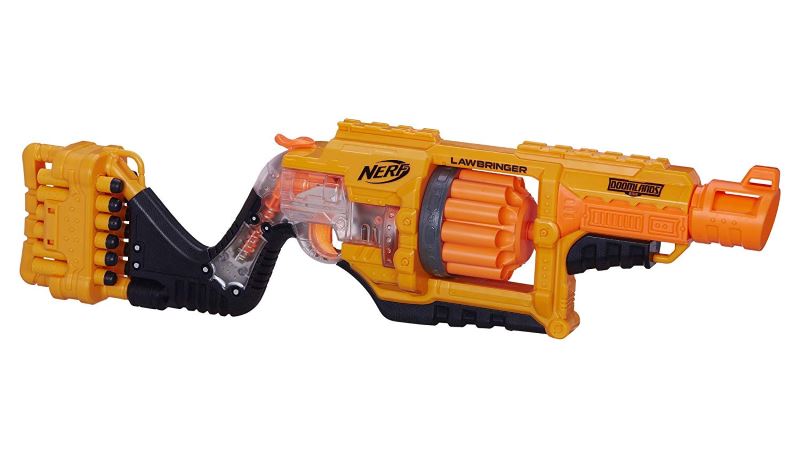 Nerf Doomlands 2169 is a 2-pounds nerf gun with a 12-dart rotating barrel. The nerf gun comes equipped with 12 darts for the entire barrel, but you can purchase more separately. It has a hammer-blasting mechanism in terms of firing the shots. In addition to the darts in the barrel, you can store additional darts in the gun's stock as well so you can easily reload once your darts are spent. Shooting this nerf gun is slightly awkward compared to other nerf guns, but it has a great range.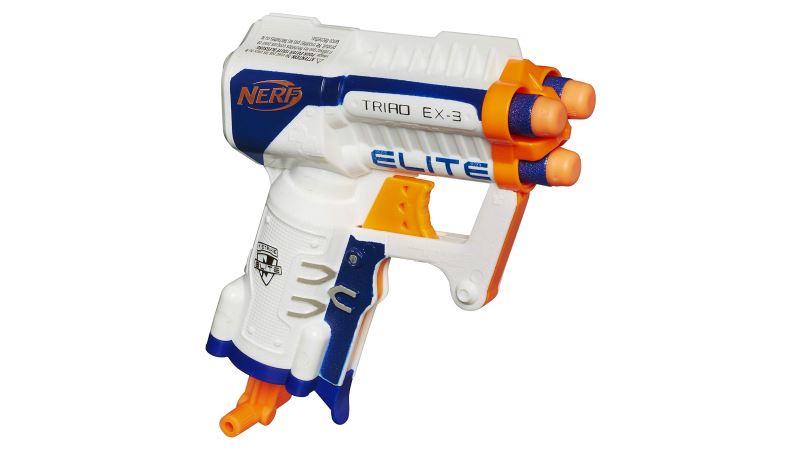 Nerf N-Strike Elite Triad is an extremely cheap micro-triad EX-3 blaster. It's a compact 5.6-ounce nerf gun that can fire up to 3 darts at the same time for triple the effect. Most guns have a slight recharge time between darts, however, this nerf gun encourages rapid fire shots. Not ideal for long-range combat, this nerf gun should be kept concealed in your holster till you run out of bullets in your other weapons. It makes for the ultimate secret weapon when you've been cornered.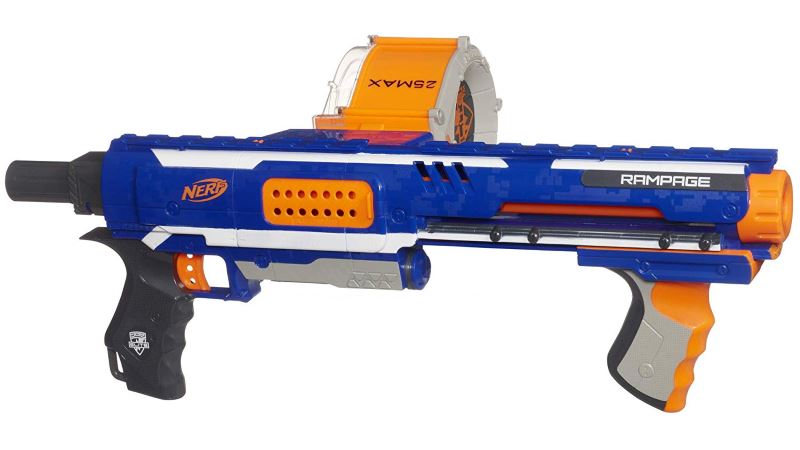 Nerf N-Strike Rampage Blaster is a 2.8-pounds double-handed nerf gun that comes with a magazine comprising 25 darts. It has a firm rubberized grip that prevents it from slipping and the accuracy on this gun is excellent. Once fired, the darts on this nerf gun can travel for up to 75 feet through the air and maintain a straight line throughout. While the range isn't great (there are other guns with a range of 90 feet and 100 feet as well), it makes up for it with stunning accuracy. This nerf gun also comes with the slam-fire action feature which allows you to shoot darts in rapid-fire succession to vanquish all your enemies within seconds. This is a manually-operated nerf gun so it doesn't require any batteries. The only drawback here is that reloading can take quite a long time, which is enough for your enemies to get at you. As such, if you need to reload the magazine, you should do so after seeking cover.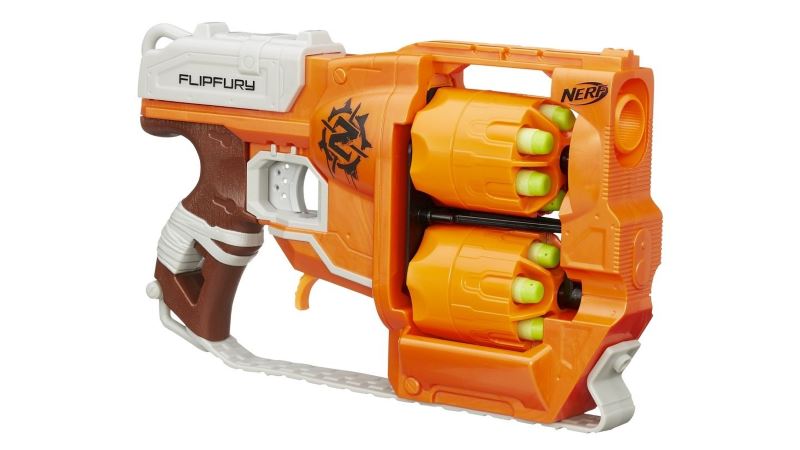 Nerf Zombie Strike FlipFury Blaster is a double-handed 1.6-pound nerf gun comprising of 2 separate flipping dart drums. Each of the dart drums can hold up to 6 darts, making it a total of 12 darts per round. When one of the drums empties, you can quickly switch over to the second drum without wasting much time. However, if both drums empty out, replacing both of them can take a long time, which can leave you vulnerable to your enemy combatants. As such, if you exhaust both drums, it's best to either seek cover and reload or get rid of the gun altogether and use your backup.