Best Lightweight Hiking Shoes for Men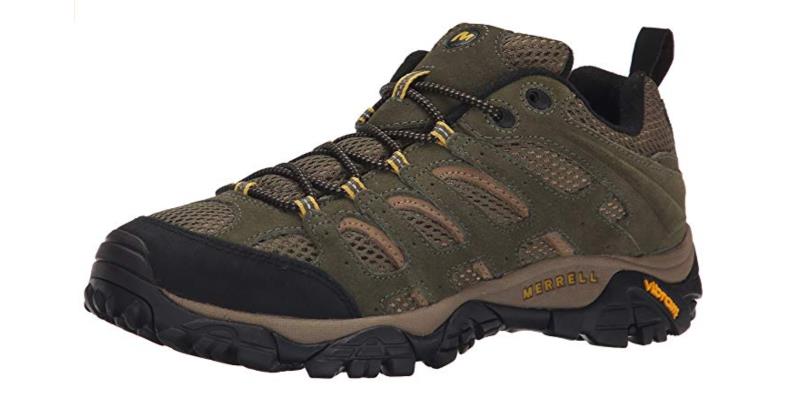 Do your feet get exhausted hiking for long stretches of time with heavy hiking boots? Well then give these best lightweight hiking shoes a shot!
Best Lightweight Hiking Shoes for Men
If you go hiking often, you should use extremely durable shoes with a lot of traction. You need comfort so you can wear the shoes for long stretches of time. You need durability so the shoes can sustain heavy abuse through rains, storms, and various difficult terrain without tearing up. And you need traction so you can walk comfortably across wet rocks, sandy surfaces, and slopes.
All of these features are generally available in hiking boots. However, some people find that hiking boots cause your feet to get exhausted easily because of their weight. That's where lightweight hiking shoes come in.
A good pair of lightweight hiking shoes for men should combine all of the aforementioned features and package it in relatively lightweight shoes that you can wear comfortably for hours at a stretch. To help you select the right pair of shoes for your needs, we've written a detailed review of some of the best lightweight hiking shoes for men in 2019.
Best Lightweight Hiking Shoes for Men
Most Affordable Lightweight Hiking Shoe for Men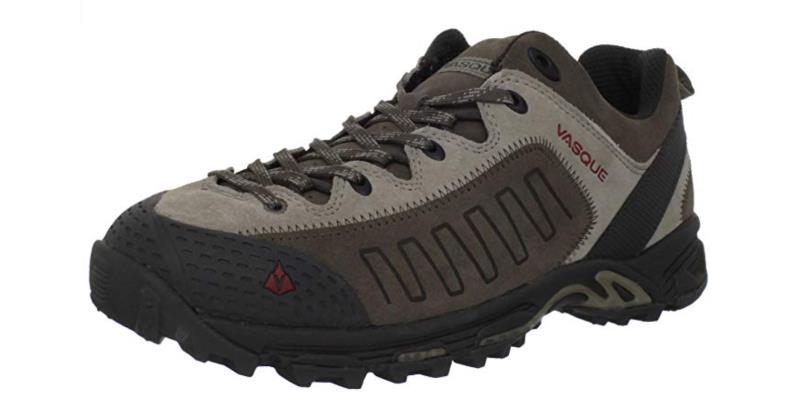 Vasque Juxt is one of the most affordable hiking shoes for men, but it's largely suitable only for dry environments. If you're going trekking or backpacking in some dry climate with a low chance of rainfall, these shoes will be a great companion. These hiking shoes are extremely lightweight at only 3 ounces and they can be used in a variety of terrain. The upper is made of 1.6mm suede leather, the insole is made of dual-density EVA, the midsole is equipped with a molded EVA and TPU plate, and the outsole is rubberized.
Most hiking shoes require some time to break them in before they become comfortable. This hiking shoe, however, needs no breaking in and it's extremely comfortable from the first use. It fits snugly around one's feet and the padding is flexible enough to mold itself around your feet. When you are hiking trails, it's important to find a shoe that offers protection to the toes, the most vulnerable part of one's feet. In this case, the toe box has a rubber rand in place to offer optimal protection and comfort. The protection underfoot, however, is only moderate and the wearer can generally feel the larger rocks past the soles.
The upper mesh is also extremely breathable. As such, your feet won't get too stuffy or sweaty. This breathability is achieved through the vent holes available in the leather tongue and due to the lack of a waterproof lining. And that's the only aspect in which this shoe suffers — lack of water-resistance. As such, if exposed to water, it will quickly become inhabitable.
Vasque Juxt is available 3 earthy colors and styles — Aluminum/ChiliPepper, Peat/SudanBrown, and Beluga/Aluminum.
Most Durable Lightweight Hiking Shoes for Men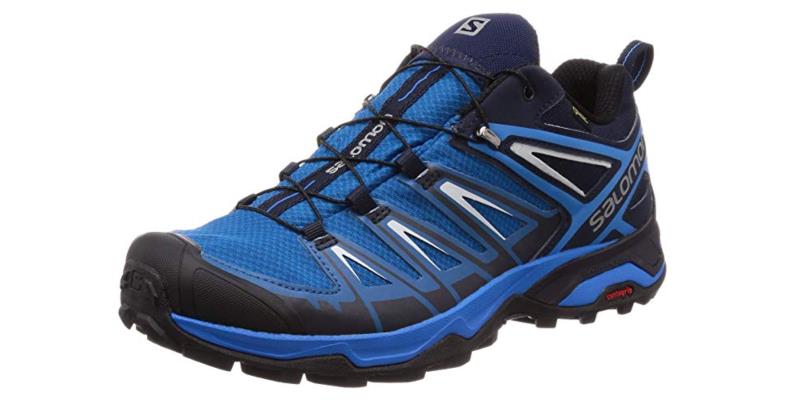 Salomon X Ultra 3 GTX is one of the most durable and rugged hiking shoes for men. It has a completely waterproof yet breathable upper, an EVA midsole with a molded shank, and a ContaGrip non-marking rubber sole.
In terms of comfort, you can't do better. The cushions hug your feet and keep you snug while also providing great protection. The toe box comes with a rubber strap that can offer some cushioning if you kick some rocks. It isn't as spacious as several other hiking shoes, however, and has little to no wiggle room. As such, make sure they fit you before you get them. These hiking shoes are relatively heavy at 15 ounces, but it's still lighter than most hiking boots. However, the slightly higher weight is worth it because of the bomber foot protection and the durable outsole.
The outsole of these shoes provides ideal lateral stability. The forefoot is also flexible and versatile enough to offer support while still allowing you to run and speed up. Perhaps the best asset here is the Contagrip outsole which provides the best traction amongst all other hiking boots for men. The outsole features aggressive lugs with 9 to 13 edges and grooves on each. This allows you to walk confidently on a variety of terrains from slippery mud-covered rocks to snow and rocky hills.
The waterproof tongue on this hiking shoe measures 4.5 inches, which is quite high by any standards. Furthermore, the synthetic leather upper mesh is completely waterproof and you can rest assured that no water will seep into your shoes even when it's raining heavily. Water will simply bead off the surface of this shoe even when you're crossing streams and puddles.
Salomon X Ultra 3 GTX is available 8 colors and styles — Black, Castor Gray, Mykonos Blue/Indigo Bunting/Pearl Blue, Black/Magnet/Quiet Shade, Castor Gray F025, Graphite/Night Sky/Hawaiian Surf, Bungee Cord/Vintage Khaki/Red Dahlia, Black, Magnet, Quiet Shade, and Castor Gray, Beluga, Green Sulphur.
Most Lightweight Hiking Shoes for Men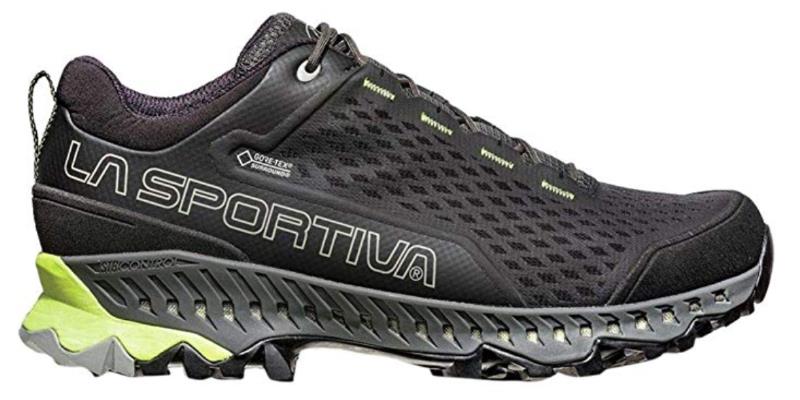 La Sportiva Spire GTX is one of the most comfortable and lightweight hiking shoes for men, weighing only 2 ounces. This has the ability to provide speed and agility to rival the best running shoes while offering the stability of hiking boots. Despite being so lightweight, these hiking shoes still come with top-notch padding and waterproof liners.
This hiking shoe is built with a compression-molded EVA sole that can prevent you from feeling sharp rocks under your foot. It has a moderate rocker as well that can offer arch support and keep the heels and soles from exhaustion. The Gore-Tex Surround membrane is perfectly waterproof and breathable and you can even walk across streams and puddles. The 5mm Ortholite footbed can easily expel water and perspiration.
These shoes have rubberized Vibram XS Trek soles that provide great traction on wet and dry surfaces alike. Furthermore, the lug pattern on these hiking shoes is extremely aggressive and can easily cut across loose rocks, sandy slopes, and dense snow-covered plains.
La Sportiva Spire GTX hiking shoe has a sleek carbon body with apple green accents and branding.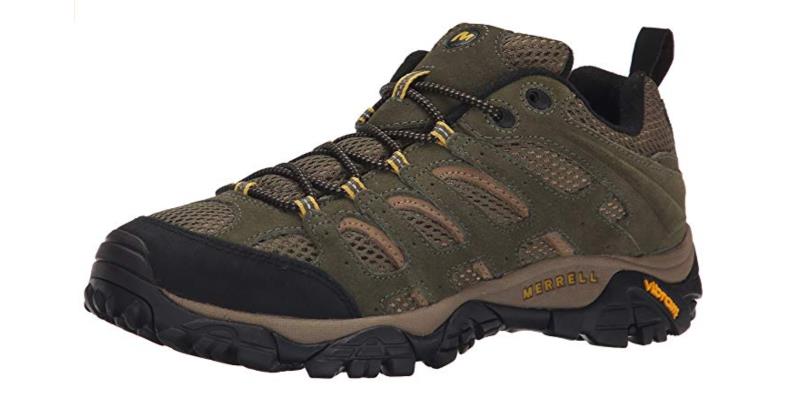 Merrill Moab Ventilator is a pretty stunning hiking shoe for men. This hiking shoe's best feature is the moisture-wicking mesh lining that ensures that all moisture simply beads off the surface without permeating the body. As such, even if you are hiking under a harsh rain shower, your feet will still remain relatively dry. You can even wear it across puddles and it will dry fairly quickly.
This shoe is also equipped with odor-prevention technology and has a breathable upper so your feet don't start stinking or sweating profusely even if you've been in the shoes for several hours. Furthermore, even if they do start stinking, you just need to air them out once to get rid of the stench, it doesn't linger. This hiking shoe has a vibram sole with strong rubber grooves that don't slip in either wet or dry conditions, even if you're climbing up a hill.
Merrill Moab Ventilator is available in 10 different earthy colors — Carbon, Beech, Grey Rust, Monument Tanga, Navy Gray, Brown, Olive, Walnut, Black Night, and Earth.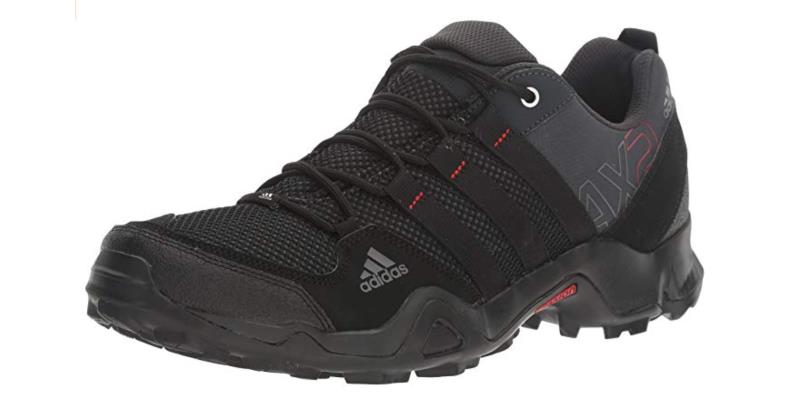 Adidas AX2 is an extremely comfortable, durable, and budget-friendly hiking shoe for men. It has a moderate weight of 10 ounces. It has a molded sockliner so you can even wear these shoes without any socks at all. It is also equipped with a textile lining that's highly breathable. The air mesh cools down your feet, preventing it from excessive perspiration.
However, the star feature is undoubtedly the aggressive treads that prevent it from slipping no matter how loose the terrain fragments may be, such as small peddles, sand, wet rocks, etc. This makes it ideal for use while hiking uphill as well. Adidas AX2 is available in 12 different colors and styles such as Shock Blue, Charcoal Grey, and Tech Beige.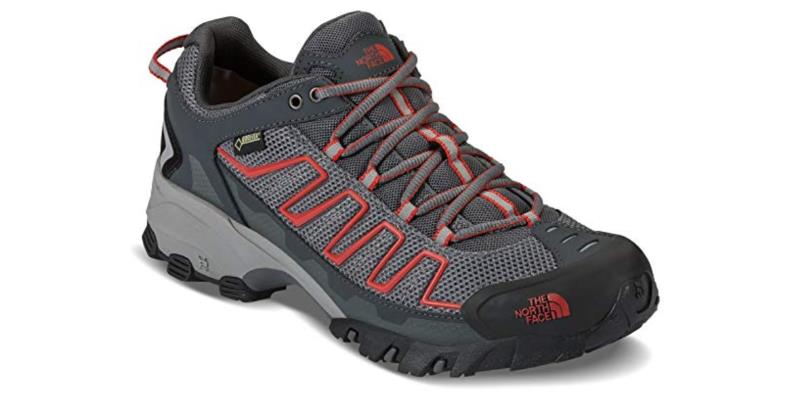 The North Face Ultra 109 GTX is an extremely comfortable and durable hiking shoe for men. It is equipped with a GORE-TEX membrane upper that makes it highly breathable while also ensuring waterproof protection. The mesh-fabric ensures that your feet don't get sweaty even after wearing them for extended periods and the waterproof liner ensures that water can simply slide off the surface without entering the shoes.
My biggest issue with this shoe is that the waterproof quality doesn't apply if you're wading through streams or puddles. Rainwater can slide off since it only reaches the upper surface of the shoe. However, if you're wading through streams, water can enter from the sides because of its low-cut design. As such, you can use these rugged shoes for a wide range of terrains, but you should keep them away from wetlands.
The North Face Ultra 109 GTX is available in 4 different colors and styles — Zinc Grey & Pompeian Red, TNF Black & Dark Shadow, Coffee Brown & Rosewood Red, and TNF Black & Dark Shadow Grey.