Best Robot Vacuum Cleaners for Pet Hair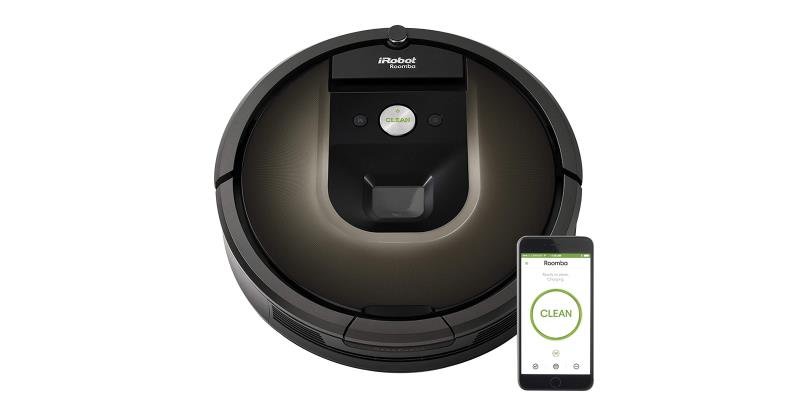 Do you want to keep your house clean and tidy from pet hairwithout having to move a muscle? Consider getting one of these best robot vacuum cleaners for pet hair.
Best Robot Vacuum Cleaners for Pet Hair
Robot technology has come a long way in the past decade. When robot vacuum cleaners first started coming into the market, they were extremely unreliable. They would constantly keep banging against walls and objects, fall down stairs, and fail to clean around corners.
However, modern robot vacuum cleaners are equipped with artificial intelligence technologies that can take care of all those issues. Most robot vacuum cleaners these days can map the terrain, detect depressions and obstacles to avoid them, navigate out of sticky situations, and clean around tiny and narrow spaces as well.
These days, if you use a robot vacuum cleaner, you can essentially clean your entire house without having to move a muscle. But you have to be careful while selecting robot vacuum cleaners to ensure that they're durable and intelligent.
In this article, we'll give you a detailed review of some of the best robot vacuum cleaners for pet hair on the market.
Best Robot Vacuum Cleaners for Pet Hair
Best Overall Robot Vacuum Cleaner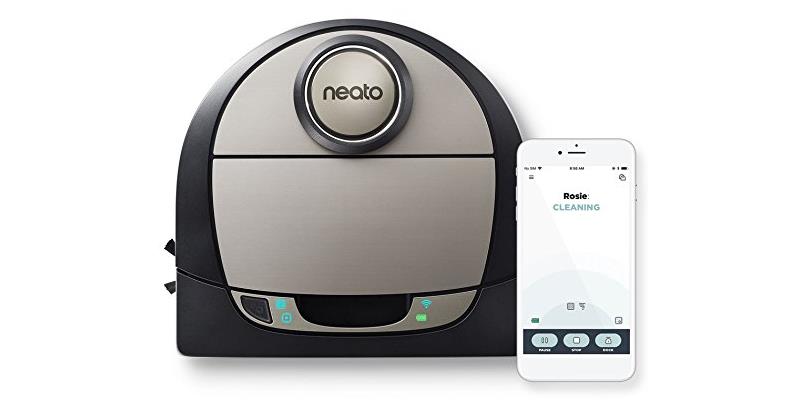 Neato Robotics D7 is one of the smartest robot vacuum cleaners on the market right now. This is a wifi-enabled vacuum cleaner that you can control via a smartphone app. One of its best features is No-Go lines which allows it to map the house's complete terrain by going around and pinging against the walls. Once it has mapped out the house, you can use the app to set out areas that it's forbidden from entering. As such, for all future cleaning, the robot will only clean areas that you want it to.
This robot vacuum cleaner also has a pretty strong warning system. Whenever it gets stuck, it sets off an alarm and you receive a notification in your app so you can find it. It is D-shaped so it can align itself with the walls and clean all of the corners as well. With a 10.9-inch brush, this robot vacuum cleaner takes only about 10 minutes to clean an entire moderately-sized room, which is pretty fast by robot vacuum standards. As such, the robot vacuum cleaner can clean an entire house before the batteries drain entirely. Furthermore, before the battery goes off, it automatically goes back to the charging dock.
All things considered, it's clear why Neato Robotics D7 is considered to be the best robot vacuum cleaner on the market. It has the most sophisticated terrain mapping technology, it can easily avoid obstacles, and it can also clean pretty fast. If you can afford it, you should definitely go ahead and buy this robot vacuum cleaner.
Best Budget Robot Vacuum Cleaner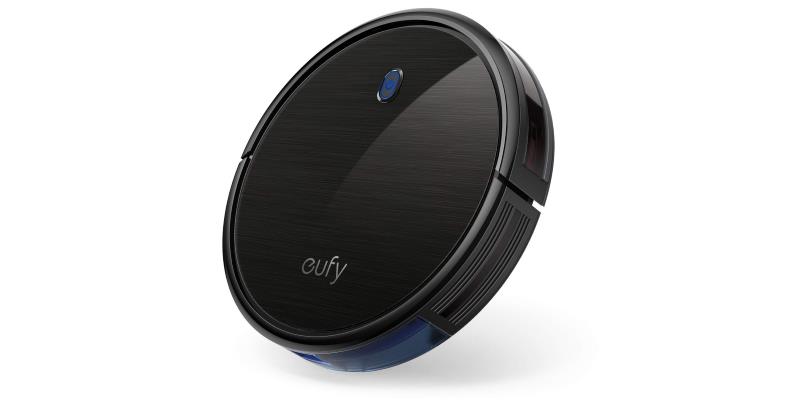 eufy Boost IQ RoboVac 11S is one of the most affordable yet effective robot vacuum cleaners on the market. It is slim, completely noiseless, and capable of easily sucking off large remains of dirt and fur as well. On average, it can vacuum about 11 grams of dirt in a single run. Furthermore, it has a height of only 2.85 inches, allowing it to easily get under sofas, chairs, and beds to clean them up.
This robot vacuum cleaner runs with a suction force of 1300Pa, which is enough for moderately sized objects and waste. In case it comes across some larger debris, it automatically triggers the BoostIQ feature to increase the suction force by 1.5x and clean them up. However, this mode also drains the battery a lot quicker. As such, if there are any large remains of debris, you should ideally clean them up manually before using this robot vacuum cleaner. This robot vacuum cleaner also has four side-brushes that can clean all of the dirt from tight corners as well.
In terms of safety, this robot vacuum cleaner has infrared-sensor that can effectively detect obstacles in time and avoid them. It also comes with a drop-sensing technology so it doesn't go crashing down the stairs. The only drawback here is that it might register a dark-colored rug as a depression and refuse to clean it. Furthermore, this robot vacuum cleaner's body is made of anti-scratch tempered glass so it won't get considerably damaged even if it does collide against objects once in a while, as is inevitable with most robot vacuum cleaners. You should also be careful while using this vacuum cleaner at night because its mapping abilities are obstructed in the dark.
All things considered, this is one of the best robot vacuum cleaners at its price point. If you want to effectively clean your home and need a durable robot for the job, get this without hesitation.
Best Value Robot Vacuum Cleaner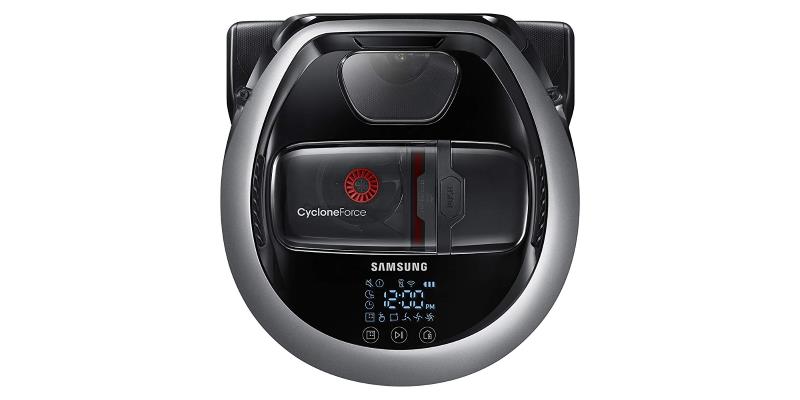 Samsung POWERbot R7070 is an Alexa-integrated wifi-enabled robot vacuum cleaner that can be controlled remotely via the smartphone app. It is similar to the aforementioned Neato Robotics D7 and shares a lot of the same features but is available at half the cost, making it the best value-for-money robot vacuum cleaner on the market. Being 3.8 inches, however, it is quite tall and might not be able to squeeze into low-lying beds.
This is a rectangular robot vacuum cleaner so it can easily get around corners as well and doesn't leave any spots dirty. It also has an LED screen that lets you know when it gets stuck. You can control the robot's movements, suction force, and cleaning schedule using the smartphone app or the remote control. The app does, however, lack mapping technology. As such, you cannot demarcate areas that it's not supposed to go to — for that, you'll have to use magnetic strips to physically block the robot vacuum cleaner from getting through.
Samsung POWERbot R7070 doesn't have a strong battery life and can only run for 1 hour in the best of conditions, and only 30 minutes or less in turbo-mode. As such, it is suitable for small apartments but not in large homes.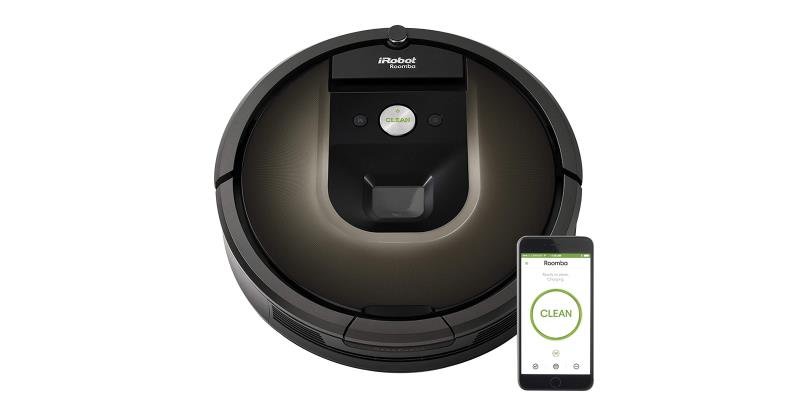 iRobot Roomba 980 belongs to a company that pioneered the whole robot vacuum revolution. At one point, it used to be the only reliable robot vacuum cleaner on the market. However, it is now one of several reliable cleaners but it continues to be the most expensive robot vacuum cleaner, far more expensive than almost all others.
In terms of performance, this robot vacuum cleaner is almost perfect. Even if your home is littered with furniture, rugs, and obstacles, it can easily navigate around them. It is narrow enough that it can squeeze under all beds and furniture. It also has side-brushes in place and a powerful suction device to clean all kinds of debris and not leave anything behind.
The app in this wifi-enabled robot vacuum cleaner is extremely functional. You can command the robot to do something from anywhere in the world and you can also use the mapping technology to demarcate no-go zones. Furthermore, you can also install Virtual Wall Lighthouses in rooms that you specifically want the robot to clean.
iRobot Roomba 980 has everything you could need from a robot vacuum cleaner and more. But it doesn't offer anything more than several other powerful cleaners available at a considerably cheaper price.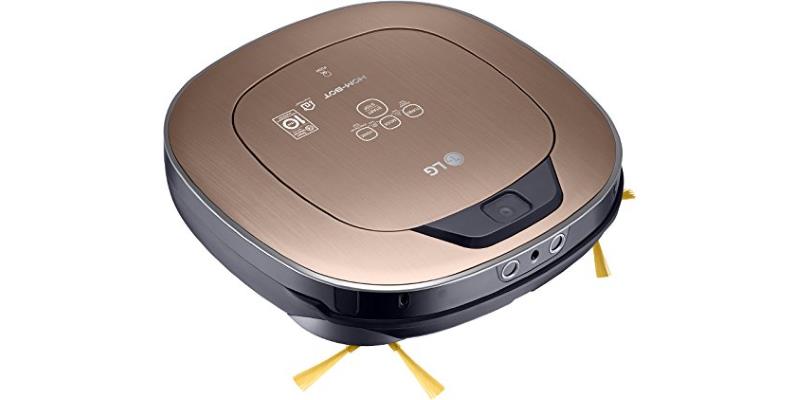 LG HOM-BOT is a pretty interesting robot vacuum cleaner that doubles as a security camera. It's a wifi-enabled robot vacuum cleaner with a camera mounted on its body. The camera serves as a regular wireless surveillance camera and starts recording whenever it detects motion. As such, if someone breaks into your house, you'll be notified about it immediately. You can also control the robot from your smartphone app so you can keep an eye on every part of your home at all times.
As a robot vacuum cleaner, it can clean about 12 grams of dirt per run. It also has some strong navigation features and it can climb over some elevated rugs as well, which is a pretty rare feature even in the best robot vacuum cleaners. It has a battery life of about 3 hours, however, it also takes a long time to clean each room — about 1 hour.
This is a pretty great purchase since it serves two functions simultaneously. But just in terms of cleaning, it's not the best.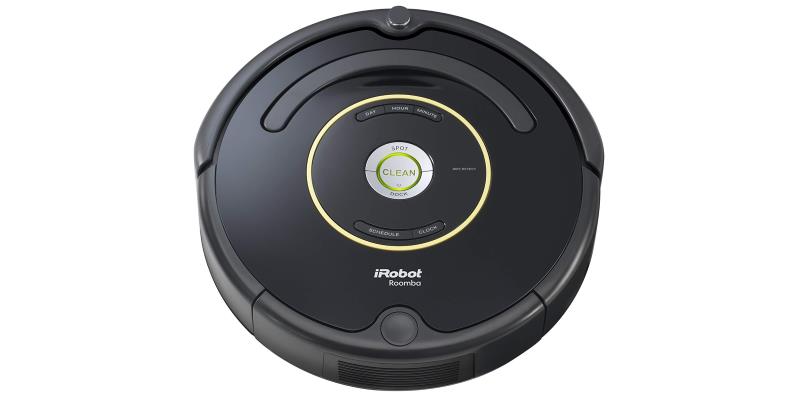 iRobot Roomba 650 is a mid-range robot vacuum cleaner. It's 3.6 inches high and takes about 45 minutes to clean one moderately sized room. It has a maximum battery of 1 hour, however, so you can only use it to clean really small apartments before it runs out of battery.
The internal navigation system in this robot vacuum cleaner isn't very powerful or smart since it's an older model. You'll find that it will often collide against walls and other obvious obstacles. If your home as a set of stairs, you should set up magnetic strips before them to prevent the robot vacuum cleaner from falling over since it can't detect depressions very well either.
All things considered, if you want a cheap robot vacuum cleaner, you can go for it. But you can find better cleaners out there at a slightly higher price point.