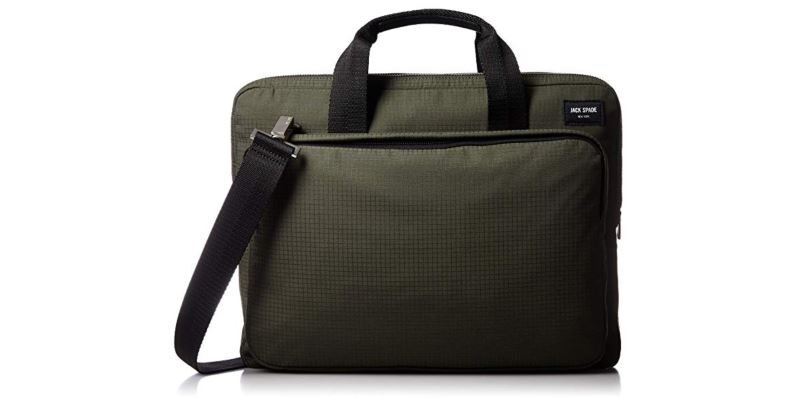 These best laptop bags for men can keep your computer completely safe and looking new.
Best Laptop Bags for Men
Laptop bags are one of the most important accessories for all laptop owners. They serve several key functions.
First, they make it easy to carry the laptop whenever you're traveling. Second, they contain enough storage pockets for you to hold all computer accessories such as a mouse, keyboards, etc, in a single location. Third, they have cushioned linings in order to protect your laptop from damage. And finally, they keep your laptop clean and shiny.
For all of the aforementioned reasons, it's important to have a laptop bag. But not just any bag, one that can specifically meet your needs, be it storage space, extra pockets, slim design, or whatever.
In this article, we'll give you an overview of some of the best laptop bags on the market.
Best Laptop Bags for Men
Best Laptop Bags for Students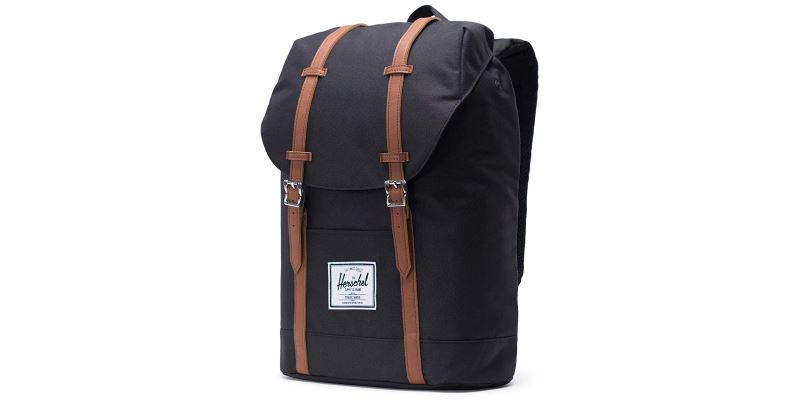 Herschel Retreat Backpack is one of the most stylish and sensible laptop bags for students. This laptop bag is made of coated polyester and has a firm reinforced bottom that allows it to carry heavy weights without tearing.
The laptop sleeve doesn't just look aesthetically pleasing, but it can also keep all the bag's contents steady. Furthermore, if you want to keep something outside the bag, like a sweater or something, you can slide it within the straps to be held comfortably. When you need to close the bag, you can use the flaps on top, along with the pull-cord and the metal clasps. All of these elements combine to make sure this is one of the most secure laptop bags on the market.
Herschel Retreat Backpack is available in 17 different colors and styles: Black, Black/Black, Arrowwood/Tan Synthetic Leather, Black Crosshatch, Black Crosshatch/Black Rubber, Canteen Crosshatch/Tan Synthetic Leather, Eclipse Crosshatch/Black Rubber, Frog Camo/Tan Synthetic Leather, Grey, Light Grey Crosshatch/Grey Rubber, Medieval Blue Crosshatch/Medieval Blue, Mid Grey Crosshatch, Navy, Peacoat/Black Crosshatch, Raven Crosshatch/Black Rubber, Windsor Wine, and Windsor Wine Frontier Geo.
Best Laptop Bag for Durability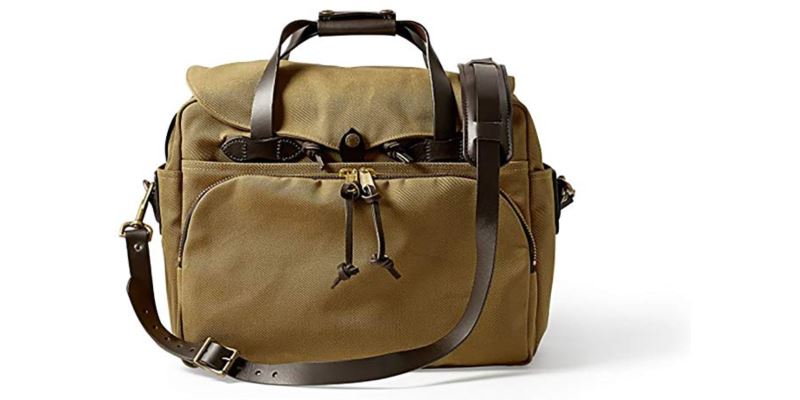 Filson Padded Computer Bag is one of the most rugged and waterproof laptop bags on the market. It has a classic and evergreen design complete with a dark leather aesthetic. It has a rugged twill that's attractive and can endure the harshest of weather conditions.
This laptop bag is also ideal for those who need a lot of storage space. It has a 46" long leather strap and comes with a wide range of storage compartments. It has 4 stow pockets, a zipper pocket, 5 utility pockets, 3 additional interior dividers for laptops, an interior slotted pocket, and a patch pocket. It can hold a laptop up to 15" in length. With all of these storage pockets and compartments, you should be able to easily store all your office supplies, books, and other accessories.
The only drawback here is that it's extremely expensive. Filson Padded Computer Bag is available in 2 colors — Tan Brown and Otter Green.
Best Laptop Bag for Business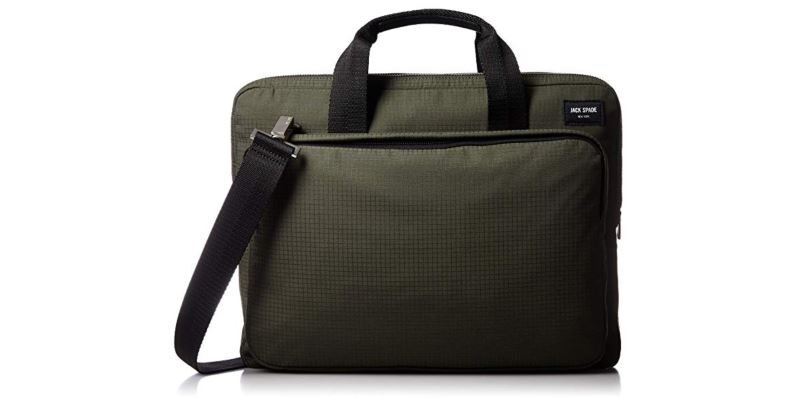 Jack Spade Slim Supply Brief is one of the most stylish and premium laptop bags on the market. As a bag meant for business purposes, it is fairly minimal yet sensible. It is made of 51% cotton and 49% polyester material, measures 29 centimeters in height and 37 centimeters in width, and has a printed graph check lining.
The exterior of the bag is covered in a tech-grey textured nylon material that offers the sleek and professional look. There are several padded compartments inside for the laptop and other accessories. Finally, there a zippered outer pocket as well for any additional accessories you need access quickly.
Jack Spade Slim Supply Brief should only be cleaned with a dry cloth. As stylish as it is, it's not weatherproof so you should take care not to get it wet. And it is available in two colors — Black and Rosin Green.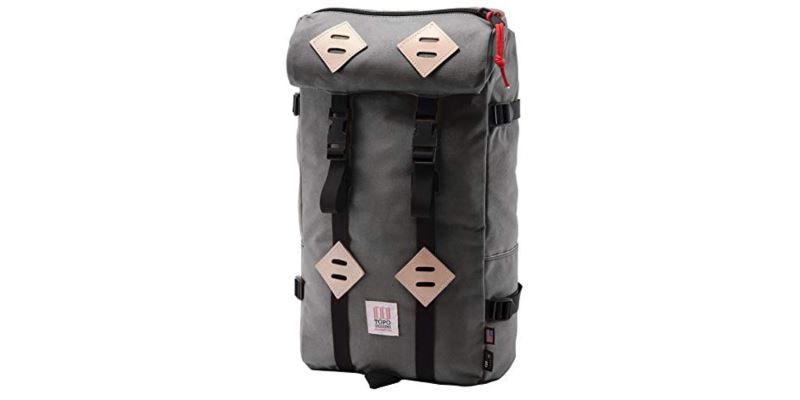 Topo Designs Klettersack is a highly versatile laptop bag that can be used for regular commuting to work and school. However, it is primarily designed for hiking in the woods and use in rough outdoor circumstances. If you are a backpacker, or if you frequent the woods for camping and other similar purposes, then this is the perfect laptop bag for you.
This laptop bag has 15 liters of space, which is enough to hold a heavy laptop and a lot more. It uses 1000d Cordura material to make it rugged and protect it from harsh weather conditions such as snows, rains, and dust storms. It also has a coated pack cloth inside the bag that serves as an additional layer of lining.
The exteriors comprise side pockets and padded sleeves that can add extra space. You can use them to hold water bottles and any other accessories for quick access. Topo Designs Klettersack is available in 4 colors — Charcoal, Navy, Olive, and Turquoise.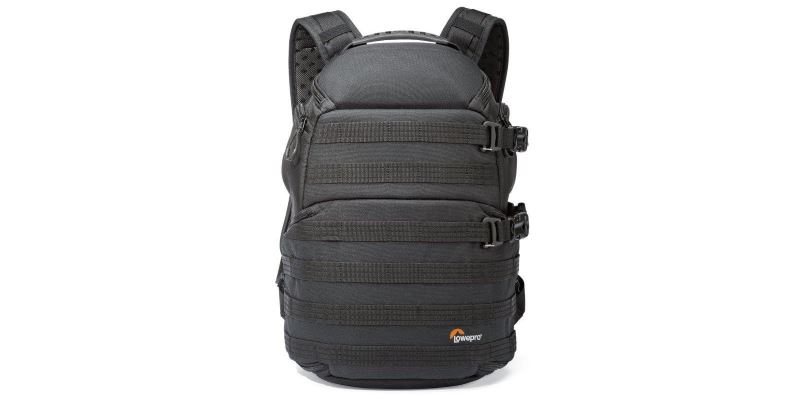 Lowepro ProTactic 350 AW is the ideal laptop bag for professional photographers. It is a camera bag and laptop bag in one. It can hold up to 2 DSLR cameras and one 13" laptop easily. As a camera bag, it has the highest number of compartments and padded dividers, which makes it pretty useful for people who have high storage needs.
There are a total of four access points in this bag. It has a molded turret-loading top, quick-access from both sides, and back entry access for security purposes. It also has a SlipLock compatible strap system. The exterior of the bag features five modular accessories — a pouch for water bottles, a tripod cup, an accessory case, and cinch straps. Furthermore, this laptop bag also features ActivZone System technology that can provide comfort for the lumbar, shoulders, and the waist, allowing you to handle heavy weights without fatigue.
All things considered, this is the perfect laptop bag for professional photographers, travelers, and those with high storage needs.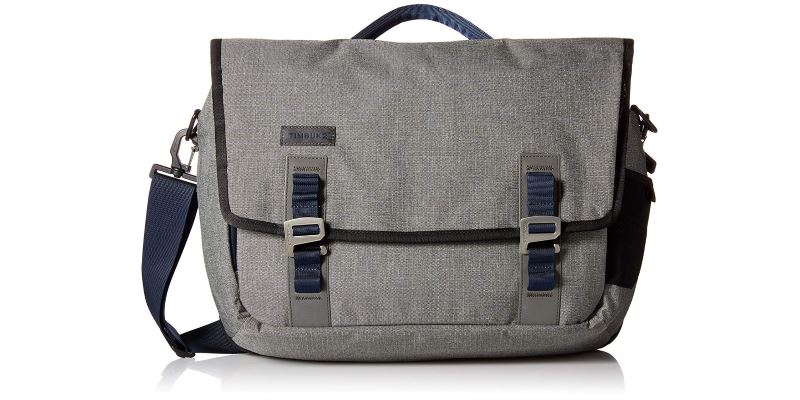 Timbuk2 Command Messenger Bag may look slightly generic in design. But its minimalist aesthetic makes it perfect for use in offices and businesses, and it also has an incredible storage space. It is made of 100% polyester material and has a wide range of external pockets so you can store chargers, sockets, and any other accessories you might need at a moment's notice. It also has tricot-lined pockets for smaller and more fragile accessories like glasses, smartphones, etc.
Other features include durable aluminum hardware and a TSA-compliant sleeve. These features are particularly useful for people who frequent airports as you can get through without removing your devices.
Timbuk2 Command Messenger Bag is available in 12 colors and styles — Black, Abyss, Black/Gunmetal, Black/Red Devil, Carbon Full-Cycle Twill, Carbon and Molasses, Jet Black, Midway, Pike, Surplus, Nautical/Adobe, and Oxide/Adobe.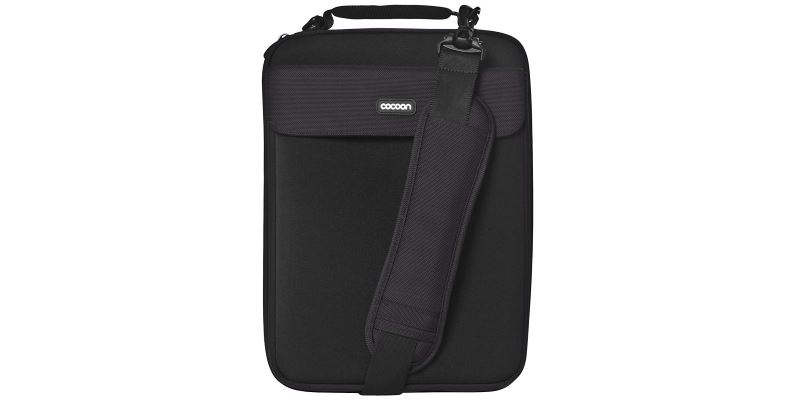 Cocoon NoLita II is a Neoprene laptop sleeve for 13" laptops. Vertical laptop sleeves aren't generally seen as highly functional because of their limited storage. However, Cocoon NoLita II remedies that by ensuring that it has enough storage for all essentials even if not much more.
This laptop bag has a form-fitting construction, which is what makes it so slim and lightweight. The handle and the lycra frame and padded to offer complete protection to the laptop without creating unnecessary bulk. In terms of storage, it uses the Grid-It system that holds all the accessories in place using rubberized woven elastic bands. As such, this is a slightly more functional laptop sleeve than most, but getting accessories in and out of this bag can be cumbersome.
Cocoon NoLita II is perfect for those who really care about using slim laptop sleeves. However, if you need to take your accessories in and out of the bag often, you'll be really annoyed with this design. It is available in 3 colors — Grey, Red, and Black/Yellow.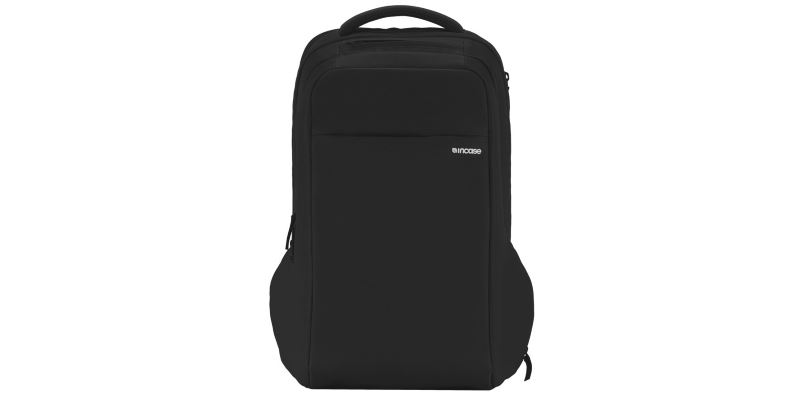 Incase Icon Pack is a one-size-fits-all laptop bag that can accommodate laptops of all sizes. It is made of 100% nylon material, features one interior zipper pocket, and five exterior pockets. As such, there's plenty of storage space and quick-access slots in this laptop bag, and it's also weatherproof.
Furthermore, it also comes with padded shoulder straps and a sternum strap that can distribute the weight throughout the body and makes it comfortable to use. The bag has also been designed such that it can retain its original frame no matter how much weight is packed into it, thus making it more durable in the long run as well.
The only thing that's slightly disappointing is the lack of a water bottle container on the side of the bag. However, other than that, it's pretty great throughout. It is available in 3 colors — Black, Gray, and Red.